Plant Parent: Plant Care Guide app by Glority Global Group Ltd.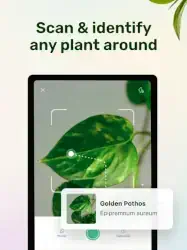 App Description :
Want to become a better plant parent for your green babies?
Meet Plant Parent – the app that offers solid plant care guides. With Plant Parent, you can become an instant green thumb and keep your plants not just happy, but thriving!
App Features :
Smart Care Reminders
Not sure when to water your indoor and outdoor plants or how to fertilize them properly? Just add your plants to Plant Parent and get notified when it's time to water, fertilize, prune, propagate, repot, and more!
Light Meter
With the in-app Light Meter tool, you can calculate the light level your plant is getting and help you make potential repositioning decisions. Just click the Light Meter button and put your phone near the plant. The app will automatically scan the environment and measure the amount of light.
Plant identifier
Have had a plant for a while but not sure what it is? See a plant you like but the plant's name card is gone? No worries, just take a picture of it and Plant Parent will identify it for you right away!
Care Plans
Don't know what to do with your newly bought snake plant, or how to improve the overall health of your air plant? Get custom care plans from Plant Parent on watering, fertilization, lighting, and pruning. Make your plant grow healthily!
Plant Illness 101
Are your plants not looking good? Plant Parent can help you save them! Simply take a photo of the sick plant and the app will auto-diagnose the disease and set up an effective treatment plan for your plants. Never kill a plant again!
Growing Site Recommendation
Where should I put a houseplant in my home? How much sunlight does it need? Yeah, it can be tricky sometimes. Plant Parent can sort these problems out and be your plant manager!
With the Plant Parent Premium, you can enjoy more privileges including:
Unlimited plant disease IDs
Enjoy unlimited access to rich plant content
One-on-one free consultation with gardening experts
Set care reminders for unlimited plant number
Download the Plant Parent app today, and join millions of endeavored plant parents worldwide to create a better journey for your plant pets.
Terms of Use: app-service.plantparentai.com/static/user_agreement.html
Privacy Policy: app-service.plantparentai.com/static/privacy_policy.html
Additional Information :
Age Rating 4+
Size 94.4 MB
Requires iOS 13.0 or later.
User Reviews :
Absolutely Wonderful Resource
I am delighted with this app. It has finally helped me to identify plants that I have had for more than a decade but never knew what they were called and thus never knew what they needed for optimal care.

Furthermore, I very much appreciate the categorizing of care and ability of the app to keep my personal indoor and outdoor garden organized and updated re: watering and fertilizing. The health scan is a brilliant concept and appears to be correct ~ 85% of the time. I believe that much of the 15% off component is also largely contributed to the user's photo ability, revealing the full plant and nothing but the plant, no background plant's included in scan photo, close enough, clear enough, etc…, etc…The health care suggestions are spot on. And all the information is quite helpful. Even if you already know it, the material keeps you more vigilant and gives the user confidence. Ultimately, other than being such a hardworking tool with lots of capability, the app is totally fun to use. Most highly recommend!!
I'm in love with this app
This app is amazing. I finally know all my plants by name (simply took a quick pic and voila – all I need to know about that plant appears, including whether it is sick or now. The care plans on how to make each plant healthier and the reminders for watering and fertilizing are spot on. The only reason I gave it 4 star is because many of the plants are being watered automatically. I can't select which plants I wish to set water reminders for and which one not. Other than that this app is perfection !
Useful but could use some updates
I've recently been trying my hand at gardening after many failed attempts. I like the plant identifier and the way you can add your plants to different sites. I also love the journal because i can take photos and compare them to see the progress or decline. The reminders are great but I tend to forget to water on the exact day of the reminder. So this brings me to a suggestion.

Suggestions: an option to mark the plant "watered or done", so it knows when to remind me based on the actual day I marked it watered. Currently it just tells me to water every specified number of days but if I miss that mark by 2 days then the next reminder will be -2 days from when I actually watered it.

Another suggestion I have is a "rain" option or a "site watered" where I could mark just my backyard "site" "watered" so my next reminder will be set based on that rain or watered day.

I hope I was able to explain that clearly. I look forward to having progress in my gardening using your app.
Get Plant Parent from App Store
What is your opinion about Plant Parent
Bitcoin
Ethereum
MetaMask (ETH)
Xrp
Polkadot
Binance coin
Stellar
Dogecoin
Tron
Elrond
Donate Bitcoin to this address
Scan the QR code or copy the address below into your wallet to send some Bitcoin
Donate Ethereum to this address
Scan the QR code or copy the address below into your wallet to send some Ethereum
Donate Xrp to this address
Scan the QR code or copy the address below into your wallet to send some Xrp
Donate Polkadot to this address
Scan the QR code or copy the address below into your wallet to send some Polkadot
Donate Binance coin to this address
Scan the QR code or copy the address below into your wallet to send some Binance coin
Donate Stellar to this address
Scan the QR code or copy the address below into your wallet to send some Stellar
Donate Dogecoin to this address
Scan the QR code or copy the address below into your wallet to send some Dogecoin
Donate Tron to this address
Scan the QR code or copy the address below into your wallet to send some Tron
Donate Elrond to this address
Scan the QR code or copy the address below into your wallet to send some Elrond