(Game) Pigeon Wings Strik‪e
 iphone games for free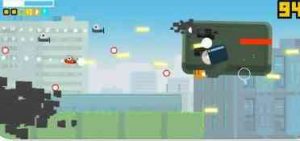 Game Description :
Duke Dexter and his evil minions are back to take over Velo City. They have all new tricks and traps to cook Pigeon's tenders—it's more than a bird can handle.
Luckily, our hero's got a squad. Shoot, dodge and boost with Cunningham—the hotshot hamster, Presto—our literal fish out of water, and the rest of Pigeon's friends.
Game Features :
It's too late to be afraid, it's time to STRIKE!
Endless, buttery-smooth arcade action.
The fastest shooter ever deployed on a mobile device.
Unlock all new secret characters with special abilities.
Local multiplayer–Squad up IRL!
Optimized for iPhone and iPad.
The jet-fueled sequel to Pigeon Wings—on the Best Games of the Year lists of TouchArcade, Macworld, CNET, Nerdly, and TechRadar.
Huge thanks to the fans of the original:
Move over Dark Souls, there's a new hard game in town. – HoldenOtter
Awesome graphics and story. Changed my mind on tilt control! – Hots56
Excellent, must own iOS game! – AnotherkellydwN
The only bad thing is how cocky pigeon can be. – brianmick
Additional Information :
Size 83.4 MB
Requires iOS 10.0 or later.
User Reviews :
GET THIS GAME!
This is one of my favorite games that I've ever had for my IPhone . It's simplistic(very reminiscent of the early Atari & Nintendo games), yet engaging. I can get lost for hours playing PW!!! There is a moderate amount of ads, but at least they're much shorter in length than those on other free games. I've only taken the time to write just a couple of reviews in ratio to the hundreds of apps & games I've owned, so let this fact alone guide oneself as to whether this game is worthy of a download. Also, PW is a very family friendly game & is, in my opinion, a safe option for anyone of any age.
Another awesome title!
I loved the first Pigeon Wings! I saw this today, downloaded it, and man it doesn't disappoint. I immediately paid to remove the ads. It's fun! I love that you can change the controls so you don't have to use tilt! Thank you devs! I love the progression. I love the combat and speed. I love the different characters and their abilities. I do wish there was a DOUBLE coin purchase. I'd definitely buy that. I also wish we could CHOOSE when to use the buffs we've won out of the prize boxes.
Developer Response ,
Thanks for enjoying this one too! One thing we forgot to point out is after removing ads, the blue power ups are worth 10 gems, so you are getting more coins (to balance the removal of rewarded ads). And the double coin purchase :D, hadn't thought of that, we we're thinking about adding a Buy ACE pilot purchase ….
This is the game I've been looking for for a while!
This game is what I've been waiting for! Arcade style, not too complicated, and keeps me playing over and over. I play everyday. A suggestion is that we could have an ultimate attack when we fill all the power up slots or a purple icon that floats pats every now and then.

My only issue is that the game keeps crashing. I was doing very good and when I died the game crashed and kept me at 73rd place.. if you could fix this bug then I wouldn't be so timid to play anymore.
Gets old fast
I had seen lots of positive reviews about this game and I have to say I'm a bit disappointed. It is a fun game but it is very repetitive. There is no goal you need to achieve, there are no levels, there's no competition, it's just fly, die, repeat. The only thing you gain from each round is coins and you get more from videos after the game than in the game. And the stuff you can buy is kinda useless. I don't know what half of it is. I appreciate that you worked hard on this game and it is not BAD. It just isn't as good as it could be. Thank you for taking the time to read this.
I love the game!
I love the game! I like it's not too difficult nor too easy. I've unlocked the frog character and I LOVE him. The first boss is entertaining! The only complaint I have is that make the characters costs less coins or have coins show up more often sense it took about a month to unlock a new character. ( I don't play it that much, by the way.
Get Pigeon Wings Strik‪e from App Store
What is your opinion about Pigeon Wings Strik‪e
Bitcoin
Ethereum
MetaMask (ETH)
Xrp
Polkadot
Binance coin
Stellar
Dogecoin
Tron
Elrond
Donate Bitcoin to this address
Scan the QR code or copy the address below into your wallet to send some Bitcoin
Donate Ethereum to this address
Scan the QR code or copy the address below into your wallet to send some Ethereum
Donate Xrp to this address
Scan the QR code or copy the address below into your wallet to send some Xrp
Donate Polkadot to this address
Scan the QR code or copy the address below into your wallet to send some Polkadot
Donate Binance coin to this address
Scan the QR code or copy the address below into your wallet to send some Binance coin
Donate Stellar to this address
Scan the QR code or copy the address below into your wallet to send some Stellar
Donate Dogecoin to this address
Scan the QR code or copy the address below into your wallet to send some Dogecoin
Donate Tron to this address
Scan the QR code or copy the address below into your wallet to send some Tron
Donate Elrond to this address
Scan the QR code or copy the address below into your wallet to send some Elrond