(Game) Phobies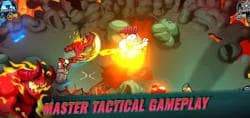 Game Description :
From the industry veterans who brought you Company of Heroes and Age of Empires: Castle Siege, comes Phobies, Smoking Gun Interactive's new terrifying collectible card game!
Summon your worst fears and use their abilities to seize control of perilous environments. Wield a masterful strategy and outsmart all players who dare challenge you in an asynchronous battle and arena.
Collect over 120 powerful and mischievous Phobies inspired by your most irrational fears. Evolve your strategies as you unlock new fears and abilities. Level up your Phobies to give them an added edge in battle.
Watch your fears come to life in the whimsical world inspired by your subconscious. Traverse hazardous tiles and use the environment to stem the tide in your favor.
Unlock weekly and seasonal rewards while ascending the Mount Ego leaderboards.
Play solo challenge modes, battle your friends, or faceoff against millions of players worldwide! Join the community of fellow Phobie enthusiasts, eager to unlock their deepest fears.
Are you brave enough to face your fears? DOWNLOAD TODAY!
Game Features :
COLLECT FEARSOME PHOBIES: Overpower your opponents by unlocking and upgrading your favorite Phobies. With an army of terrifying Phobies at your beck and call you are sure to win any battle.
MASTER TACTICAL GAMEPLAY: Plan your strategy around hex-based environments. Utilize tactical positioning across spine-chilling terrains to gain an upper hand on your opponents.
REFINE YOUR STRATEGY: Utilize the practice mode to test out and further refine your strategies before using them on your unsuspecting victims.
TEST YOUR WITS IN CHALLENGE MODE: In need of a quick brainteaser? Try out the PvE challenge mode containing various puzzles and objectives to sharpen your wits.
PLAY WITH YOUR FRENEMIES: Add and duel your friends in asynchronous PvP battles. That is one way to put them in their place!
EXPERIENCE ASYNCHRONOUS BATTLE: Take your horror show to the masses by engaging in PvP battles with players worldwide. The turn-based mechanics of asynchronous battles allow players to play multiple matches simultaneously. Enjoy the never-ending terror and fun.
COMPETE IN ARENA MODE: Feeling a bit antsy with competitive tendencies? Then experience the real-time mayhem of the arena mode. Assert dominance through strategic superiority in real-time battle. Why wait when you can win?
PLAY WHEREVER YOU WANT: Take your worst fears with you wherever you go through cross-platform capabilities. Whether you prefer to dominate via PC or on the go through your mobile: play the game your way.
Terms of Service: smokingguninc.com/terms-of-service/
Privacy Policy: smokingguninc.com/privacy-policy/
Additional Information :
Size 451.6 MB
Requires iOS 10.0 or later.
User Reviews :
Amazing game, we needed a new strategy board game like this
Where do I begin… like many have said, it reminds me of Outwitters (which I loved but the devs stopped supporting). Some have said there is a small team behind this one and you would never know. Game is polished, art is lovable and unique, strategy is there, casual mode, ranked ladder, bonus puzzles, seasonal rewards, friendly battles… you get the idea. It even seems like they have interest in building a community behind it with discord and forums. And it's all FREE. People are complaining about having to grind too much and I think they're forgetting it's free to play… we play to grind, sure. But also for the fun of the game itself. And obviously, you can pay for progression if you want (which I will be doing because I already have the itch). I wouldn't say there's too much advantage to "pay to win" as it boils down to strategy and rank by the end of it, you can still outplay others by playing smart. All in all, I'm very excited to see where this game goes and what additions they can make as I work towards collecting the already expansive list of Phobies. I'm hooked lol. If you're on the fence, just give it a shot, it's a free game that if you enjoy a little strategy, I think this could quickly become a favorite.
Awesome Game – Great strategy and cool graphics
I don't ever leave reviews, I will rate them but nothing beyond that. This game is great! I LOVE the graphics, the witty dialogue, how well it's put together, the strategy, I could go on. Please keep this game up and going! Like others, I feel like the game has a smaller developing team, which isn't a horrible thing but I want y'all to know that your efforts aren't going unappreciated! This has the potential for being a pretty large game

There is only one slightly negative thing I can say and that is maybe have some type of way to change your in game name? I rushed and just picked mine and am kinda regretting it. Otherwise the game is amazing. Thank you!
Get Phobies from App Store
What is your opinion about Phobies
Bitcoin
Ethereum
MetaMask (ETH)
Xrp
Polkadot
Binance coin
Stellar
Dogecoin
Tron
Elrond
Donate Bitcoin to this address
Scan the QR code or copy the address below into your wallet to send some Bitcoin
Donate Ethereum to this address
Scan the QR code or copy the address below into your wallet to send some Ethereum
Donate Xrp to this address
Scan the QR code or copy the address below into your wallet to send some Xrp
Donate Polkadot to this address
Scan the QR code or copy the address below into your wallet to send some Polkadot
Donate Binance coin to this address
Scan the QR code or copy the address below into your wallet to send some Binance coin
Donate Stellar to this address
Scan the QR code or copy the address below into your wallet to send some Stellar
Donate Dogecoin to this address
Scan the QR code or copy the address below into your wallet to send some Dogecoin
Donate Tron to this address
Scan the QR code or copy the address below into your wallet to send some Tron
Donate Elrond to this address
Scan the QR code or copy the address below into your wallet to send some Elrond