(Game) Phase 10 World Tour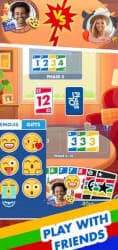 Game Description :
Take 10 in the newest rummy inspired game from the creators of the UNO! Mobile app. Phase 10 is the classic card game that has brought friends and families together for over 40 years.
Now, Phase 10 takes you around the world! Take 10 minutes for yourself and enjoy a quick round of Phase 10 anytime! It's always a good time to Take 10!
Game Features :
RUMMY WITH A TWIST
Race to complete each "Phase" and stay ahead. Every Phase has its own sets of cards to match their colors and numbers. When you have your sets, throw them down for everyone to see. The Phase is finished!
HIT IT
The round ends when one player frees their hand of all their cards. Players who can't finish the Phase start over and try again. Everyone else tackles the next challenge.
SMARTER EVERY DAY
Train your brain daily with new puzzles on every level. Watch carefully for patterns and outwit the game. Unlock new rules to explore and solve and become a Phase 10 master!
BLAZE A TRAIL
Take your dream vacation and cross the world in Journey mode! Play offline and relax in zen-like solitaire challenges. Use Power-Ups to get an edge and win rewards! Phase 10 is a blast!
AROUND THE WORLD
Skip the airport and explore faraway places! Phase 10 tours from the comfort of a Pacific paradise to the chilling extremes of the klondike mountains! Compete with others online to win coins and be part of the international community.
PICK YOUR PLAY STYLE
Keep things fresh by playing in a new themed event every month! Roll the dice, collect new materials, send gifts to friends, and more! There's always a new way to play. Phase 10 has fun in spades!
Additional Information :
Size 333.9 MB
Requires iOS 9.0 or later.
User Reviews :
Great game, but sometimes a little TOO hard.
This is a very fun game to play, easy to learn and follow. The app itself is very well made, it runs flawless & smooth for me and never has issues. The one thing I do not like however is that there doesn't seem to be a way for players to choose a challenge difficulty level setting they are comfortable with. Because this is not adjustable, it can be very difficult to progress through some of the levels especially the 'even 10's' marked by the skull symbol. It can take weeks & dozens upon dozens of attempts to get through these tournaments because the automated characters in the game are often very aggressive in their tactics and will almost always choose to use the maximum capability that their hand of cards is capable of. This does make for better human players, but not everyone learns as fast as each other, so it does sometimes get old fast being stuck indefinitely and having to start the whole level over and over and over when the non-player characters are being rude and holding you back. It would be nice if at the very least the game programming incorporated a floating parameter that would reduce difficulty level settings very slightly after each failed attempt at a '10's tournament' so that people are not stuck on them indefinitely waiting for the right cards to appear and allow a victory. Just a suggestion. Either way, overall a great & well made game to pass time with.
Enjoyable game that is *mostly* well-assembled
It's nicely put together, and it offers an overwhelmingly large selection of tasks that I probably won't be able to compete even if I live to be 300 years old. The game looks nice too, has pleasant sound effects and music that can be disabled in favor of your own music, and I appreciate the side quests that they develop every month or so. I personally found it worth the investment in the ad-free version.

The biggest reason I deducted a star from my rating is because the game in various spots will offer extra rewards in exchange for an ad view, but it frequently fails to credit the reward after the viewing of the ad. This is an inconsistency that's been taking place since the installation of the app about 3 months ago, so it's hardly an isolated incident, and it's very frustrating when it happens, especially another ad is usually not immediately available, and unless you wait for one to become available, the opportunity will be lost. I also think the game's energy system is a bit too player-unfriendly; there are often times where the hands will be dealt & CPU players will go out before I even get to draw a card, yet that costs energy. There really should be the opportunity for the max energy levels to increase with the progression through the game, but there doesn't seem to be. Overall, it's closer to 4 stars than it is to 3.
Get Phase 10 World Tour from App Store
What is your opinion about Phase 10 World Tour
Bitcoin
Ethereum
MetaMask (ETH)
Xrp
Polkadot
Binance coin
Stellar
Dogecoin
Tron
Elrond
Donate Bitcoin to this address
Scan the QR code or copy the address below into your wallet to send some Bitcoin
Donate Ethereum to this address
Scan the QR code or copy the address below into your wallet to send some Ethereum
Donate Xrp to this address
Scan the QR code or copy the address below into your wallet to send some Xrp
Donate Polkadot to this address
Scan the QR code or copy the address below into your wallet to send some Polkadot
Donate Binance coin to this address
Scan the QR code or copy the address below into your wallet to send some Binance coin
Donate Stellar to this address
Scan the QR code or copy the address below into your wallet to send some Stellar
Donate Dogecoin to this address
Scan the QR code or copy the address below into your wallet to send some Dogecoin
Donate Tron to this address
Scan the QR code or copy the address below into your wallet to send some Tron
Donate Elrond to this address
Scan the QR code or copy the address below into your wallet to send some Elrond