(App) Papers Grade Please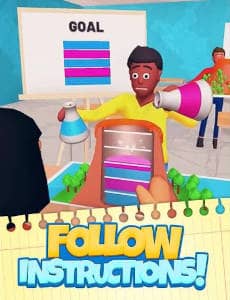 App Description :
How smart do you think you are? Hopefully you have enough brain power to grade the answers from your students! Kids say the funniest things and it is up to you to catch what is right and what is wrong. Give students A's or F's based on their answers. Careful, not all of them are geniuses so it is up to you to catch the wrong answers!
Students will try to be funny and outwit you with your answers. It may be funny, but it will still be wrong! Fail that kid! We don't appreciate their attempts to be comedians. Make sure they know math, english, or geography. Some of the answers might even have you feeling like a smart, brainy professor. Help these kids out and prep them for college – you are on your teaching journey!
App Features :
1. Make the right choice!
Hopefully you are smarter than these 5th graders! Some questions might even have you stumped!
2. Many levels to play
So many fun and challenging questions for you to answer and grade.
3. Fun for the whole family
Whether you are a teacher, a substitute, a professor, or not in education at all – this game will have you laughing and thinking.
4. Simple and Addicting Gameplay
Once you start you won't be able to stop. Answer questions, break up fights in recess, watch over detention – it's like you are back in school again!
Whether you are a fan of puzzlers, word games, trivia games, quiz games, brain teasers, or you just like answering questions, then Papers Grade Please is the game for you!
Visit lionstudios.cc/contact-us/ if have any feedback, need help on beating a level or have any awesome ideas you would like to see in the game!
Follow us to get news and updates on our other Award Winning titles;
lionstudios.cc/
Facebook.com/LionStudios.cc
Instagram.com/LionStudioscc
Twitter.com/LionStudiosCC
Youtube.com/c/LionStudiosCC
Additional Information :
Size 379.3 MB
Requires iOS 13.0 or later.
User Reviews :
OMG awesome
This game is like so fun I'm on it nonstop all right I wake up at 6:30 in the morning just to play this game until like seven or eight like I'm obsessed with this game might even my mom have to tell me get your nose out your iPad and I'm like seven so yeah no seven-year-old would wake up this early just to get on a game I just asked first with this game it's a little glitchy but great and a little bit a teensy little bit too much addsSo when I started playing this yesterday I was like oh my gosh this is so fun so I asked my mom for the game and she said yes so this game is just soFun but trust me I actually woke up at 6:30 today
It is fun but there are a few things
One you get a lot of money but you can BARELY SPEND IT! I mean no offense but that is kind of annoying because people want to get better stuff but I'm the end you can only get so much. Another thing is that it has WAY TO MANY ADS! You do not need so many ads because then people will not play the game. One more thing about this game is when you say an answer is wrong even if it is right the student would say I will sue you. You have two options lose 30$ or say shut up and go to detention. The reason why I do not like became why should the kid say I will she you. The worst part is that THEY HAVE TO PUT THESE THINGS * BECAUSE IT IS BAD TO SAY!! Which makes it even worse I know the game is 12+ but when you have to do that then the game needs to change. But other than it is a good game
Eh
I think this game is fun but I feel like it could be better so what I wanted to go through is things that I don't love.1#so firstly the people the characters are creepy like just weird 2#The little bonus levels they know fun bonus levels like recess or the school dance but at recess all you do is separate fights and school dance separate people to close like , dumb 3#all the game really is is answering weird questions like I get it it's kind of fun and relaxing but like maybe add more detail to the game and the last thing I have to say is you get money but you don't spend it pointless. I know that was a lot that I didn't like about the game by the way I said it I didn't mean it in such a bad way as I texted it so I would just say try it out make your opinion and then write a review because the game isn't as bad as you think so don't listen to her how bad I wrote this review
Just two things
I love this game. It is one of the games I play most. But it just has a few things wrong that I should point out.

First, Ads. They aren't as severe as other games like there is, but it definitely pretty noticeable.

Next is just the function. When it says, "My answer was right blah blah blah," it wasn't REALLY right, like for example, once I had graded something as an F, because it had said there's ten corners on a star and it said that he would sue me, so I tried to press the ad and it had taken 30 dollars (this isn't the problem, you get -30 dollars if you don't watch the ad) and reset my score. This also applies to special rounds like gym, school dance etc.

This is annoying/frustrating so please fix this! Thank you for reading
Get Papers Grade Please from App Store
What is your opinion about Papers Grade Please
Get more free apps & games daily
Subscribe to our mailing list and get free apps & games daily to your email inbox.
Thank you for subscribing.
Something went wrong.
Bitcoin
Ethereum
MetaMask
Xrp
Polkadot
Binance coin
Stellar
Dogecoin
Tron
Elrond
Donate Bitcoin to this address
Scan the QR code or copy the address below into your wallet to send some Bitcoin
Donate Ethereum to this address
Scan the QR code or copy the address below into your wallet to send some Ethereum
Donate Xrp to this address
Scan the QR code or copy the address below into your wallet to send some Xrp
Donate Polkadot to this address
Scan the QR code or copy the address below into your wallet to send some Polkadot
Donate Binance coin to this address
Scan the QR code or copy the address below into your wallet to send some Binance coin
Donate Stellar to this address
Scan the QR code or copy the address below into your wallet to send some Stellar
Donate Dogecoin to this address
Scan the QR code or copy the address below into your wallet to send some Dogecoin
Donate Tron to this address
Scan the QR code or copy the address below into your wallet to send some Tron
Donate Elrond to this address
Scan the QR code or copy the address below into your wallet to send some Elrond