[Game] Pacific Wings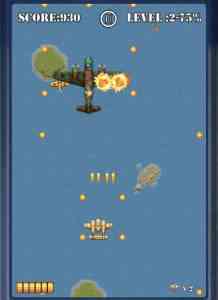 App Description :
The mobile hit game "Pacific Wings" (over 5 million installs already) is finally on the App Store, better than ever!
Pacific Wings is a vertical scrolling shoot-em-up and it features retro-style-graphics.
The story plays during the "Battle of Midway" in 1942 where you have to fly an American P-38-airplane against all kinds of japanese airplanes.
You can control your warbird with the touchscreen.
The plane shoots automatically.
App Features :
Retro-style graphics!
3 different weaponupgrades on your plane!
lots of different enemies (fighters, bombers, ships)!
If you find bugs or have any suggestions to make "Pacific Wings" even better please tell us!
We improved a lot of things in "Pacific Wings" and hope you´ll like it.
But if you liked the old version of "Pacific Wings" better: It´s now renamed to "Pacific Wings Classic" and can be downloaded on the Appstore!
Additional Information :
Size 85.1 MB
Requires iOS 9.0 or later.
User Reviews :
Classic Game
Game is nice to play and kill some time. Wish it had a save option. Not being able to save is horrible.
Pacific wings
Hi guys I want to give your game a five star rating . Except on my iPhone when I play. my finger covers the plane. I wish that I could put my finger slightly behind the plane when controlling it. The way it is now you cover the plane your trying to fly you can't see your own plane . Well barely . It would be much more enjoyable to play if I could see plane slightly above my finger. That's my only complaint about this game. I was a big fan of 1942, the arcade game that this game is like. Please correct this issue. I'm sure I would play it more. And others as well. Great game otherwise.

Thanks you.

3 STAR
Nice little game!
Even though it's a pretty simple game, it's very engaging in the later levels. It's tough but fair, you'll get better the more you play.

I finally beat the game today, it was an excellent diversion during my bathroom breaks the past year
Enjoyable and cool new features!
I've had and played this game for a long time now. Since they upgraded it with new weapons and the ability to restart without losses after watching a video, it's even more fun.
Fun Throwback Game
Reminds me if the arcade game. Was fun then still fun now. Having to move using your finger sometimes blocks enemy shots, otherwise it's s glitch free experience.
Good game
Solid game that plays a lot like the old Nintendo games 1942 & 1943.
Awesome Game!
This is a really great game. It's so addicting, really fun, and really historically accurate. Not to mention that it's free. Fantastic overall game. Great job guys!
Bad Capcom Clone
This is a bad clone of the classic 1942 arcade game. The controls aren't very responsive and many times the enemies or power ups will drift off screen.
arcade fun
Fairly simple game play is easy to play in the begining, but gets more challenging by level 2. With 3 lives you can get some extended time in. Having a high score list lets you keep track of your best scores.
Needs more control options
The game is good, but could you add more control options? It would be great to be able to tilt the iPad or use arrows to move the plane. Tapping is not that entertaining.
Great Game
Love it. Entertainingly addictive.

Would like to see high performance rewarded with extra 'lives' as you go through the game – I don't think that's in there, unless I just haven't done well enough to earn an extra 'life' yet (very possible).
Just FUN!!!!
I like the increasing challenge and speed – I have continued to get better and have fun doing it (although it does keep me from getting to sleep until late some nights!
Great! Need more choices
It's a great game, I personally love it, but it would be better if you got to choose your plane. And if each plane had a special ability that would be cool. This was based off a arcade game and it had bombs. Those would be great too.
Great entertainment! Should add multiplayer tho
It's an awesome arcade style top down 2D WWII airplane shooter game. Works great on my Iphone 4. ••Should add a multiplayer function tho. Would be fun to fight along side other real life players to achieve even higher scores
Get Pacific Wings from App Store
What is your opinion about Pacific Wings
Bitcoin
Ethereum
MetaMask (ETH)
Xrp
Polkadot
Binance coin
Stellar
Dogecoin
Tron
Elrond
Donate Bitcoin to this address
Scan the QR code or copy the address below into your wallet to send some Bitcoin
Donate Ethereum to this address
Scan the QR code or copy the address below into your wallet to send some Ethereum
Donate Xrp to this address
Scan the QR code or copy the address below into your wallet to send some Xrp
Donate Polkadot to this address
Scan the QR code or copy the address below into your wallet to send some Polkadot
Donate Binance coin to this address
Scan the QR code or copy the address below into your wallet to send some Binance coin
Donate Stellar to this address
Scan the QR code or copy the address below into your wallet to send some Stellar
Donate Dogecoin to this address
Scan the QR code or copy the address below into your wallet to send some Dogecoin
Donate Tron to this address
Scan the QR code or copy the address below into your wallet to send some Tron
Donate Elrond to this address
Scan the QR code or copy the address below into your wallet to send some Elrond