Owlet Dream app by Owlet Baby Care Inc.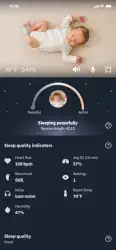 App Description :
The Owlet Dream App from the award-winning baby monitor company delivers advanced sleep insights, helping parents feel more at peace while Baby sleeps.
Owlet Dream App, in conjunction with the Owlet Dream Sock, Owlet Dream Duo, and Owlet Cam, provides a comprehensive look at your baby's sleep experience. Combining Sleep Quality Indicators from the Dream Sock, HD video, plus readings on your baby's sleep environment from the Owlet Cam, the Owlet Dream App provides insights in the moment to help you ensure that your child sleeps better. With Owlet's new Predictive Sleep Technology, the Dream App will let you know when Baby might be ready for sleep—before they are overtired (automated tracking when Dream Sock is paired with Cam). Predictive Sleep adapts as Baby grows to give you personalized sleep and wake windows that anticipate Baby's changing needs as they age.
App Features :
Owlet Dream Sock
Owlet Cam
Owlet Dream Duo (Owlet Dream Sock and Owlet Cam)
Owlet Cam 2
Owlet Dream Duo with 2nd Generation Camera
Disclaimer: Owlet products are not medical devices. Owlet products offer a connected nursery experience designed to learn from the data collected to help you understand your baby's sleep patterns. They are not intended to diagnose, treat or cure any disease or other conditions, including but not limited to Sudden Infant Death Syndrome (SIDS). Medical decisions should never be made using Owlet data. Owlet products do not replace the care and oversight you provide as a caregiver.
Privacy Policy: owletcare.com/pages/privacy
Owlet Awards:
Parents Magazine – Best Family Tech of CES 2022 (Dream Sock & Duo)
PY.com – 2022 Best Baby Monitor
Are you a fan of Owlet? Please leave a review in the App Store!
Additional Information :
Age Rating 4+
Size 158.1 MB
Requires iOS 14.0 or later.
User Reviews :
App needs work…
The product is great the camera works pretty well, but the temperature sensor always seems to read uncomfortable. The app definitely needs some help though the seemed to have fixed a few things like returned the history function and got rid of the routine thankfully because the routines was crap. Few other issues is that they need to have some kind of timer on notifications so they don't just appear and the stay on screen indefinitely until you dismiss them, such as the "sleeping peacefully" notification. When I have the app on when I'm showering and she's sleeping sometimes it goes on and the doesn't go away until I have to manually dismiss it. App developers if you're listening, make that one dismiss itself after some time passes so that it goes back to the live video feed. I get it for warnings but not that one. Also, the warning about connection issues always goes on at the worst moments like right at the moment she's dozing off which is annoying because it just keeps playing the music and the it sometimes wakes her or it's just really annoying and far away from where I am to silence it. But overall ok once they brought back history and tossed the routines.
Should Be Better
I'm embarrassed for recommending this product to so many friends. for as expensive the camera and sock are, this app should be way better. When our son was born, back in July '22, this app was great. Had 0 complaints. Worked flawlessly. But ever since August/September, there have been countless bugs. -Have to close out of the app completely for the camera to load. Just spins and spins when trying to go back into the app without fully closing it. -A full night of sleep history is never viewable, it gets chopped up into naps/sleep/nap and cuts off before the sock is removed in the morning, by hours! Ie, bed time is 830-8am if he wakes at 1 to eat, it's chopped off and doesn't resume for an hour or so, if he wakes at 5, it cuts off and doesn't finish out the night when the sock is removed in the morning. -Not sure what's going on with the temp sensor on the camera but it is a steady 10-15° less than the actual room temp. -Have to restart the camera at least twice a week from it stating it's 'offline' when trying to view. All that being said, we've had a great peace of mind using the sock at night and the camera (when it works) is a great convenience. Especially sound and motion alerts.
Get Owlet Dream from App Store
What is your opinion about Owlet Dream
Bitcoin
Ethereum
MetaMask (ETH)
Xrp
Polkadot
Binance coin
Stellar
Dogecoin
Tron
Elrond
Donate Bitcoin to this address
Scan the QR code or copy the address below into your wallet to send some Bitcoin
Donate Ethereum to this address
Scan the QR code or copy the address below into your wallet to send some Ethereum
Donate Xrp to this address
Scan the QR code or copy the address below into your wallet to send some Xrp
Donate Polkadot to this address
Scan the QR code or copy the address below into your wallet to send some Polkadot
Donate Binance coin to this address
Scan the QR code or copy the address below into your wallet to send some Binance coin
Donate Stellar to this address
Scan the QR code or copy the address below into your wallet to send some Stellar
Donate Dogecoin to this address
Scan the QR code or copy the address below into your wallet to send some Dogecoin
Donate Tron to this address
Scan the QR code or copy the address below into your wallet to send some Tron
Donate Elrond to this address
Scan the QR code or copy the address below into your wallet to send some Elrond