Ovia  – Pregnancy & Baby Tracker app by Ovuline, Inc.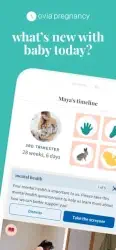 App Description :
Expecting? Watch your baby grow every day with Ovia Pregnancy! Ovia's personalized approach to tracking your baby's development gives you an app as unique as your pregnancy.
App Features :
NEW feature!
My baby names: We're so excited to help you keep track of your favorite baby names (and hopefully find a winner!) with this new feature. Swipe through thousands of names to 'like' and 'love' your favorites.
Watch baby grow week by week with our most-loved features:
MY BABY NAMES: Find the perfect name for your baby. Filter names by letter or gender, see common nicknames, and learn about the meaning and origin behind each name.
IN THE WOMB: See realistic illustrations of your little one each week with our new 'in the womb' feature. See every detail: zoom into the full-screen images to get a closer look.
BABY SIZE COMPARISONS: Compare baby's size with fun themes: fruits & vegetables, animals, Parisian pastries, and fun & games. At week 17, baby is the size of a creme brulee!
BABY HAND & FOOT SIZE: See how big baby's hands and feet are right now compared to how big they'll be at your due date!
Stay up to date on your pregnancy with essential content and tools:
2000+ pregnancy articles, tips, and tools to support you throughout your pregnancy
Calendar to organize and track all things pregnancy, from baby bump photos to doctor appointment reminders
Look up food safety, symptoms, and medications: stay safe through your pregnancy by using our lookup tools
Customizable health tracker: log the data that fits into your life!
Apple Health: Integrated to share blood pressure and weight data
A safe, supportive community of moms and moms-to-be. You can even target your questions to reach just the right people, like moms who are the same weeks pregnant, have the same dietary restrictions, or live in the same area.
Health assessment: unlock more content, tips, and tools!
*Follow Your Progress With Customizable Tracking*
Weight
Track and chart your weight progress
Manage goals with clinical guidelines for your BMI
Symptoms
Learn the common symptoms for each week of your pregnancy
Track 100+ symptoms
Get immediate alerts if your symptoms indicate a health risk
Nutrition
Know what nutrients you need for your baby's development
Record daily servings of protein, dairy, fruit, veggies, water
Find healthy recipes with essential vitamins and nutrients
Medications & vitamins
Learn what medications are safe for pregnant moms
Track your medications and vitamins
Sleep
Track and chart your sleep
Moods
Record your moods day by day
Exercise
Stay fit, track your workouts
Connect with fitness trackers
OVIA HEALTH
In partnership with organizations who share our goal of helping families live happier, healthier lives, we're proud to offer Ovia Health: a maternity and family benefit supporting women and families at home and at work.
Do you have Ovia Health as a benefit through an employer or health plan? Download Ovia Pregnancy and enter your employer and health plan information to access to an expanded set of tools and features. These may include health coaching, personalized content about your benefits, and health programs such as breastfeeding preparation, gestational diabetes prevention, mental health education, and more.
ABOUT US
Ovia Health is a digital health company that uses mobile technology to help women and families live healthier lives. The Ovia Health apps have helped millions of women and families on their fertility, pregnancy, and parenting journeys. With billions of data points collected and analyzed, Ovia Health uses data-driven science to help women conceive, have healthier pregnancies, and start families with confidence.
CUSTOMER SERVICE
We're always working to improve your experience with our products. Have an idea for Ovia? Let us know! Email us at support[at]oviahealth.com
Additional Information :
Age Rating 12+
Size 82.2 MB
Requires iOS 15.0 or later.
User Reviews :
Easy but basic
By far the best pregnancy app out there! The kick counter and contraction timers are GREAT. I adore the growing hand and foot images as well, so precious and it just helps the whole experience of pregnancy feel more real. I also really appreciate the anonymous community feature as well! On my of biggest frustrations with other apps is questions being ignored/unseen because I wasn't a "top member."

I do have two other apps as well but each only serve one purpose. If Ovia would include these, they'd be a one stop shop far superior to the others!

I use Pregnancy+ solely for the 3D realistic baby. It just helps me feel connected to my baby to know and what he might be looking like each weak.

The other is app I use is The Bump. Similarly to Pregnancy+ there's a more realistic visual. I love that I can see the baby in relation to my own body. It's highly informative and helps keep my anxiety at bay. I also notice that The Bumps size comparisons seem to be a bit more in line with what I've seen online, though I do SO LOVE that you can change the theme of the size comparison with Ovia.

Overall, Ovia is the #1 app I would (and do) recommend to all my expecting friends and family.
Good but could be better
This app definitely has a ton of useful features and is great for tracking a LOT of things. However, I really wish it would let you put in your own medications to track and also not just suggest 3 medications you regularly input. For instance, I take probiotics daily and there isn't even an option for that (which is a common supplement), plus I take other supplements not listed. Let me input my own to record please. I also take more than 3 things every day but it only shows me 3 options and then I have to manually search for everything else every single day. Meanwhile it suggests like 6 of the top medicines people take all the time, but I don't take any of those so they just take up space where I would rather see MY top 6.

I also wish I could add multiple meds or symptoms without being spit back out to the data page after every single one. Let me select everything and then hit done so I don't have to keep coming back into the symptom or med tracker and hitting search over and over.

There are other minor annoyances with the UI too, one being that it often glitches and shows me the data tab at the bottom of the calendar screen even though I selected the notes tab. And when you try to view the trends graphs, you can't zoom out to view the whole graph; you can only see like 2 dots on it at a time. Just feels like the app could use an upgrade and a slight UI makeover.
Developer Response,
Thank you so much for taking the time to reach out and provide these thorough suggestions! We will be sure to share these with our team for consideration when making future updates. Please let us know if you have any other feedback or ideas for us at support[at]oviahealth.com.
Mostly great
When I found out I was pregnant, I downloaded several pregnancy apps to see which one I liked best, and Ovia won out easily. I like the interface and the customization. I love the daily and weekly updates and little blurbs about what to expect from my body and what was happening with Baby and it's development. The ability to track food, weight, symptoms, doctor's appointments, just about everything is great! The way that articles and videos are broken down makes them easy to search and find what I want to read. And the medication and food safety look up has been amazing and saved me a lot of unnecessary phone calls to my midwife. This only reason this rating lost a star is because I felt like the high level of daily interaction became all but non-existent once I went over my due date. I'd get one targeted advertisement and maybe one blurb about "is the nursery ready?" or "only a few days left". I missed the timely articles, and wish that instead of recycled blurbs there had been articles about induction or how common it is to go overdue. I know those sorts of things exist because I could look them up in the app, but I wish they had been automatically showing up on my feed as a means of reassurance. Overall a great app, but updating it a bit would be even better.
Get Ovia from App Store
What is your opinion about Ovia
Bitcoin
Ethereum
MetaMask (ETH)
Xrp
Polkadot
Binance coin
Stellar
Dogecoin
Tron
Elrond
Donate Bitcoin to this address
Scan the QR code or copy the address below into your wallet to send some Bitcoin
Donate Ethereum to this address
Scan the QR code or copy the address below into your wallet to send some Ethereum
Donate Xrp to this address
Scan the QR code or copy the address below into your wallet to send some Xrp
Donate Polkadot to this address
Scan the QR code or copy the address below into your wallet to send some Polkadot
Donate Binance coin to this address
Scan the QR code or copy the address below into your wallet to send some Binance coin
Donate Stellar to this address
Scan the QR code or copy the address below into your wallet to send some Stellar
Donate Dogecoin to this address
Scan the QR code or copy the address below into your wallet to send some Dogecoin
Donate Tron to this address
Scan the QR code or copy the address below into your wallet to send some Tron
Donate Elrond to this address
Scan the QR code or copy the address below into your wallet to send some Elrond