NYT Games by Word Games & Sudoku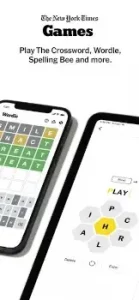 Game Description :
Keep your mind sharp with word and logic puzzles from New York Times Games. Free to download, the app offers new puzzles daily for every skill level.
Game Features :
NEW AD-FREE PUZZLES DAILY
There are never any ads to disrupt the fun in The New York Times Games app, so you can play without distraction.
WORDLE
Play the original Wordle — created by Josh Wardle — in our app. See if you can guess the 5-letter word in 6 tries or less.
SPELLING BEE
Is scrambling your strong suit? Play the daily Spelling Bee and see how many words you can make with 7 letters.
THE CROSSWORD
Subscribers can play the same daily puzzle that's printed in The New York Times, in our app. Crosswords increase in difficulty throughout the week, so there's something for everyone.
SUDOKU
Looking for a numbers game, minus the math? Play Sudoku and fill each 3×3 set of boxes with numbers 1–9. Play a new puzzle every day in easy, medium or hard mode.
THE MINI CROSSWORD
The Mini is all the fun of The Crossword, but you can solve it in seconds. These word games don't increase in difficulty throughout the week and feature simpler clues.
TILES
Unwind while you match elements in the day's pattern — the key is to make consecutive matches.
LETTER BOXED
Create words using letters around the square. Letter Boxed is another fun way to test your word-making skills.
STATS
Track your progress for The Crossword, Wordle and Spelling Bee. For The Crossword, monitor your average solve times, see how many puzzles you can solve in a row, and more. Plus follow your streak on Wordle, and track how often you reach each level in Spelling Bee.
LEADERBOARDS
Start a friendly competition with The Mini leaderboards. Add up to 25 friends to see who can solve today's Mini puzzle the fastest.
PUZZLE ARCHIVE
Subscribers can now solve past Spelling Bee puzzles, plus play over 10,000 crosswords in our archive.
DIGITAL SUBSCRIPTION OPTIONS:
You can purchase a monthly or annual New York Times Games subscription. As a subscriber, you'll enjoy the full Wordle experience, plus Spelling Bee, The Crossword and more. See our subscription offers for further details.
PAYMENT AND AUTOMATIC RENEWAL TERMS:
IF YOU SUBSCRIBE TO THE NEW YORK TIMES GAMES VIA THIS APP, PAYMENT WILL BE CHARGED BY APPLE TO YOUR APPLE ID ACCOUNT AT CONFIRMATION OF PURCHASE. YOUR APPLE ID ACCOUNT WILL BE AUTOMATICALLY CHARGED FOR RENEWAL AT THE APPLICABLE RATE SHOWN TO YOU AT THE TIME OF SUBSCRIPTION EVERY CALENDAR MONTH (FOR MONTHLY SUBSCRIPTIONS) OR EVERY YEAR (FOR ANNUAL SUBSCRIPTIONS) WITHIN 24 HOURS PRIOR TO THE END OF THE CURRENT BILLING PERIOD. YOU WILL BE CHARGED IN ADVANCE. YOUR SUBSCRIPTION WILL AUTOMATICALLY CONTINUE EACH MONTH OR YEAR UNLESS IT IS CANCELED AT LEAST 24 HOURS BEFORE THE END OF THE CURRENT PERIOD. TO CANCEL, PLEASE TURN OFF AUTO-RENEW AT LEAST 24 HOURS BEFORE THE END OF THE CURRENT PERIOD. YOU CAN TURN OFF AUTO-RENEW AT ANY TIME FROM YOUR ITUNES ACCOUNT SETTINGS. CANCELLATION TAKES EFFECT AT THE END OF THE CURRENT BILLING PERIOD.
BY DOWNLOADING THE NEW YORK TIMES GAMES APP, you agree to:
The automatic renewal terms stated above.
The New York Times Privacy Policy: www.nytimes.com/privacy/privacy-policy
The New York Times Cookie Policy: www.nytimes.com/privacy/cookie-policy
The New York Times California Privacy Notices: www.nytimes.com/privacy/california-notice
The New York Times Terms of Service: www.nytimes.com/content/help/rights/terms/terms-of-service.html
Apple Terms of Sale: www.apple.com/legal/internet-services/itunes/us/terms.html
Please note: A subscription to New York Times Games does not include access to any other New York Times products, including but not limited to nytimes.com, New York Times Cooking, Wirecutter, mobile news content and other apps on non-iOS devices.
Additional information :
Age Rating 4+
Size 52.8 MB
Requires iOS 15.0 or later.
User Reviews :
Recent Update
Update: Thank you for adding the "reveal answers" button for the previous day's Spelling Bee. I like that I now have the option to play past games or see what words I missed. Please keep this feature!

Original review: Hi NYT games! I love your app, but rated 1 star so you would read my feedback. Your most recent update has dampened the joy of the Spelling Bee game. I have been playing this game for years, and one of the best parts of this game was that you only had 24 hours to solve the puzzle. After that, you could review the previous day's puzzle to see what words you missed. I learned a lot of words that way and it has helped me improve at the game. It also prevented me from endlessly playing spelling bee. Your new feature takes away the time limit on the puzzle and also means that you can't see the previous day's answers. I hope you will consider making this new update optional, or let users be on the app in "old mode" where we can choose to keep the game as a 24 hour puzzle. Thank you, Sophie
Addicting in a good way
I started doing the NYT crossword a couple years ago (in my 50's) and while I initially found it difficult and frustrating, I slowly advanced through the week, just as the experts said. The app makes solving more fun and extremely portable, and has been a lifesaver during Covid when I've needed diversions from the ever-present bad news. The app is well designed and fun to use. My only "complaint" is the color coding of results. Yellow means you're on a streak. Blue means you've solved it but not on the day of publication OR you needed help. I wish there was a finer gradation of results. To me, there's a big difference between solving a Thursday puzzle but on a Friday vs having to have the app "reveal" answers that I couldn't get on my own. For my own interest, I'd like to look back and see how my solving has progressed over months. When they're all blue, I can't tell if I really solved the puzzle on my own or not. I don't really care if I did it in the alloted 24 hour window. Other than that, it's a winner.
Get NYT Games from App Store
What is your opinion about NYT Games
Bitcoin
Ethereum
MetaMask (ETH)
Xrp
Polkadot
Binance coin
Stellar
Dogecoin
Tron
Elrond
Donate Bitcoin to this address
Scan the QR code or copy the address below into your wallet to send some Bitcoin
Donate Ethereum to this address
Scan the QR code or copy the address below into your wallet to send some Ethereum
Donate Xrp to this address
Scan the QR code or copy the address below into your wallet to send some Xrp
Donate Polkadot to this address
Scan the QR code or copy the address below into your wallet to send some Polkadot
Donate Binance coin to this address
Scan the QR code or copy the address below into your wallet to send some Binance coin
Donate Stellar to this address
Scan the QR code or copy the address below into your wallet to send some Stellar
Donate Dogecoin to this address
Scan the QR code or copy the address below into your wallet to send some Dogecoin
Donate Tron to this address
Scan the QR code or copy the address below into your wallet to send some Tron
Donate Elrond to this address
Scan the QR code or copy the address below into your wallet to send some Elrond