NGL – Anonymous q&a app by DeepMoji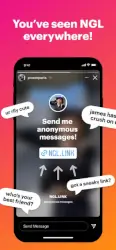 App Description :
1. Share your ngl link anywhere, including your Instagram story
2. Friends answer right on your Instagram story
3. Get responses on NGL
App Features :
To ensure the safety of our users we use world class AI content moderation. We utilize deep learning and rule-based character pattern-matching algorithms to filter out harmful language and bullying. Ultimately we believe that anonymity only works when it's safe!
Terms of service: ngl.link/terms-of-service
Privacy policy: ngl.link/privacy-policy
Additional Information :
Age Rating 12+
Size 69.6 MB
Requires iOS 13.0 or later.
User Reviews :
Great app 10/10
Great app but something weird happened. I was thinking about posting the link but decided not to and discarded it. And then a few minutes later I get a Notification that somebody asked a question and it read " you should post more selfies first of all, I don't take selfies and second of all I never even posted the link so my question is, did somebody some how get ahold of the link or was there some type of glitch?
4/5: Great app but nothing outstanding
I like this app because it does its job without unnecessary bells or whistles. However, it seems you can only have one account connected, which is perfectly fine for the average user, but I use multiple accounts and it would be neat if I could rotate between them. Many of the people leaving negative reviews are complaining about the $10 "hint" feature. I agree; it's scammy and misleading, even as a joke. I think the feature should be removed entirely because it goes against the app's whole gimmick, which is its anonymity, and it feels like an invasion of privacy to break that anonymity. If you really want to know, you could always try to personally find out.
Pointless and Waste of $10
The app was working fine for me. The problem came when I saw that I could see who sent the texts. So I spent $10 to see who they are and it gives me a completely useless hint saying what phone they have (and sometimes how close they are to me). Now I thought that it was just a joke and that maybe it'd give me other hints, but they were all the same. I want to warn anybody using this app: DO NOT SPEND $10!! IT WILL NOT TELL YOU WHO SENT THE MESSAGE!

P.S.

It was a nice little joke the developers made, but it's really out of poor taste. I hope that y'all either bring the price down to $3-$4, or make it to where we can actually see who sent the messages. Making people pay just to get Rick-Rolled is highly irritating.
It kinda does it's purpose.
The app does what it's suppose to do which is good BUT when using it and if you come across a message you really wanna see who sent it you, you have to pay to see which I didn't mind since it was cheap BUT it doesn't ACTUALLY show you who sent it. All it literally does is show you what kind of phone it was sent from. For example, "this message was sent from a iphone 11". It's very misleading how they try and get you to pay for something that doesn't do what's it's suppose to do especially if your paying for it. So at the end of the day your better off just not paying for it an stay away.
Amazing but 1 glitch/bug
I posted my link on my story and as usual, I got messages. When I open the app, the messages doesn't show. I delete the app and get it again and there are the messages. Then it happens again. I don't want to keep restarting my phone or deleting the app just to see the messages. Is there a possible way you can fix this?
Developer Response,
Thanks for using NGL! We'll look into this
Good but could be better
This is a cool app for what it is intended for. I honestly would of given it 5 stars if I could add multiple accounts like IG has.

I think if you guys do an update and make it where you can have up to at least 3 accounts that would be great! I don't like odd numbers but 3 feels right.

As far as the hint feature, I agree with the previous reviews and think it should be taken off but you have to make money somehow and some people might pay to find out who it was.

Also when posted on ig we can't seem to change the color or the background of the post to our stories like we can with original stories we create. I think trying to add that in there allowing even the slightest change in the color of the background so that way it doesn't get to complex would be great.
Get NGL from App Store
What is your opinion about NGL
Bitcoin
Ethereum
MetaMask (ETH)
Xrp
Polkadot
Binance coin
Stellar
Dogecoin
Tron
Elrond
Donate Bitcoin to this address
Scan the QR code or copy the address below into your wallet to send some Bitcoin
Donate Ethereum to this address
Scan the QR code or copy the address below into your wallet to send some Ethereum
Donate Xrp to this address
Scan the QR code or copy the address below into your wallet to send some Xrp
Donate Polkadot to this address
Scan the QR code or copy the address below into your wallet to send some Polkadot
Donate Binance coin to this address
Scan the QR code or copy the address below into your wallet to send some Binance coin
Donate Stellar to this address
Scan the QR code or copy the address below into your wallet to send some Stellar
Donate Dogecoin to this address
Scan the QR code or copy the address below into your wallet to send some Dogecoin
Donate Tron to this address
Scan the QR code or copy the address below into your wallet to send some Tron
Donate Elrond to this address
Scan the QR code or copy the address below into your wallet to send some Elrond