(App) NFT Marketplace – Maker: Sticky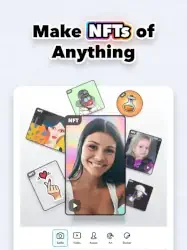 App Description :
Best NFT App: NFT game, NFT drops, NFT trading and NFT maker – all in one!
Exclusive NFT Collectibles you can only find here! Nowhere else – not OpenSea, not Veve. Just here on Sticky. Stay tuned for the NFT drops!
Buy NFTs from just $1!
The only 0% Commission Virtual Collectible / NFT Marketplace! No fee on your NFT buys.
Pro NFT Art Maker: make your art, set prices & quantities & mint! Earn Real Money from your original creations!
Try the NFT Maker Free: make up to 30 NFTs with the Free Trial to our Mint Pass
Make NFTs of anything: Art, Avatars, Game Characters & Items, Trading Cards, Videos, Memes, Selfies, Stickers & More!
Create, Mint, Sell, Buy, Collect, Trade and Play with Virtual Collectibles / NFTs!
The Best NFT Game: Grow your Coin & NFT Wallet! Buy items and characters for upcoming NFT Games.
Easy, Fast, Safe & Fun: buy in-app; no cryptocurrency / crypto wallet connection required. No scams, bots or misterious crashes on drops (like you-know-who)!
Export to Polygon!
App Features :
If you are interested in NFT collecting on opensea, foundation, rarible, NFT games such as axie infinity, cryptokitties, sorare, sandbox and splinterlands, NFT collections such as BAYC – bored ape yacht club, cryptopunks, or trading card collecting and trading games such as veve, topps, topshot & quidd, you'll also love Sticky. It has NFTs you can't find anywhere else, and you can not just collect but also make & sell your very own NFTs.
Important:
Although Sticky is easy & fun, NFTs on Sticky are real NFTs, so please take care when minting & buying!
StickyCoins & NFTs available for purchase are on the Sticky ledger. After you purchase an NFT, you can then export it from the Sticky ledger to the Polygon blockchain (we are in the process of integrating other blockchains too – stay tuned!) and view it in third-party marketplaces and apps such as OpenSea. We are in the process of enabling NFT transfers to third party wallets.
Sticky offers NFTs as collectibles, not as securities, convertible currencies, or investments.
Sticky allows users to create and publish their own NFTs. We strive to keep the community safe, but if you do see inappropriate content, please report it via the in-app features and we will take action within 24h. Publication of inappropriate content or abusive behavior is not tolerated and will result in ejection from the platform.
Privacy Policy: getstic.ky/privacy
Terms of Use: getstic.ky/terms
Additional information :
Size 152.1 MB
Requires iOS 13.0 or later.
User reviews :
Really enjoy nice entry to nfts
I myself like to create art and showing people. OpenSea is nice but you have the learning curve if the wallet, gas fees and currency. You have to extensively set up your page and all that jazz. Here, feel like a playground, something familiar but you have the opportunity to make money. Definitely worth a try. You don't need to pay right away to mint and buy, they have goals that will reward you with what you need to start. Great app.
Developer Response,
Wow, thank you so much for your feedback! Feedback like yours really helps us understand how people are using the app and what they think it (even if they have criticism too – that helps – so we're happy to hear any suggestions you may have!). We really appreciate it. Thank you.
Wack
Alright the AI generator doesn't produce anything worth anything. I've only tested it a few times though. The rest of the editor is lacking in just about every aspect lol. And uhh Curious.. Why The Name "Sticky" as your app name? People should just send me a Text Prompt and I could push out something better and well better for certain ha. It might take 5 minutes or less depending but not much. Do you guys need a creator cause I'll do it for real money. I think we should work something out.. get back to me on the subject and I'll 5 star you. But.. the stars do not come until A real conversation/discussion has happened. You take me seriously and I'll do the same. I've never actually looked into nfts but I feel I am missing out on an opportunity. I stopped for a bit but I distort and edit photos. If you want to see some I'll show ya in or out of app. Unfortunately I deleted almost everything. Just send me a "Text Prompt" and we can go from there
Amazing need update
I love the app overall very easy to use. When will the update be when we are able to sell them and convert to money or wtv. I have loads and created some and are about to create some more. But I just need to know when the update will be
Developer Response,
Hi, thanks for your feedback. We are working on making the secondary market available in the coming weeks.
Get NFT Marketplace from App Store
What is your opinion about NFT Marketplace
Bitcoin
Ethereum
MetaMask (ETH)
Xrp
Polkadot
Binance coin
Stellar
Dogecoin
Tron
Elrond
Donate Bitcoin to this address
Scan the QR code or copy the address below into your wallet to send some Bitcoin
Donate Ethereum to this address
Scan the QR code or copy the address below into your wallet to send some Ethereum
Donate Xrp to this address
Scan the QR code or copy the address below into your wallet to send some Xrp
Donate Polkadot to this address
Scan the QR code or copy the address below into your wallet to send some Polkadot
Donate Binance coin to this address
Scan the QR code or copy the address below into your wallet to send some Binance coin
Donate Stellar to this address
Scan the QR code or copy the address below into your wallet to send some Stellar
Donate Dogecoin to this address
Scan the QR code or copy the address below into your wallet to send some Dogecoin
Donate Tron to this address
Scan the QR code or copy the address below into your wallet to send some Tron
Donate Elrond to this address
Scan the QR code or copy the address below into your wallet to send some Elrond