(Game) New Star Manager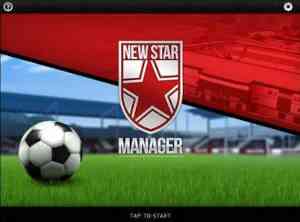 Game Description :
Welcome to New Star Manager: The critically acclaimed game from Simon Read, creator of the BAFTA Award-winning New Star Soccer series.
Take control of New Star FC – a beleaguered soccer club which needs your management skills and instincts to unlock the team's potential and make it to the top of the game.
The No.1 iPhone and iPad game of 2018 – AppSpy.com
This is soccer management like you've never experienced it – Be more than just a player, be the head, the heart, and backbone of New Star FC. Be the Manager.
New Star Manager takes the frame of the original game, and builds something utterly wonderful on top of it  10/10 – Pocket Gamer
If you love football…you'd be mad not to download it The Guardian
Game Features :
TOTAL CLUB CONTROL
Take ownership of every aspect of New Star FC, from constructing vital club facilities and managing the players' training regimes to choosing the perfect sponsor and hiring or firing the backroom staff!
FULL SQUAD GAMEPLAY
Use every member of your team to set up and score pivotal goals with on-pitch gameplay, using innovative controls designed specifically for phones and tablets!
REAL SOCCER TACTICS
Build your dream squad, choose your winning formation, make tactical substitutions, and even step into the locker room for some half-time motivation!
OFF-PITCH DRAMA
Handle volatile players and get their mind back in the game by monitoring their concerns, outbursts, and quirks. Keep the board off your back, navigate the hostile waters of the sporting press, and make sure the fans keep believing… while keeping a careful eye on the club's finances!
GLOBAL FOOTBALL
Dive into realistic simulations of the world's biggest leagues and cup competitions!
THE NEW STAR SOCCER EVOLUTION
Experience the newest instalment of the New Star series, whose pick-up-and-play sports titles have already been enjoyed by over 30 million players!
Additional Information :
Size 208.7 MB
Requires iOS 10.0 or later.
User Reviews :
Solid and excited to see the future
This game is truly remarkable when it comes to its ability to combine fun and challenging gameplay with an in depth simulation of managing a football club. This alone makes this game an amazing experience for me the only things that could Improve this game are.

1. Having the ability to manage a national team.

2. More customization of club kits and crest etc.

3. Manager transfers or the ability to manage another team.

Also an extra thing that could be interesting would be the the ability to select a location or city that your team plays in and have certain rival teams which can correspond (teams from the same city or area or maybe a team who tend to beat you ) these rival teams would serve as extra objectives and could be used to make playing in the lower leagues in the beginning of the game more interesting as playing a rival team could mean could mean losing or gaining a large amount of trust from the fans or board. This same affect could be used if I player was bought from or sold to a rival club.
Great amount of depth, simple, and addictive
I'm not one to leave reviews for apps but I have been playing this game nonstop for weeks if not months at this point! This is an incredibly well-thought game, comparable to the likes of Football Manager or career mode in FIFA. The gameplay is simple yet engaging, I never feel like it's a drag to play through the games. Since it's a mobile game, the pick-up-and-play aspect is really convenient which is why I think I've been so immersed in this app. The only complaint I have is the aggressive marketing of in-app purchase. However, I've had this app since July and I've never bought in-game currency and I'm doing just fine. I will admit I've watched a lot of ads because of this app. Ads are everywhere, after a game you can expect to see an ad. However, I rarely play more than one game at a time, so realistically it's not too annoying. By watching an ad you can increase your players' energy. Usually I hate this in mobile games, but I watch a bunch of ads anyway because I wanna support the creators. I just play them in the background while I listen to music. So again, great app and an amazing upgrade to the original New Star Soccer!
IS THIS REAL?
How?! You guys went from an amazingly fun game with New Star Soccer, to an even more fun, slightly different 3D version(which is perfect, if it ain't broke don't fix it. And if it's just a little worn out then a little upgrade never hurt did it?!)!! And the best part is that this game you can play for hours on end and never once have to worry about paying or having to get off to get energy back or something!! This company truly is a modern marvel, and should be considered the ideal model for other companies to follow. What I love is that they seriously brought every issue that they had to the table with NSS and clearly, they said "what can we do right now to either fix this, or to make it more fun?" And they absolutely nailed it! Easily the best game I've ever played. So far no bugs, no glitches, just another excellent game created by this company. Can't wait for more from them! Thank you so much!
Get New Star Manager from App Store
What is your opinion about New Star Manager
Bitcoin
Ethereum
MetaMask (ETH)
Xrp
Polkadot
Binance coin
Stellar
Dogecoin
Tron
Elrond
Donate Bitcoin to this address
Scan the QR code or copy the address below into your wallet to send some Bitcoin
Donate Ethereum to this address
Scan the QR code or copy the address below into your wallet to send some Ethereum
Donate Xrp to this address
Scan the QR code or copy the address below into your wallet to send some Xrp
Donate Polkadot to this address
Scan the QR code or copy the address below into your wallet to send some Polkadot
Donate Binance coin to this address
Scan the QR code or copy the address below into your wallet to send some Binance coin
Donate Stellar to this address
Scan the QR code or copy the address below into your wallet to send some Stellar
Donate Dogecoin to this address
Scan the QR code or copy the address below into your wallet to send some Dogecoin
Donate Tron to this address
Scan the QR code or copy the address below into your wallet to send some Tron
Donate Elrond to this address
Scan the QR code or copy the address below into your wallet to send some Elrond