(Game) NARUTO X BORUTO NINJA TRIBES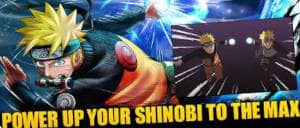 Game Description :
We regret to announce the closure of this game on Dec.16, 2021. The game and all items can be used until the last day. Check in-game announcements for more info.
NARUTO X BORUTO NINJA TRIBES brings together all your favorite characters and teams from multiple generations of the iconic NARUTO and BORUTO worlds. Naruto, Sasuke, and Sakura of the original Team 7 fight against or alongside their new Team 7 counterparts Boruto, Sarada, and Mitsuki. Many other unforgettable fan favorites such as Gaara and Ino-Shika-Cho also join the fight!
Game Features :
Shinobi Battles
Place your favorite shinobi in a deck and battle it out strategically with your three-shinobi squad in fast-paced shinobi action, just like in the NARUTO and BORUTO world. All with a single tap!
Strategic Gameplay
Work out the best strategy to beat other shinobi in battle. Enhance your shinobi's skills and gear through a variety of training, game modes, and rewards to unlock heaps of in-game content. Assemble your shinobi to compete against other players' squads or make alliances with their team to tackle Raids and defeat mighty Raid Bosses!
Tribe Specials
Execute dynamic ninjutsu combos which evoke a sense of speed and awe just like in the anime series as you bring unique shinobi bonds to life via these incredible techniques.
Dynamic Visuals
Immerse yourself in highly-dynamic 2D visuals which demonstrate an unrivaled sense of velocity and presence. Character visuals will evolve as you level up your shinobi!
Heaps of Content
Take on tower battles, fight against other players' data in Ninja Arena, or work with other players to beat really tough opponents in Raids. This is just some of the content you'll experience in the game… Get ready, there's more!
This application is distributed under the official rights from the license holder.
BANDAI NAMCO Entertainment Inc. Website:
bandainamcoent.co.jp/english/
By downloading or installing this app, you agree to the BANDAI NAMCO Entertainment Terms of Service.
Terms of Service:
legal.bandainamcoent.co.jp/terms/
Privacy Policy:
legal.bandainamcoent.co.jp/privacy/
Note:
This game contains some items available for in-app purchase that can enhance gameplay and speed up your progress. In-app purchases can be disabled in your device settings, see support.apple.com/en-us/HT201304 for more details.
Additional Information :
Size 14.4 MB
Requires iOS 11.0 or later.
User Reviews :
5 star game, but one huge issue
I downloaded this game about 4 days ago and I'm in love with it, graphics are awesome, the features are great, and there's a fantastic overall job on the game. But there is one big issue, I'm on server 23 and I don't know if it's just my server or the others too but I cannot play the game without being thrown back to the loading screen when you start up the game. I think it's the servers. At first I could play for like 10 minutes and the game would crash and then after the days went by the time period where I could play was getting shorter and shorter to 8 minutes, 5 minutes and right now I can log in and within 3 to 2 minutes the game crashes and it sends me to the loading screen. This is really frustrating because I really want to play the game but I'm only able to do about 2 fights and I get kicked. I know it's not my wifi or data because I've tested it and their all good on other games and apps. Developers please fix this ASAP, I would hate to have to move on to a different game because this one crashes within minutes of logging in. I talked to some members of my clan in the game and they say this happens to them as well. I want to see this fixed really really soon because I just can't play in peace. Thank you.
Favorite Naruto Mobile Game
I started this game when my brother suggested it to me. I was just getting back into Naruto, so I thought I'd give it a shot. As soon as I downloaded the game, I was hooked. I was on the game almost all day, and was upset when I had nothing else to do. It's not hard to get your favorite shinobi (for me, at least…haha) and they're all very fun to level up! I find it very fun to summon on the banners, whether I get something I desire or not….although, of course, it's still devastating sometimes. The illustrations, animations, missions…everything is great. Also, the chat is surprisingly not as toxic as you'd think, it's pretty laid back. It's actually fun socializing with others in this game, as I didn't expect because I don't like people much. The alliance feature is great, and I enjoy leveling my shinobi with other players. The rankings? They're great, too. Other games I played in the past stressed me so much with the ranks, but this one hasn't been much to stress about. Even though I've gotten angered by it at times, it's great. I'm very disappointed that it'll be shutting down, as it's been the best mobile game I've had. I wish I had started the game earlier, but I guess all good things come to an end. It's been the dream on here.
Get NARUTO X BORUTO NINJA TRIBES from App Store
What is your opinion about NARUTO X BORUTO NINJA TRIBES
Bitcoin
Ethereum
MetaMask (ETH)
Xrp
Polkadot
Binance coin
Stellar
Dogecoin
Tron
Elrond
Donate Bitcoin to this address
Scan the QR code or copy the address below into your wallet to send some Bitcoin
Donate Ethereum to this address
Scan the QR code or copy the address below into your wallet to send some Ethereum
Donate Xrp to this address
Scan the QR code or copy the address below into your wallet to send some Xrp
Donate Polkadot to this address
Scan the QR code or copy the address below into your wallet to send some Polkadot
Donate Binance coin to this address
Scan the QR code or copy the address below into your wallet to send some Binance coin
Donate Stellar to this address
Scan the QR code or copy the address below into your wallet to send some Stellar
Donate Dogecoin to this address
Scan the QR code or copy the address below into your wallet to send some Dogecoin
Donate Tron to this address
Scan the QR code or copy the address below into your wallet to send some Tron
Donate Elrond to this address
Scan the QR code or copy the address below into your wallet to send some Elrond