MyDyson app by Dyson Inc.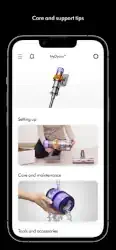 App Description :
Get more from your Dyson with the MyDyson™ app (formerly Dyson Link). Re-engineered with additional features and content for hair care machines and cordless vacuums. And the ideal companion to get the best from any machine – a tailored experience in the palm of your hand.
Access expert video content and more for selected Dyson machines. Plus, you can activate, schedule and monitor your Dyson smart technology, whether at home or away.
For all machines there's 24/7 support – including chat, easy access to machine user guides, and a hassle-free troubleshooting feature. Join the Dyson Community and connect with thousands of existing owners. They're on hand to share knowledge and useful tips from their own experience of Dyson machines.
If you have multiple machines, the app is ideal to manage them all. A revolutionary experience of content and control at your fingertips.
App Features :
By adding your Dyson hair care machine or cordless vacuum, you can:
Enjoy tailored hair care styling guides or floor care how-to videos
Easily shop for attachments and accessories
Connect with a community of Dyson owners
Discover the engineering and science behind Dyson technology.
By connecting to your Dyson purifier or humidifier, you can:
Review both indoor and outdoor air quality information, in real time
Create a schedule, so your machine is on when you need it
Explore historic air quality information and learn about your indoor environment
Remotely control air flow speed, mode, timer, oscillation and other settings
Receive software updates and access product guides.
By connecting to your Dyson robot vacuum, you can:
Control, activate or pause your robot, remotely
Schedule and track cleans
Switch between Max and Quiet modes, mid-clean
Explore where your robot's cleaned, with activity maps
Create zones in your home and control how each is cleaned
Receive software updates and access product guides.
By connecting to your Dyson light, you can:
Sync to your location's natural daylight
Use preset modes – Relax, Study and Precision – to match your task or mood
Activate Boost mode for 20 minutes of bright, high-intensity light
Tailor light levels to suit you, by choosing your own Kelvin and Lux values
Receive software updates.
Plus, you can control your machine with simple, spoken instructions*.
Please note, some Dyson machines require a 2.4GHz Wi-Fi connection. Please check specific connection requirements on the Dyson website.
If you have any comments you'd like to share on the latest release, you can contact us directly at askdyson[at]dyson.co.uk.
*Voice control is compatible with Amazon Alexa in Australia, France, Germany, India, Japan, the UK and the US. Amazon, Alexa and all related logos are trademarks of Amazon.com, Inc. or its affiliates.
Additional Information :
Age Rating 4+
Size 343.2 MB
Requires iOS 14.0 or later.
User Reviews :
App is amazingly frustrating
I was really excited to be able to link my air purifier to my phone and see how the air quality in the room was since my son has allergies and asthma. The app is unable to link. About halfway… it just stops. In another review you see someone mention this as well and it makes sense. The unit is dropping connection with the phone and trying to connect to the home network… but isn't working. Apparently this isn't a new issue and seems to have been on going for a couple weeks now. I may give it a couple days and see but as the frustration builds, my excitement about this fan and cost is diminishing. Probably going to return it in a few days if this isn't resolved.

On another note. I purchased mine at Costco and noticed that there were a bunch of units there that seemed to have been returned units because the tape had been removed or visibly torn. In fact… it took me awhile to find a box where it looked like it was never opened. It now makes sense as to why so many of these were brought back.
Used to always stay connected now it's intermittent
After an update about a year ago now when opening the app to control my air purifier it's random now as to if the app can even find and connect to the purifier. This is absolutely unacceptable as the machines are 500+ not to mention that I've spent $80each on now 3 replacement filters totaling $240 just for those! And now I almost never can control the thing via voice commands or even the app. But the magic fix is if you unplug the purifier and plug back in it'll connect right back to the app control this is utterly useless if I can unplug it then I can just use the little IR remote! Fix your software, or you should have to pay me a fine for inability to use already purchased features! Or refund my money for your defunct over priced machine! Dyson is so rich they absolutely could lower their prices they don't have to profit the level they do that's an active choice. One only needs keep their prices high just when founding a company after you gain notoriety and income you can lower your profit expectations. Get over yourself! I have other air purifiers in other rooms that are the price of just the dyson purifier and their app control has never once been unavailable, the others even have UV air sterilization which dyson doesn't offer?!? Fix your junk dyson spend some of that money on good programmers!
Newest update
Updated review: The app has been updated and the ability to swipe to the different machines has returned! Great job, I don't think i could live without this app now. Thank you for the follow up Dyson

The app has changed and where I was able to swipe left and right to see the multiple machines I own has been removed. Now the menu on the left is to select a specific machine and then see only those details, seems much more counterintuitive than the last version. Dyson products are so smooth to operate and normally sleekly designed. This actually reversed that and makes the app more of a pain than a pleasure.

Please please please allow us to easily slide between machines as it was before, it made sense. I would go five stars on this app, literally love all of it aside from this klunky feature update
Developer Response,
Hello, we have taken on board your feedback and are happy to tell you that we have reintroduced a swipe motion. This function is slightly different, you will need to swipe from the edge to switch between your products. Your products are also still available to select from app menu. Thanks, Lyndsey – Dyson Connected Specialist
Get MyDysonfrom App Store
What is your opinion about MyDyson
Bitcoin
Ethereum
MetaMask (ETH)
Xrp
Polkadot
Binance coin
Stellar
Dogecoin
Tron
Elrond
Donate Bitcoin to this address
Scan the QR code or copy the address below into your wallet to send some Bitcoin
Donate Ethereum to this address
Scan the QR code or copy the address below into your wallet to send some Ethereum
Donate Xrp to this address
Scan the QR code or copy the address below into your wallet to send some Xrp
Donate Polkadot to this address
Scan the QR code or copy the address below into your wallet to send some Polkadot
Donate Binance coin to this address
Scan the QR code or copy the address below into your wallet to send some Binance coin
Donate Stellar to this address
Scan the QR code or copy the address below into your wallet to send some Stellar
Donate Dogecoin to this address
Scan the QR code or copy the address below into your wallet to send some Dogecoin
Donate Tron to this address
Scan the QR code or copy the address below into your wallet to send some Tron
Donate Elrond to this address
Scan the QR code or copy the address below into your wallet to send some Elrond