(Game) My Perfect Hotel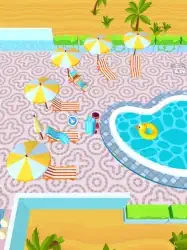 Game Description :
A GAME TO KEEP YOU FULLY OCCUPIED
Ever dreamed of running your own hotel? Start from the ground up in this fun and fast-paced time-management game where the aim is to build an accommodation empire and demonstrate your dedication to hospitality. Show your skills as a hotel manager, invest wisely in staff and property improvements, and work your socks off to become a hospitality tycoon in this addictive and entertaining casual simulator.
Game Features :
FIRST-CLASS SERVICE
Climb to the top: Start the game as a simple bellhop single-handedly cleaning rooms, greeting guests at reception, collecting payments and tips, and keeping the bathroom stocked with toilet paper. As your bank balance expands, upgrade rooms and facilities, and employ new staff to help keep up with the growing demand at your hotel. Your guests may be sleeping comfortably, but there's no time to rest for a determined hotel tycoon.
Build an empire: There are several hotels to explore and expand, each with dozens of different unique upgrades to make before you reach five-star perfection. Demonstrate your competence as a manager in each location, then get promoted to get a new and bigger property, and continue your path to becoming a true hotel tycoon. Each hotel has its own style and atmosphere too.
Keep going: If you want success in this high-stakes industry, you can't just stroll around your property at a leisurely pace. Upgrade your and your employees' movement speed to work faster and provide your guests with all the services they need ASAP — it'll boost your revenue too.
Amenities are the answer: Maximise profits and get more funds to invest in this fun simulator by ensuring your hotels have all available amenities. Bathrooms are the first step, but work hard and you'll soon have the opportunity to add vending machines, restaurants, parking lots, and swimming pools to your properties. Guests will pay extra for each facility, boosting your revenue. Though remember each facility also needs staffing, so get hiring or you'll soon run off your feet with angry guests left standing in line for each amenity.
Grand designs: Upgrade accommodation to improve guests' experience of your property and choose from a range of different room designs in each location. In this engaging simulator, you're not just a manager, you're an interior designer too!
FIVE-STAR FUN
Looking for a time-management game that's original and simple to play and provides endless hours of entertainment? Dive straight into the fast-paced world of hospitality provision and develop your skills as a manager, investor, and designer. Download Hotel Master now and get to work building an accommodation empire.
Privacy Policy: say.games/privacy-policy
Terms of Use: say.games/terms-of-use
Additional Information :
Size 254.5 MB
Requires iOS 11.0 or later.
User reviews :
upgrade and star bug
Hello, I like your game very much. There is only one bad bug in the game. And i stopped at the same place. If i dont watch ads while upgrading rooms, i get less stars and i cant accumulate the 30 stars required for level 2. As a result, the game crashes. i stay at 28 stars. i saved 6.2k, but i couldnt get the remaining 2 stars. Please fix this part. i had to delete the game and all my hard work went to waste. Note: im a game designer and qa mobile tester.
Fun game but TOO MANY ADS!
Fun game but seriously there are ads every 90ish seconds with NO AD REMOVAL OPTION! C'mon man that's ridiculous, even if they are partially skippable. Either massively tone down the number of ads or offer the usual paid $3-$5 option to remove the ads (it's not worth more than that at this point without extras given the current limited levels and simplistic graphics and game mechanics). I, and I am sure many others, would really like to be able to enjoy playing your game mindlessly in peace! You will still get plenty of ad revenue from the various boosters you offer in game. Once I see an improvement on the ad situation or a REASONABLE offer to purchase ad removal, I would be more than happy to rate 5 stars and recommend to friends and family. Hope to also see some new updates at some point as well, it's an otherwise fun game, thank you for making it!
Needs Improvement
I absolutely love this game. I originally downloaded it for my children and eventually downloaded it on my phone. I love the simplicity of the game. My major compliment is that some of the ads are very inappropriate, I don't want to see them and I sure don't want my children seeing such sexual advertising. Other than that if it's only gonna be one stock room maybe make an area for the supplies to be stocked closer to the soda areas. I've also noticed that the game lags and for some reason my phone becomes extremely hot while playing this game.
Get My Perfect Hotel from App Store
What is your opinion about My Perfect Hotel
Bitcoin
Ethereum
MetaMask (ETH)
Xrp
Polkadot
Binance coin
Stellar
Dogecoin
Tron
Elrond
Donate Bitcoin to this address
Scan the QR code or copy the address below into your wallet to send some Bitcoin
Donate Ethereum to this address
Scan the QR code or copy the address below into your wallet to send some Ethereum
Donate Xrp to this address
Scan the QR code or copy the address below into your wallet to send some Xrp
Donate Polkadot to this address
Scan the QR code or copy the address below into your wallet to send some Polkadot
Donate Binance coin to this address
Scan the QR code or copy the address below into your wallet to send some Binance coin
Donate Stellar to this address
Scan the QR code or copy the address below into your wallet to send some Stellar
Donate Dogecoin to this address
Scan the QR code or copy the address below into your wallet to send some Dogecoin
Donate Tron to this address
Scan the QR code or copy the address below into your wallet to send some Tron
Donate Elrond to this address
Scan the QR code or copy the address below into your wallet to send some Elrond