(Game) Mr Bullet – Spy Puzzles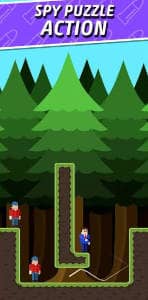 Game Description :
Are you ready to become a hero, spy, and legend? Solve puzzling challenges, show off your deadly accuracy and take aim at the enemies. Come experience the shooting phenomenon.
Use your brain in this unique puzzle game. You will need precise aim and laser focus to take down enemies, ninjas, and many other bad guys you will encounter in the world! Travel to new lands, save hostages, and use unique weapons like grenade launchers to combat your foes. Start your adventure now! The one thing you have to ask yourself is: can you do it in one shot?
Game Features :
1.        Destroy them all and save the world!
Mister Bullet is on a secret mission. Use your deadly accuracy and precision to keep the bad guys! Whether it is a spy, agent, zombie, lumberjack, alien they are all here to take over the world and only a MASTER can take them down and save the world.
2.        Unlock Epic Missions
So many enemies and levels for you to take down, each with their own unique twist! How smart are you? Can you solve all the puzzles? Shoot bullets that ricochet, bounce, or simply go in a straight line! Use your bullets to make objects fall and explode. Create chain reactions and do whatever it takes to get your target!
3.        New Challenges Await
Rescue hostages, throw grenades at people and go on secret missions. No matter the situation, just remember to make every shot count!
4.        Engaging Physics Puzzler
Only the smartest and quickest can solve all the puzzles! You will need more than just accuracy to make it through. Speed, timing and patience are all things you will need to become the zennest shooting master. Can you get three stars on every level?
5.        Spy vs Spy
Are you the best and most accurate? Battle against other spies in crazy PVP multiplayer scenarios.
6.        New Features Weekly
Mr Bullet is constantly updating with new unique levels, weapons and other skins. You will NOT want to miss out on the action.
7. Subscription
Subscribe to our monthly golden VIP pass and gain access to the following:
Golden Gun – Having a hard time completing a level? Don't worry, the golden gun can shoot enemies through walls and help deal with your problems.
Exclusive VIP Levels: We will have a new level release daily for our VIP golden pass holders!
No Ads: Tired of those pesky ads? Don't sweat it. Once you're a VIP pass holder, you will no longer have ads to worry about!
These purchases are auto-renewable subscriptions. The subscription price will be charged to your iTunes account upon confirmation of purchase and in the 24 hours prior to the end of each subscription period as set out above (e.g – week, month or year). Cancel your subscription at any time in your iTunes Account Settings. If you do not cancel the subscription at least 24 hours before the expiry of any trial period, the subscription will automatically convert into a paid auto-renewing subscription. Any unused portion of a free trial period, if offered, will be forfeited when the user purchases a subscription to that publication, where applicable.
Whether you're a shooter or a puzzler, Mr. Bullet is a challenge ready for you. This is the best physics shooter game there is. Never miss a dull moment with this easy to learn and easy to play game that is almost IMPOSSIBLE to master. Battle notorious villains. Become a legend agent. Start your mission and never stop shooting! Bullseye!
From the Studio that brought you Happy Glass, Flip Trickster, and Love Balls!
Follow us to get news and updates on Mr Bullet and our other Award Winning titles;
lionstudios.cc/
Facebook.com/MrBulletGame
Instagram.com/LionStudioscc
Terms of Service: lionstudios.cc/terms/
Privacy Policy: lionstudios.cc/privacy
Additional Information :
Size 165.4 MB
Requires iOS 9.0 or later.
User reviews :
Kolton

This game is so good you can actually shoot bad guys they get the stuff back going to the bars anything you got me levels you got this thing you can buy anyone to help you like Cora people in the cities people and they get paid back dude it's ethic if you ever played this game you should get it right away if you don't get it you should half to get it if you don't get it then you should cutest face as you can because this game is the best game in the world if you never played this game it will be the worst if you don't play it will be the worst because it's so cool different levels different people to shoot you can't even get cool ways to shoot it like you could shoot a box and a card and some thing at it so yeah it's a cool game you should buy it off of that so cool Best game in the world I have to tell you it's the best you will have to play it it's the best I'm the first person and I will be the first person to ever like this I read all the stars because you can shoot a different way to shoot different people do you have to buy because I think you do good so all you Gotta do is ask your parents to not that hard.
Great game 🙂
This game is so fun! I love it and it is really underrated. The ads don't pop up so much either! You can buy new characters and weapons to! Most games I have played like this have ads every moment But this one has ads like one or two every 20 minutes! And for everyone saying "this game crashes" first of all your going to need to have decent internet to play it obviously, and why are ppl leaving a horrible review.. like Um okay Chile anyways.. but overall this game is really fun I had no problems! But one suggestion you should probably make more characters! It would be so fun if you could make superhero's like hulk, Batman, Superman, just a example and maybe for the holidays you could make Santa, the grinch, elf's, ya know. Anyways you should totally download this game it's really fun and if your bored you should download this game! Happy playing!
A great time waster except…
I'm gonna come out and say it, of all the stupid, free mobile games that've come out in the past few years, this has to be a favorite. Wanna test you aim and problem-solving? Mr. Bullet is for you, my good friend! Unfortunately it shares a similar problem that all to many other modern mobile games face: CONSTANT ADVERTISEMENTS. 7 times out of ten, you receive an ad between one level to the next. And yes, I understand the devs need the revenue to make money off of this game, but that's what the bonuses and skins should be for! It's a mutual exchange between player and creator in that the player receives some sort of gift or help in return for giving the developers ad money. Advertisements should not constantly be shoved down people's throats! And it's sad to see this be such common practice in the mobile game business because I believe if the devs leave ad viewing up to whether or not they want to view an ad to get a reward, then mobile gaming may become more enjoyable again. I hope that Lion, Voodoo, Estoty, and even EA and the brilliant minds behind Genshin Impact will see this and learn from this review.
Get Mr Bullet from App Store
What is your opinion about Mr Bullet
Bitcoin
Ethereum
MetaMask (ETH)
Xrp
Polkadot
Binance coin
Stellar
Dogecoin
Tron
Elrond
Donate Bitcoin to this address
Scan the QR code or copy the address below into your wallet to send some Bitcoin
Donate Ethereum to this address
Scan the QR code or copy the address below into your wallet to send some Ethereum
Donate Xrp to this address
Scan the QR code or copy the address below into your wallet to send some Xrp
Donate Polkadot to this address
Scan the QR code or copy the address below into your wallet to send some Polkadot
Donate Binance coin to this address
Scan the QR code or copy the address below into your wallet to send some Binance coin
Donate Stellar to this address
Scan the QR code or copy the address below into your wallet to send some Stellar
Donate Dogecoin to this address
Scan the QR code or copy the address below into your wallet to send some Dogecoin
Donate Tron to this address
Scan the QR code or copy the address below into your wallet to send some Tron
Donate Elrond to this address
Scan the QR code or copy the address below into your wallet to send some Elrond