(Game) Lyrical Letters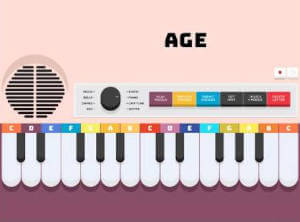 Game Description :
When I was a young boy, my momma bought me a tiny Casio keyboard from a Sears Bargain Centre. Now Sears is gone, and Casio isn't cool anymore.
Or is it? Anyhoo…
You know what is cooler than cool? Having a hi-lo-fi digital keyboard word game right in your back pocket. Synthesizer? Check. Chiptune? Check. Guitar? Check. Clever word puzzles? Double-check.
Also cool? You can record and share your own songs with friends. Boo-yah!
But how do you play, son? Glad you asked. Listen carefully to a sequence of notes and play them back in the correct order to form a word. Learn to play music, improve your vocabulary, keep your kids occupied for hours on end, train your ears to hear notes, and impress your friends by playing *the* song from the movie Big. The possibilities are endless.
Part Simon. Part word match. Part dictionary. All good.
Word (pun intended).
>Welcome to Lyrical Letters.
Game Features :
8 instruments perfectly tuned for an iPhone
3D Touch enhanced
ReplayKit : record and share songs with your friends!
Includes Moog, Guitar, Synthesizer, Bells and more
Over 115 word puzzles
Easy modes that light up keys so you can learn to play
Haptic feedback
Open game mode that lets you play music just for fun
Delicious retro design
iPhone X optimized
Additional Information :
Size 102.7 MB
Requires iOS 10.0 or later.
User Reviews :
Nearly Perfect! I love it!
This is the perfect game for training your ears for perfect pitch, wether you love music like I do, or want to learn it. I played all of the 117 levels in one day without really using any hints.

Plus, the solid, modern colors and design of the app are just beautiful. Frosty Pop is so good with their graphic designs.

If there was an update for this app, I would love to see a harder mode with new levels that includes sharp and flat pitches, rather than just natural ones (That was a missed opportunity. I don't really care for the percussion sounds on the black keys that much).
Developer Response ,
Thanks so much. Really great ideas. Will do my best.
I enjoy the game but some suggestions
The game is fun. Very fun. Very relaxing as well. I have a suggestion which i feel could make the game easier instead of having to repeat every note until you get the right one your looking for. I feel like there should be a way to play a specific note in the sequence. Example: say there's 4 notes in one sequence and you've already found the first two and you want to hear the third one again but you have to play each sound again just to hear the third one., maybe make a way to where you could tap on a specific note in the sequence so you don't have to continue the whole sequence again and you can just listen to that single note. Of course don't make it infinite uses…make it so maybe you only have a certain amount of uses per hour or so don't make it so you only have a few per day then that would just be very annoying.
I actually enjoy this game…
I'm only on the first few levels so this is ridiculously easy – hoping it gets harder. It's so easy, however, that it takes me less time to get through the two levels I'm given before the ad starts than it does for the ad to play. Luckily, there's a 'remove ads' button that I'd be happily willing to pay for. Problem solved! Right? Nope. Because that button takes me to other games by the designer, NOT a way to remove those unnecessarily excessive annoying ads. I like this game, but not enough to put in 20 seconds of gameplay per 30-second ad. Please give me a way to actually remove them, or better yet, give me more game per ad session so I feel like I'm actually doing something.
Developer Response ,
Sorry, the ads showing so often is a bug. Also, fixing the Remove Ads option this morning. Thanks so much for trying my game.
Stylish!
I haven't experienced any bugs in this game yet. It's got a nice charming aesthetic and can help train your ear. The only problem I have with this app is that when you answer a level and it plays your answer back to you, it's very slow, especially in the beginning levels. It's a lot of just sitting there waiting for the audio to finish. However, this isn't a major issue and I'm still rating five stars.
Developer Response ,
Thanks. I think maybe need to add a skip option there. Cheers!
Get Lyrical Letters from App Store
What is your opinion about Lyrical Letters
Bitcoin
Ethereum
MetaMask (ETH)
Xrp
Polkadot
Binance coin
Stellar
Dogecoin
Tron
Elrond
Donate Bitcoin to this address
Scan the QR code or copy the address below into your wallet to send some Bitcoin
Donate Ethereum to this address
Scan the QR code or copy the address below into your wallet to send some Ethereum
Donate Xrp to this address
Scan the QR code or copy the address below into your wallet to send some Xrp
Donate Polkadot to this address
Scan the QR code or copy the address below into your wallet to send some Polkadot
Donate Binance coin to this address
Scan the QR code or copy the address below into your wallet to send some Binance coin
Donate Stellar to this address
Scan the QR code or copy the address below into your wallet to send some Stellar
Donate Dogecoin to this address
Scan the QR code or copy the address below into your wallet to send some Dogecoin
Donate Tron to this address
Scan the QR code or copy the address below into your wallet to send some Tron
Donate Elrond to this address
Scan the QR code or copy the address below into your wallet to send some Elrond