(Game) LifeAfter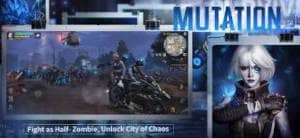 Game Description :
Major update of the year—THE REVENANT is officially launched.
What's your choice in the life-and-death struggle?
Survive as The Revenant, the half-man-half-zombie, to have unexampled doomsday exploration!Abandon the human identity but free a new form of life. Gain unique abilities, change to identifiable appearances and unlock the new residence named City of Chaos.
Meanwhile, the organization called "Dawn Break" emerged as the lead of The Revenant. There is a great story that awaits you.
Game Features :
Experience Half-zombie Survival
The organization called "Dawn Break" emerged out of the doomsday. They claimed that human still has a chance after being bitten by zombie – to live as "The Revenant", by abandoning identity, appearance, abilities of human, and change forever.
It sounds risky, but what would you choose if it's matter of life and death?
Create the Vast Open World
From snow mountain to beach, from forest to desert, from swamp to city… The vast doomsday world is full of crises, but also has endless possibilities.
Explore and witness every corner of doomsday world with your footsteps. At the same time, you can also collect resources and work with other survivors to build infrastructure, strengthen defense and fend off the zombie invasions.
Make Friends and Survive Together
You'll encounter other survivors during your doomsday exploration.
Maybe you're tired of all the zombie roaring and night wind howling when you're traveling alone. Try to open up, share food with friends, talk all night long, and piece by piece create a peaceful shelter together.
Maintain Hope and Will
When the doomsday comes, zombies are everywhere. Social order suddenly collapsed, and the familiar world became strange. Zombies covet the human settlement. The harsh climate and scant resources make it difficult to move. And there is also power struggle among the survivor forces……
Danger is everywhere. Please keep calm and live on by all means!
Contact us
Website:www.lifeafter.game/
Facebook:www.facebook.com/LifeAfter.en/
Twitter:twitter.com/LifeAfter_en
Discord:discord.gg/tEUgCSa
Additional Information :
Size 3.8 GB
Requires iOS 9.0 or later.
User Reviews :
Help with an issue
So far I've enjoyed playing the game from time to time and I've also played the game before on different accounts but what I like about the game the most is how you have to farm a lot to progress through the game unlike most other games you have to basically pay to easily progress through the game, i enjoy the graphics and the building system but what I've recently have been having a major issue with is my game crashing, I've never had my game crash whenever I played on a different account or device but whenever I play now and then I only last like 8-15 minutes before my game crashes and it really ruins my experience because I'm usually fighting zombies or just farming and then all of the sudden my game crashes, it's happened, I would say a good solid 17 times in the past few days, another concern is, I'm not sure how to add people that I don't see face to face with because I've been trying my friend that I know in irl but I can't find like a search bar or something like that to find him and sometimes we would both go to a forest and look for each other to add ourselves manually but we never seem to end up in the same forest, we try the same server (redwood) but we can't seem to find a way to add ourselves, apart from that it's a great game, 4 stars for now until at least the crashing stops or I find a way
Love it but need a little bit of work
I have been playing it time to time and I decided to download it again. It had a massive update but it was too laggy and kept kicking me out of the game. Also you should add more female options and male options when you create them. For example, add more beards for the male and have them adjust the size and more hair styles to make them look much more cool or maybe let us adjust the size of the male character if they want to make them short or taller or even make their muscles bigger. You can add more hair style for the ladies and more makeup details or let people adjust the size for them too. Also I don't want to spend my money on the sun coins to buy clothing at the mall. Maybe add something at the mall for the people that has a lot of cash to spend on. Like clothing for the people that doesn't want to spend money on the sun coins. After all this game is amazing and I recommend this game to everyone. But it also needs a tiny bit of work. To the creators, I hope you read this feedback because it would be much better for this game! People will start loving this game even more!
Get LifeAfter from App Store
What is your opinion about LifeAfter
Bitcoin
Ethereum
MetaMask (ETH)
Xrp
Polkadot
Binance coin
Stellar
Dogecoin
Tron
Elrond
Donate Bitcoin to this address
Scan the QR code or copy the address below into your wallet to send some Bitcoin
Donate Ethereum to this address
Scan the QR code or copy the address below into your wallet to send some Ethereum
Donate Xrp to this address
Scan the QR code or copy the address below into your wallet to send some Xrp
Donate Polkadot to this address
Scan the QR code or copy the address below into your wallet to send some Polkadot
Donate Binance coin to this address
Scan the QR code or copy the address below into your wallet to send some Binance coin
Donate Stellar to this address
Scan the QR code or copy the address below into your wallet to send some Stellar
Donate Dogecoin to this address
Scan the QR code or copy the address below into your wallet to send some Dogecoin
Donate Tron to this address
Scan the QR code or copy the address below into your wallet to send some Tron
Donate Elrond to this address
Scan the QR code or copy the address below into your wallet to send some Elrond