(Game) Kitty Letter
 iphone games download free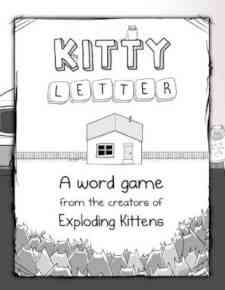 Game Description :
Only one thing can protect you from legions of exploding cats: Vocabulary!
Kitty Letter is a head-to-head competitive word game where the best linguist wins. Unscramble words using your enchanted language vortex from the multiverse of infinite vocabularinities, collect power-ups from dysenteric deer, and stop your crazy cat-collecting neighbor from destroying your house!
Game Features :
Play with strangers or with friends in 1v1 online games!
Extensive single player campaign featuring an all-new story by The Oatmeal.
No collecting cards, coins, or leveling up anything. Just play the game.
Earn or buy completely powerless cosmetics if you really want!
Additional Information :
Size 399.4 MB
Requires iOS 10.0 or later.
User Reviews :
Cute?
The story mode is pretty goofy and far more entertaining than a basic tutorial. The added strategy for what word you play when is also interesting, giving a new dimension to this sort of word game, and enabling competition in a way that's far more interesting than a straight up race. That said, the number of words that aren't accepted is frustrating; I've only played through 6 or 7 rounds and I'm already finding myself tripping over thinking I have ammunition and the word simply not working. And on the flip side, sometimes the longer word is very modern and takes me by surprise (like things I still doubt are legitimate compound words, ex. soymilks? Really?)

So I like it for the concept and the art, but the dictionary really is the base of functionality for a game like this, and that needs work. (Please work on it????)
10/10 in humor, interest, and just being a good game in general.
Hello! I think Kitty Letter is a fun, addictive, and challenging game. I love it! For an example of it being challenging, I am stuck on Level 9 of the story mode I promise, I think you'll love it if you are reading this so you get an idea about the game, If you are I am going to explain more about the game.

Kitty Letter is a game by the creators of Exploding Kittens, a card game with humor, strategy, and is great to play with friends and family! Just like Exploding Kittens, Kitty Letter is a strategy game with the same great humor as the Exploding Kittens game, except instead of playing cards, you are playing letters to make words to make exploding kittens to demolish your neighbor ( In story mode.) But as in multiplayer mode, with friends. This game is absolutely free and is surprisingly fun for a letter game, and remember, "With great Kittens, comes great responsibility." Thank you for reading my review, and have a good time sending exploding kittens to your neighbors front door!
Developer Response ,
Thank you for this review! We're so glad to hear you're enjoying Kitty Letter. – EK Support
Thank you!
Finally – a game I can play against everyone in my family, and win every single time! The video game world is not exactly set up for people like me – people who are not lingering in their teens. But here at last, there is a benefit to having lived long enough to remember what words looked like when they were more than text abbreviations. And when my husband and daughter get tired of losing to me, we can sit on the couch together to play against a stranger. While I am busy forming words like there's no literary tomorrow, my family can get busy lobbing spiders and bombs for me. I have to admit… it's honestly nice to hear, "You're awesome, mom," come out of my daughter's mouth in regards to a game. Well, ok, it's nice to hear those words at all. But Kitty Letter definitely gave me a few points in her eyes.
Bugs (Not Including Spider Pugs)
Fun game, the game is playable and it is fun to see more lore for Exploding Kittens-the premises in the story mode are very funny. The art style and comedy are perfectly in sync.

There are a number of glitches I encountered during gameplay. For me, it's hard to tell if some of them are intentional one way or the other. The items in my inventory are sometimes used by the enemy CPU or when I use them, they may impact enemy cats instead of mine. I am also unsure if I am supposed to be able to see the enemy inventory because it is sometimes visible to me. Looking at other reviews, I see that others also had trouble where finger taps were sometimes not picked up-a manual letter scramble fixes it but I would prefer rather to spell than scramble. Also, the final boss may use letters I already spelled, is that intentional too?
awesome game, could be more
i love love LOVE the concept, played through the story mode in about half an hour. i think it's super fun and right up my alley, and all signs point to it being a 5 star game.

BUT… i think there is so much more potential. different game modes, maybe? or a randomized game mode for multiplayer (like only 2 letter words or only can start with a vowel, something of that sort). maybe some kind of league? or just more story based levels? i don't even need story to go along with it, just challenge levels that get harder as it goes, like arcade mode but level based.

overall, i really do love this game, which is why i'm being harsh on it; i want more because i know it could be even better.
Get Kitty Letter from App Store
What is your opinion about Kitty Letter
Bitcoin
Ethereum
MetaMask (ETH)
Xrp
Polkadot
Binance coin
Stellar
Dogecoin
Tron
Elrond
Donate Bitcoin to this address
Scan the QR code or copy the address below into your wallet to send some Bitcoin
Donate Ethereum to this address
Scan the QR code or copy the address below into your wallet to send some Ethereum
Donate Xrp to this address
Scan the QR code or copy the address below into your wallet to send some Xrp
Donate Polkadot to this address
Scan the QR code or copy the address below into your wallet to send some Polkadot
Donate Binance coin to this address
Scan the QR code or copy the address below into your wallet to send some Binance coin
Donate Stellar to this address
Scan the QR code or copy the address below into your wallet to send some Stellar
Donate Dogecoin to this address
Scan the QR code or copy the address below into your wallet to send some Dogecoin
Donate Tron to this address
Scan the QR code or copy the address below into your wallet to send some Tron
Donate Elrond to this address
Scan the QR code or copy the address below into your wallet to send some Elrond