(Game) Kings Raid
free games for iphone download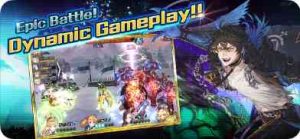 Game Description :
Raid Battle the world has been waiting for!
Over 5 million players worldwide! Real-time 3D battle RPG!
Game Features :
About King's Raid
Epic Raid Battles
Real-time Raid battle with max 9 heroes!
World Boss! Guild Raid! Challenge Raid! Defeat towering Bosses!
Thrilling Real-time PVP
Join the real-time online PvP battle and become No.1!
Skill activation is key to victory!
Combine countless Skills to reach for the top!
Beautiful 3D Heroes
Enjoy over 60 charming heroes and various costumes!
No more random character draw!
Recruit the hero of your choice!
Dynamic Skills
Glamorous skill effects for every single character!
Immersive graphic! Dynamic motion!
Dominate your enemies with a finishing blow!
Step by Step Growth System
Unlimited growth pattern!
Cherish and raise my favorite character!
Japanese Audio Added!
Enjoy the dream voice of King's Raid star cast!
Community
Official Facebook
www.facebook.com/Kingsraid.EN/
Naver Cafe
www.plug.game/kingsraid
Privacy Policy
gmskr.vespainc.co.kr/policy_en.html
Payment
Free app download
Partial in-game items need to be purchased.
Recommended Device
Over iOS 7.0.0
Devices released after iPhone6S
Please note customer service may be limited to devices not recommended.
Additional Information :
Compatible with iPhone, iPad, and iPod touch.

Requires iOS 8.0 or later.

Size 294.4 MB
User Reviews :
I love this game! It is such a blast and has a variety of things to do so I don't get sick of it. I love the storyline, pvp, the champions, the stockade, the arena. I only have a couple complaints about the game. I don't appreciate that the community is toxic at times. I wish there was more ways to achieve rubies because without rubies it takes so much time to go through everything in order to get more champions. I think the skins should cost more than the champions instead of the other way around because then if players really want skins and have money to spare they can buy skins for their champs. Right now it is where you almost have to have money to spare in order to get champions. I would also suggest providing an option to test out champions so then players don't save all their rubies and purchase a champ only to not like that style of champion. I also would suggest having a section in your guide explaining possible builds for champions so that new players can get a feel for building their champions instead of having to go to the chat. In the chat these new players are being ridiculed by other players for being a noob and not getting any questions answered. Again I love the game. This is my second time downloading it. I played it before but decided to delete it because of the toxic players and felling like I couldn't progress without spending cash.
King's Raid is by far, hands down, the best "adventure"game app that the Apple store provides! From the community to the amazing visuals. KR will be my go to mobile game! My friends recommended it to me because you can idly play the game yet still actively grind the game if that makes sense. The function of the automatic skill usage is amazing and the 1.5 speed is helpful too! The developers are generous with the real dollar currencies every time there is an update or maintenance. They update King's Raid at least once a month and they care of their gamers too! We asked for more end game content, they provide end game content! The gaming community is amazing and nice! I didn't play KR for a couple of months and when I came back I wondered why I didn't play it. It takes rubies (real money currency) to buy cosmetics and new characters. However, I didn't spend a single dollar on rubies because you can grind for the rubies! The game can be pay 2 win but you can grind your way up there in a timely manner and that's what makes it fun! You can achieve so much in this game! I highly recommend this game!
Get Kings Raid from App Store
What is your opinion about Kings Raid
Bitcoin
Ethereum
MetaMask (ETH)
Xrp
Polkadot
Binance coin
Stellar
Dogecoin
Tron
Elrond
Donate Bitcoin to this address
Scan the QR code or copy the address below into your wallet to send some Bitcoin
Donate Ethereum to this address
Scan the QR code or copy the address below into your wallet to send some Ethereum
Donate Xrp to this address
Scan the QR code or copy the address below into your wallet to send some Xrp
Donate Polkadot to this address
Scan the QR code or copy the address below into your wallet to send some Polkadot
Donate Binance coin to this address
Scan the QR code or copy the address below into your wallet to send some Binance coin
Donate Stellar to this address
Scan the QR code or copy the address below into your wallet to send some Stellar
Donate Dogecoin to this address
Scan the QR code or copy the address below into your wallet to send some Dogecoin
Donate Tron to this address
Scan the QR code or copy the address below into your wallet to send some Tron
Donate Elrond to this address
Scan the QR code or copy the address below into your wallet to send some Elrond