(Game) King Crusher
 free games for iphone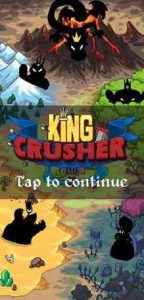 Game Description :
You have to be born a king or a madman to do what you want." For King Tease, it would seem that this is not a problem – for it's quite possible that he is both. For he decided that this world had far too high a number of monarchs and that only one should remain: him! And so he's sending out his Hand to slay all other rulers, to walk through forests, deserts, and green pastures, as well as volcanoes and cemeteries, in exchange for gold and glory but, more often than not, all they receive in return is… death and setbacks.
You, the King's Hand, should recruit a small group of fighters from twelve character classes: There are so many heroes to serve as cannon fodder for His Majesty's pleasure! Take advantage of everyone's strengths, move strategically on the field, collect all the items you find on your journey, put the bonuses you pick up in combat to good use and level up in this great adventure with its wacky and offbeat humor.
Dive on rogue-like and RPG game in an original way. Its dynamic gameplay is based on swipes and cleverly carried-out quick hits to attack, defend, and move using press/slide motions on the characters that make up the King's Hand.
Game Features :
Build a team of fighters from 12 unique character classes and become the King's Hand
More than 60 events and situations to overcome
Defeat powerful kings, take their Kingdom's throwns to achieve domination
Explore a quirky and fantastical medieval universe over 5 unique lands
Swipe, attack with quick hits, move around using press/slide motions
Build your strategy, earn loots to cast new spells and become the most fearful warriors to serve the Kingdom
Pixel-art graphics with old-fashioned arcade feel and wacky offbeat humor
Additional Information :
Compatible with iPhone, iPad, and iPod touch.
Requires iOS 7.0 or later.
Size 399.3 MB
User Reviews :
This game is sooooo fun OMG if you guys are not sure to get this game or not well u should because trust me ones u get it your not turning back it's so addicting u don't understand just something about the game when you defeat the levels is so satisfying so if I was you I would get the game cause it's worth it
The game itself is neat , move your sprites around the 3×3 grid by swiping a direction keeping melee up front and ranged anywhere else, all the while staying out of enemy attack patterns indicated by targets that appear on the ground or other enemy movements. The game is a lot of fun and mostly fair in terms of skill will allow progression and paywalls don't seem to be present unless you want pay to unlock characters faster than the normal grind pace (which isn't too bad as most characters only have minor differences). My only gripe with this game so far has been once in a while when incarnating ( summoning) a new character the game has frozen and as of now it's just a close game and reopen fix. Once however the game did take my gems and not unlock the character after it froze and I restarted the app. Other than that a fun game all round. One last thing , I'll call it a glitch , your gem count seems to randomly say you have odd amounts like 4,444 or 6,666 no matter you actual amount on occasion. It doesn't affect anything per say but it annoying to think you have a hefty gem count only to click a summon and be denied the amount because you actually don't have enough. Anyway , good job devs keep up the good work.
The game is fun, and has a somewhat unique grid-sliding combat system. You can obtain gems free at a reasonable pace to get the highest tier "incantation" (Simmons leaders that buff their troop type) without spending too much time. But once the game closes once (to where it resets, you can exit out and back in if you only visit like one other app) it won't open anymore. I'd bet the 5-star reviews were either written the first time it asks you to rate, or they're fake/paid reviews. Once the inability to play is fixed it's a 4-5 star game.
Get King Crusher form App Store
What is your opinion about King Crusher
Get more free apps & games daily
Subscribe to our mailing list and get free apps & games daily to your email inbox.
Thank you for subscribing.
Something went wrong.
Bitcoin
Ethereum
MetaMask
Xrp
Polkadot
Binance coin
Stellar
Dogecoin
Tron
Elrond
Donate Bitcoin to this address
Scan the QR code or copy the address below into your wallet to send some Bitcoin
Donate Ethereum to this address
Scan the QR code or copy the address below into your wallet to send some Ethereum
Donate Xrp to this address
Scan the QR code or copy the address below into your wallet to send some Xrp
Donate Polkadot to this address
Scan the QR code or copy the address below into your wallet to send some Polkadot
Donate Binance coin to this address
Scan the QR code or copy the address below into your wallet to send some Binance coin
Donate Stellar to this address
Scan the QR code or copy the address below into your wallet to send some Stellar
Donate Dogecoin to this address
Scan the QR code or copy the address below into your wallet to send some Dogecoin
Donate Tron to this address
Scan the QR code or copy the address below into your wallet to send some Tron
Donate Elrond to this address
Scan the QR code or copy the address below into your wallet to send some Elrond