(App) Ki‪k
 iphoneapps info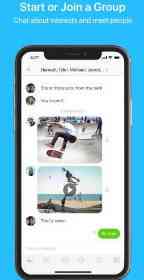 App Description :
Get connected.
Kik is way more than just messaging. It's the easiest way to connect with your friends, stay in the loop, and explore – all through chat. No phone numbers, just pick a username.
App Features :
Choose who to chat with one-on-one and in groups
Share pics, videos, gifs, games, and more
Meet new friends with similar interests
Get on Kik now. Start chatting!
Additional Information :
Size 174.3 MB
Requires iOS 9.0 or later.
User Reviews :
Lot of good and some bad
I have had this app for like 2 years? And have made soo many friends. In fact once the video chat came out a group i was currently in was so hype, we spent a bit on it but it didnt work all the time back then so we gave up. There clearly has been lots of change since then and i enjoy most of it. There are a few bugs that well, bug me. First off the problem with changing pfp. Im in so many group chats (not rlly) were a lot of them have changed their pfp but it doesnt change when they text, and neither does their name. Which is more of a minor inconvenience but i still like to see that change. Another bug that i see often is when it would take me back to old "unread" messages even when i was talking during these times. I love all the things that have been added but these bugs have never changed. A cool thing to see in the future too is possible more backgrounds of possibly putting your own pictures for backroads and maybe adding a bio and making the background pick a little bigger, while i get why its that size i like the picture that i put and some arent fit for that format, and with the actual profile picture covering it it makes it harder to see the pictures. This app has definitely done its job of letting meet new people and talk to old ones and i would like for some of these bugs to finally be worked on after so long.
Good but with one problem
At first when I got kik for the first time, everything was okay. Chats were working, no crashes, and I even joined one group that shared the same interest as me. People were really nice I guess-one person welcomed me, others just ignored me minding their own business and that was fine by me. I even started opening up and talking to some members and it actually wasn't awful, but I did leave because one people weren't really talking much though there were like more than 40 people that joined and two there was lots of cursing. After that, I decided to not join any groups for a while. But a few days ago, I was like"Hey, why not join another group like the one I joined?" So I searched up groups with that one same interest as the first group and found many. Some were full but I eventually found some that still had some space left. But here's the thing: when I tried to join it, it just kept saying that there was a problem and to try again. I thought that it just happened to this group for some reason but it didn't. The message still kept popping up to other groups. And that is also why I've given this 4 stars. I really hope I can get told why this happens and if it's just a glitch, please fix it for I would really like to join another group and talk to others again.
Love it (but I don't like the new updates)
Ok so I've had Kik since 2 years back, it was awesome and worked amazing at that time. So I got a new phone and forgot about it and probably half a year later I got it again, it was great when I opened the app. It worked perfectly and I didn't have any problems. So as time gone by I noticed a few bugs, example: I own a group so I'm the owner, sometimes when I open the app and a bot joins I try to remove it but it doesn't give me the option so when I view the members, there's two of me. The one that's owner and the one that's a member. So I ask the members if they see two of me in the members and they say no. I tried closing the app and reopening it but it never works so I just wait it out and let my admins do it for me. The update that I hated is when someone leaves a group chat, you can't private message them. That update annoyed me a lot because I made some friends in some chats but they left but I can never get in touch with them unless I had them in my contacts which I do not. I'm only see that the bugs happen in the group chats. Also, the ads update, or what I think is a update is really annoying also because it really messed up al the chats I was in. I really hope they fix them because I love this app!
The Ban System
Let me start off by saying I am writing this not for my sake but for my girlfriends sake. I have been a member of kik for almost five years. I have always loved the app and enjoyed it a lot. My girlfriend, however, told me about the ban system set in place. I believe the perma ban system you have set up where if you prove there is wrong doing you can lose your account is acceptable. I do not, however, believe that the temporary ban system in place is fair. My girlfriend is an admin of a group chat and is worried because someone is falsely reporting them because their friend was removed from the group because they were rude to others. One of the admins has already received a temporary ban due to these false reports and quite frankly I don't believe it is fair that they did. I believe a better system for temporary bans should be in place to prevent innocent people to be banned.

Thank you for reading this and I really do enjoy the app but I strongly believe that to make the app even better the temporary ban system needs to be changed.
Get Ki‪k from App Store
What is your opinion about Ki‪k
Bitcoin
Ethereum
MetaMask (ETH)
Xrp
Polkadot
Binance coin
Stellar
Dogecoin
Tron
Elrond
Donate Bitcoin to this address
Scan the QR code or copy the address below into your wallet to send some Bitcoin
Donate Ethereum to this address
Scan the QR code or copy the address below into your wallet to send some Ethereum
Donate Xrp to this address
Scan the QR code or copy the address below into your wallet to send some Xrp
Donate Polkadot to this address
Scan the QR code or copy the address below into your wallet to send some Polkadot
Donate Binance coin to this address
Scan the QR code or copy the address below into your wallet to send some Binance coin
Donate Stellar to this address
Scan the QR code or copy the address below into your wallet to send some Stellar
Donate Dogecoin to this address
Scan the QR code or copy the address below into your wallet to send some Dogecoin
Donate Tron to this address
Scan the QR code or copy the address below into your wallet to send some Tron
Donate Elrond to this address
Scan the QR code or copy the address below into your wallet to send some Elrond