[App] Kawaii World – Craft and Build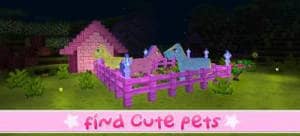 Game Description :
A game that will change the idea of crafting style.
Introducing Kawaii World ― a world of unlimited opportunities!
Kawaii World is a cubic sandbox game with craft everything you want, which allows you to explore, the most beautiful kawaii world. In this perfect game for girls and boys most sweet thing is the creates a kawaii dream island! Start building and show the world your cute kawaii constructions.
Game Features :
In this game they are waiting for you:
Pandas, foxes, wolves, bears, deers, and other forest mobs;
Huge and Small Spiders;
Cats, dogs, horses, sheep, and other pets;
Insidious Skeletons;
Strong Zombies and other hostile mobs;
Computers and other different mechanisms;
A lot of different biomes and the unique topography;
A large number of different foods and plants;
Singleplayer with Survival and Creative modes;
Multi-Player mode on multiple servers;
Cool graphics – enjoy the best kawaii graphics with high FPS.
In this game, your actions are limited only by your imagination!
Choose your side in this world ― a Builder (Creative mode) or an Explorer (Survival mode) who is drawn to discover more and more unexplored places.
Download Kawaii World – Craft and Build for free now and explore this cute world with friends. Thank you!
Additional Information :
Size 76.1 MB
Requires iOS 12.0 or later.
User Reviews :
Love this game! BUT here's what I need to say
I absolutely love this game and I give it a five star this game is the best I've ever played I actually don't have to pay for the other Minecraft and I love how graphical it looks!.Also I keep on seeing lotta review saying this is the worst game and people are literally being rude about it. I don't know why these people are so mean about it but maybe keep your opinion to yourself but I don't control these people they can do whatever they want just maybe try to explain you don't like this game in a better way now you do maybe it might help the person and it might not hurt them you never know if they might just want to like maybe close the game or some thing. But another thing or a little bit of problems one yes can we change our characters and two can there also be like creative mode and three can we interact with the things inside our house and four can we make animals are pets and five can we like join friends do that that would actually be pretty fun but overall this game is really cool and I love it a lot so I just want to say thank you for creating this game and yeah I could do a little bit of improvement but overall I like it ignore the people who are mean to you about it and have a good day!.
What I think of this app
This app is amazing! You should download it. About the app, there is a LOT of pink. Like to much pink. If your a girl and you love pink, I would recommend you downloading it right now! But if your a girl who hates pink don't download it, but I am a girl who hates pink and downloaded the app, and I love it! There's really cute animals and also way more things that are really different from normal Minecraft. Oh by the way it's like Minecraft! Also there are computers that say what time it is and what day it is! Plus you can play games on them. I would 100% recommend downloading it. But if you are someone that loves Minecraft and hates pink just saying there's not that much pink. But on the flip side if you hate Minecraft and love pink, it's not that much like Minecraft, it's different from a little bit to me. And 2 more things if you hate Minecraft and hate pink I would 100% recommend you DO NOT get the app. But if you love Minecraft and love pink, GIRL GET THIS APP NOW!! Anyways if you like what you heard please download it. You can play alone or with friends. Anyways if you like what you heard download it now. Now thanks for listening, bye
I love this game but way too many ads when I go on the bed
I love this color game it's super fun and easy to do but whenever there's some revival and I don't want multiplayer or survival on single player it doesn't even let me get out of the menu so can you please put the x thereI've been making a lot of things but whenever I go onto the bed there is a different ad every time so can you please fix that but everything is great I love it I love this game so much it's so much like mineCraft but Kawaii So please can you switch those bugs anyway this game is great and I love it just like the other App Store but there's a little too much ads thank you like it's so please can you switch those bugs anyway this game is great and I love it just like the other App Store but there's a little too much ads thank you like every single day but anyways I love this game it's so fun I was trying to get a ghost let me put ghost inside of the little cage so it can be like a ghost thank you I love kawaii World thank you sooo mutchPlease fix that bug OK that would really make me happy I love this game so much thank you Apple I played can you single apple game so much apple games on my iPad thank you
Get Kawaii World from App Store
What is your opinion about Kawaii World
Get more free apps & games daily
Subscribe to our mailing list and get free apps & games daily to your email inbox.
Thank you for subscribing.
Something went wrong.
Bitcoin
Ethereum
MetaMask
Xrp
Polkadot
Binance coin
Stellar
Dogecoin
Tron
Elrond
Donate Bitcoin to this address
Scan the QR code or copy the address below into your wallet to send some Bitcoin
Donate Ethereum to this address
Scan the QR code or copy the address below into your wallet to send some Ethereum
Donate Xrp to this address
Scan the QR code or copy the address below into your wallet to send some Xrp
Donate Polkadot to this address
Scan the QR code or copy the address below into your wallet to send some Polkadot
Donate Binance coin to this address
Scan the QR code or copy the address below into your wallet to send some Binance coin
Donate Stellar to this address
Scan the QR code or copy the address below into your wallet to send some Stellar
Donate Dogecoin to this address
Scan the QR code or copy the address below into your wallet to send some Dogecoin
Donate Tron to this address
Scan the QR code or copy the address below into your wallet to send some Tron
Donate Elrond to this address
Scan the QR code or copy the address below into your wallet to send some Elrond