(Game) KartRider Rush +
 iphone games download free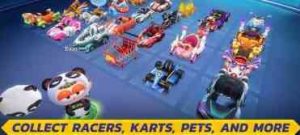 Game Description :
The kart racing sensation enjoyed by over 300M players worldwide is back and better than ever with more style, more game modes, more thrill! Race with friends or just play it solo through a variety of gameplay modes. Collect and upgrade iconic characters and karts from the KartRider universe. Climb the leaderboard ranks and become the ultimate racing legend!
Game Features :
A Heroic Tale Unfolds!
The stories behind what drives the Racers are finally brought to light! Experience an immersive story mode unique to the KartRider franchise that introduces you to the various gameplay modes!
Master the Modes
Whether it's chasing glory as a lone racer or rising to the top of the leaderboards as a team, it's you who will decide your own path. Select from a variety of gameplay modes that will pave your way to victory.
Speed Race: Earn licenses that unlock more challenging race tracks as you progress and rely on pure drifting skills to reach the finish line
Arcade Mode: Choose from a selection of gameplay modes such as Item Race, Infini-Boost, or Lucci Runner that add an extra layer of fast-paced thrill to your races
Ranked Mode: From Bronze to Living Legend, climb up the Racing Tiers and earn respect among your peers
Story Mode: Join Dao and friends and help them stop the treacherous Pirate Captain Lodumani's evil deeds
Time Trial: Beat the clock and make your mark as the fastest racer
Drift in Style
Kart racing has never looked so good! Style your Racer in the latest outfits and accessories and go BOLD with a selection of stylish and iconic Karts. Adorn your ride with trendy decals and pets that will earn you prestige on the tracks.
Become a Racing Legend
Take the wheel and show your rivals what true speed is all about though competitive multiplayer matches in real-time. Leverage the drifting controls optimized for mobile, time your Nitro boosts to make for the perfect drift, and leave your opponents in the dust!
Join the Club
Join forces with players from around the world and complete quests together as a Club. Show off your latest kart through your own private customizable Home or cool off from a hard-earned match with fun, quick mini-games.
Race Tracks on Another Level
Accelerate to the finish line through over 45+ race tracks! Whether you're taking a tour through the bustling traffic in London Nights, or enduring the biting chill of the ice in Shark's Tomb, every track has their own distinctive traits that offer a different racing experience for players looking for a challenge.
Follow Us:
Official Site: kartrush.nexon.com
Facebook: www.facebook.com/kartriderrushplus
Twitter: twitter.com/KRRushPlus
Instagram: www.instagram.com/kartriderrushplus
Instagram (South East Asia): www.instagram.com/kartriderrushplus_sea
Twitch: www.twitch.tv/kartriderrushplus
Note: An internet connection is required to play this game.
For the best gaming experience, the following specs are recommended: iOS 9.0 or higher / iPhone 5S or higher / Minimum 1GB RAM required
Terms of Service: m.nexon.com/terms/304
Privacy Policy: m.nexon.com/terms/305
Smartphone App Permissions
We are requesting certain app permissions to provide the below services.
Optional App Permissions
Photo: Saving images, uploading photos/videos.
Camera: Taking photos or filming videos for uploading.
Mic: Talking during the game.
Game can still be played if you do not grant these permissions.
How to Withdraw Permissions
Settings > Privacy > Select App/Permission > Allow/Deny Access
Additional Information :
Size 3.1 GB
Requires iOS 9.0 or later.
User Reviews :
One minor issue that can make me boiling mad
I LOVE THIS GAME. It's so fun and cute, I just have a problem with those "power ups" from those boxes. If you're in first place, you get a lot of shield, but i never had a shield when I wasn't in first place (unless I saved it and didn't use it as soon as I got it). And we need those shield even if I ain't in first place. Y'know what I mean? Because other places expect 1st place don't get shields, you can be in second place but go all though way to last place because someone killed you and you don't have a shield. It can be so frustrating! And when you are in 1st place, the boxes won't give you shield right away, they usually give you banana peels so other players can slip. But those banana peels r useless and I think they should give shield out more to other places and not just 1st place. I also think you should just keep getting shield when you're in first place and stop getting banana peels and other bit useless products. I can't explain how mad I am when as soon as I'm in first place, get my first power up as first place, and guess what? It's a banana peel, so you get killed and end up in last place because you got a stupid banana peel so small that anyone can avoid.
Excellent Skill Based Play
This game is great. I played this in 2004 when it first came out, and it's very exciting to see it on mobile platform. The artwork, UI, and overall design is very polished. What I like most are the drift mechanics which allow for a very high skill roof and competitive races which would be rage inducing at times if not for the overwhelmingly cute theme of the game. While there are micro-transactions to help your progression, the aforementioned drift and boost mechanics make the winner determined purely by who the better driver is (at least speaking for Speed mode which is all I play). If you learn the tracks and master the drift mechanics, you can progress without having to spend any money. The one feature that I would love to see added is controller support. While the touch screen controls are probably as good as they can be, I feel that in a game where precision is key (particularly at the highest level of play), having the tactility of a controller would push this game to the next level. This doesn't make or break the game for me, however. I look forward to seeing this game continue to develop – great work Nexon!
Get KartRider Rush from App Store
What is your opinion about KartRider Rush
Bitcoin
Ethereum
MetaMask (ETH)
Xrp
Polkadot
Binance coin
Stellar
Dogecoin
Tron
Elrond
Donate Bitcoin to this address
Scan the QR code or copy the address below into your wallet to send some Bitcoin
Donate Ethereum to this address
Scan the QR code or copy the address below into your wallet to send some Ethereum
Donate Xrp to this address
Scan the QR code or copy the address below into your wallet to send some Xrp
Donate Polkadot to this address
Scan the QR code or copy the address below into your wallet to send some Polkadot
Donate Binance coin to this address
Scan the QR code or copy the address below into your wallet to send some Binance coin
Donate Stellar to this address
Scan the QR code or copy the address below into your wallet to send some Stellar
Donate Dogecoin to this address
Scan the QR code or copy the address below into your wallet to send some Dogecoin
Donate Tron to this address
Scan the QR code or copy the address below into your wallet to send some Tron
Donate Elrond to this address
Scan the QR code or copy the address below into your wallet to send some Elrond