IQ Boost – Training Brain game by Brightika, Inc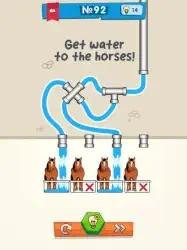 Game Description :
IQ Boost is a game with tricky puzzles, tasks and logic tests.
All the tasks are original and funny! We said 'NO' to boring brain training.
Free IQ Boost game features only the best tasks, brainteasers and exercises to train your memory, attention, logic and mindset.
Only 10% of all the people have an IQ higher than 120. Are you among them? Play IQ Boost – challenge your brain.
Try yourself in solving nontrivial tasks. You will train logical and abstract thinking by solving puzzles and logic tasks. Сoncentration and memory will be better too.
Have a good time while training your brain.
Find out your IQ level. Lower than you thought? Play IQ Boost and you'll see your IQ is growing.
Game Features :
Easy to play;
Nonstandard colourful gameplay;
Funny answers and solutions;
Nontrivial challenges for any age;
Lots of levels;
Intellectual brain-teaser game.
Remember: obvious solutions might not be not always right…think out of the box and train your brain! Play and prove you are the cleverest!
Additional Information :
Age Rating 9+
Size 193.5 MB
Requires iPadOS 12.5 or later.
User Reviews :
Lindbloom park
The game is kind of funny because they actually give us just to watch some ads and stuff and then if we need a lot to handle the like money is so cheap so thank you and yeah but then also I gave it five stars I don't wanna give it five stars I was going to give a four but I feel bad for their thing so I might give a 5 1/2 Rose

Thank you
Makes me frustrated
This game is fun and can pass time quickly but most of the levels don't work. For example, level 88 made me use 2 hints for a clock and to insert the time. The first hint said to ignore the clock so i tried different times and it didn't work. I used the next hint which said to use the time on my phone. After resetting the level multiple times and putting in the RIGHT time it didn't work. I didn't have wifi so it wouldn't let me watch ads and no way was i going to pay for a dumb game just to get hints. I started this dang level yesterday and it's still not working. The second issue is when. it asks me if i want to watch an ad for a "free" hint I think bf up watching the 1 minute long ad and never get the hint. Also, the farther into the game you get, the more inappropriate the ads get. I wouldn't recommend this game if you're impatient. PLEASE FIX THIS.
Good
Nice job and good job on the game and the game itself looks awesome and the gameplay looks really fun and I think it would look really good with a little bit more detail and some gameplay and some gameplay elements that are very good at it but the game looks like it could have a very good game if it was a game of or an English version but it is not really the best of both ways so it is not really my style and it would probably look really bad with a little bit more detail and some more details to be a bit of an improvement in gameplay and a little more detail to
Level 37 is impossible and other stuff
It wants me to watch ads to go to the next level but it won't let me watch a ad for light bulbs and it makes me very frustrated. I tried everything of level 37 and nothing worked and I can't watch a ad to get light bulbs so I'm stuck on the level and I'm very angry because of this stuff. Too many ads. After I get done with the first 36 levels (because I still can't get past level 37) after every level there was a ad and it says no ad available when I try to get light bulbs and it angers me alot.
Mid game
I would say that the overall game is pretty good and fun but I wouldn't say that it would boost your IQ abut it definitely makes you think outside the box. The reason I will give this game 3 stars is because I played this game on my IPhone 12 and on level 19 it makes you flip your phone upsidedown which is impossible with an Apple iPhone 12. I would give it 4 stars but I think that the game should be for all users on all devices.
IQ Boost
I really like the game but you need to add more decisions in to the game and maybe add more updates so it will have more people download the game just telling you a little note so you will have more people maybe playing the game is you don't want to that okay with me if you get stuff like from people you should do what if they do? You might think I wanna be the person to make your game ?? ,No. so thanks for this game and have a good day girl/man
Get IQ Boost from App Store
What is your opinion about IQ Boost
Bitcoin
Ethereum
MetaMask (ETH)
Xrp
Polkadot
Binance coin
Stellar
Dogecoin
Tron
Elrond
Donate Bitcoin to this address
Scan the QR code or copy the address below into your wallet to send some Bitcoin
Donate Ethereum to this address
Scan the QR code or copy the address below into your wallet to send some Ethereum
Donate Xrp to this address
Scan the QR code or copy the address below into your wallet to send some Xrp
Donate Polkadot to this address
Scan the QR code or copy the address below into your wallet to send some Polkadot
Donate Binance coin to this address
Scan the QR code or copy the address below into your wallet to send some Binance coin
Donate Stellar to this address
Scan the QR code or copy the address below into your wallet to send some Stellar
Donate Dogecoin to this address
Scan the QR code or copy the address below into your wallet to send some Dogecoin
Donate Tron to this address
Scan the QR code or copy the address below into your wallet to send some Tron
Donate Elrond to this address
Scan the QR code or copy the address below into your wallet to send some Elrond