(Game) Hyper Cards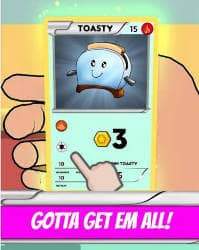 Game Description :
Hey card collector!
Are you ready to play the best card collecting and trading game ever?
If you are obsessed with collecting all the cards, then Hyper Cards is the perfect game for you.
Game Features :
Rip out the cards from their packs and see which character is hidden in it!
You can trade your cards with other to complete your pack but be careful… you don't want to be scammed by your competition!
If you are doubling up on cards you already have it's okay; no harm in taking a bit of risk to try and find one of those super rare cards!
While you are playing you can also earn money and buy a whole new pack!
It may seem easy to collect all of them at the beginning but the more you collect, the more you trade, the more cards you want!
And remember its so easy to trade up and swap your cards…just either accept an offer for one of your cards so you can trade up or keep your current collection. It's entirely down to you.
There is only one thing you need to remember, do not trust anything or anyone on the trade board, because everyone wants to be the winner!
Good Luck and we hope you collect them all!
Additional Information :
Size 390.6 MB
Requires iPadOS 10.0 or later.
User Reviews :
Lots of fun for the colector in me
I think this is a great start to a game like this. I only downloaded it a couple days ago and already spent enough time in it to complete my collection. No for the legendarias.

One thing I noticed, I kept an extensive list on my own of cards a got that were labeled "new" but come to find out I had already received this card. This happened many times where the card said "new" or "need it" in a trade and I already owned that card. Just something to bring up.

Other than that I'm really enjoying this game a lot.
Stick to giving us that collector fantasy.
I like the idea of the game and actually really find it fun. However I gave one major issue with it. For a game that focuses on giving us that card collector fantasy without the massive money commitment one world need for that, it's aggravating that they have some cards purely locked be hind a paid packs.

The only way to finish the full collection are buying those VIP packs (at least it's how it seems). The issue is there's no reason to collect those cards other than that empty feeling of having an unfinished binder. Why would I spend a dollar on a digital VIP pack just for "gold" cards when I could pay a dollar for 2 digital Pokémon packs (which this game is strongly inspired by) and fill an actually valuable and usable collection.

I say this because I actually payed for no ads and I liked the game. That just seems like a low ball. I'd slightly understand it if you maybe wanted to charge a set price to be able to use the VIPA box, that way folk can support your idea, be the VIP packs feel like a scam because they are literally worthless. This game is suppose to give us that fantasy of collecting with out the usual feeling of being buckle and dined by card packs.
Update looks great but…
Looks like you've definitely improved the game but its simply not working for me. My girl and I can't either swipe to the next card or once we get to the last card and the ad pops up the game freezes. Also the game just will not play if on airplane mode or not connected to internet. Idk if you meant it to be this way, but when we look in the book the bottom right card is always propped up. Even when we close the book it stays on screen until we buy a pack.

Wether you took suggestions or you just did it on your own, I'm happy with the update (other than it's currently unplayable for us) Thank you.
Great…but could use some work
Don't get me wrong this game is very fun and addicting but I feel that there is just not that many types of packs and after a while of playing Inhabe tons of coins and yet the most expensive pack I can buy is only 150k. I think it would be better if they made more packs such as "boom or bust" where you have a possibility of getting a really good card and I also think it would be cool if they added limited edition cards so it actually makes the cards rare because they don't return then.
Get Hyper Cards from App Store
What is your opinion about Hyper Cards
Bitcoin
Ethereum
MetaMask (ETH)
Xrp
Polkadot
Binance coin
Stellar
Dogecoin
Tron
Elrond
Donate Bitcoin to this address
Scan the QR code or copy the address below into your wallet to send some Bitcoin
Donate Ethereum to this address
Scan the QR code or copy the address below into your wallet to send some Ethereum
Donate Xrp to this address
Scan the QR code or copy the address below into your wallet to send some Xrp
Donate Polkadot to this address
Scan the QR code or copy the address below into your wallet to send some Polkadot
Donate Binance coin to this address
Scan the QR code or copy the address below into your wallet to send some Binance coin
Donate Stellar to this address
Scan the QR code or copy the address below into your wallet to send some Stellar
Donate Dogecoin to this address
Scan the QR code or copy the address below into your wallet to send some Dogecoin
Donate Tron to this address
Scan the QR code or copy the address below into your wallet to send some Tron
Donate Elrond to this address
Scan the QR code or copy the address below into your wallet to send some Elrond