(Game) HopBound
 iphone games download free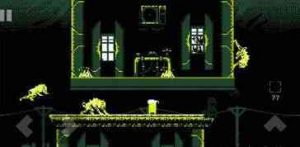 Game Description :
HopBound is a story-driven psychological horror game that revolves around the surreal mind of Mayumi, a recluse who must journey through an unsettling retro game to come to terms with the ghosts of her past.
Through 16-bit horror platformer stages and endless runner levels with gorgeous pixel art, she discovers that her sanity will be tested by something lurking behind the screen.
Game Features :
NOSTALGIC VISUALS
Most of the game's stunning visuals use a palette of only four colors to evoke the charm of 90s handheld games.
SPINE-CHILLING AUDIO
Listen to unique ambient music that provides a sense of dream-like dread as you explore the game's sinister levels.
A STANDALONE CONTINUATION
Taking place two years after the events of the critically acclaimed DERE EVIL EXE, HopBound serves as a continuation of that story. However, users do not need to play DERE EVIL EXE to immerse themselves in HopBound's narrative experience.
HEART-POUNDING MONSTERS
Enemies from previous entries are brought back to life and have evolved into new incomprehensible forms.
MULTIPLE GAME MODES
Engage in frenzied platforming in story-rich levels and test your skills in infinite runner levels tailored for people who like competing for high scores on the Game Center leaderboard.
MEANINGFUL MACHINATIONS
Going against sequel conventions, HopBound doesn't go bigger and badder for the scale of its story. Instead, the game focuses inward, resulting in a haunting yet meaningful tale.
ADORABLE STICKERS
Now comes with an iMessage sticker pack featuring HopBound's adorable cast of characters!
This game contains one optional in-app purchase to permanently disable ads. We recommend that users purchase this feature for a truly immersive experience.
Additional Information :
Size 93.9 MB
Requires iOS 10.0 or later.
Compatible with iPhone, iPad, and iPod touch.
User Reviews :
Very good and underrated
I'll keep it short and sweet. The gameplay is pretty good on its own and I actually like how if you run out of bullets you go to Downtown to collect more, but what makes the game really fun is the story. Its intriguing and gives you an incentive to move on even if you're frustrated. Also the jumpscares aren't THAT in your face like other games, but it still gives you a good fright when they do. The only problem I've encountered is that sometimes the audio randomly stops and I have to reset the app if I want to hear it. Overall, this game is 5 stars
Phenomenal game
As someone who has played all 5 games in this series, this is definitely the most difficult but enjoyable game. If you're looking for something to play and beat in an afternoon, this is the perfect game for you. Playing the game on Steam beta net me around 3 hours of playtime, and the iOS version is likely similar if not the same. Please toss a dollar his way for the remove all ads. He truly deserves it for all the hard work he does.
Amazing but one thing…
The story line to this game was intriguing and enjoyable… this game was very hard but in a fun good way… it was good up until I got to the serpent… I don't know about y'all but that thing has way too much health… it takes way too much time to kill that thing and the dodging is already insanely tough… the snake movement should stay the same but the health could be lowered lol
Finally beat it
Just want to say a great rage inducing game, I was furious the entire time XD, but overall a really well made game, somehow I even managed to beat the extra chapter for Irvin and Rue, cool how our main character comes in at the end to talk to us, legit thought I was going to die
I love it
This game is AMAZING but I'm currently stuck on the worm boss fight I hope that you make that fight just a little bit easier. If yo don't that completely fine because the game is supposed to be hard anyways.
Amazingly scary
Ah this game gives me goosebumps god it's scary!the music the visuals it's all creepy I don't know why i do this to myself

You did a great job ,thank you
Needs to be play tested
Would have been an amazing game if the developers had optimized the gameplay. Often I feel I die to unfair or stupid reasons which can be extremely frustrating
Get HopBound from App Store
What is your opinion about HopBound
Bitcoin
Ethereum
MetaMask (ETH)
Xrp
Polkadot
Binance coin
Stellar
Dogecoin
Tron
Elrond
Donate Bitcoin to this address
Scan the QR code or copy the address below into your wallet to send some Bitcoin
Donate Ethereum to this address
Scan the QR code or copy the address below into your wallet to send some Ethereum
Donate Xrp to this address
Scan the QR code or copy the address below into your wallet to send some Xrp
Donate Polkadot to this address
Scan the QR code or copy the address below into your wallet to send some Polkadot
Donate Binance coin to this address
Scan the QR code or copy the address below into your wallet to send some Binance coin
Donate Stellar to this address
Scan the QR code or copy the address below into your wallet to send some Stellar
Donate Dogecoin to this address
Scan the QR code or copy the address below into your wallet to send some Dogecoin
Donate Tron to this address
Scan the QR code or copy the address below into your wallet to send some Tron
Donate Elrond to this address
Scan the QR code or copy the address below into your wallet to send some Elrond