(Game) Good Sudoku by Zach Gage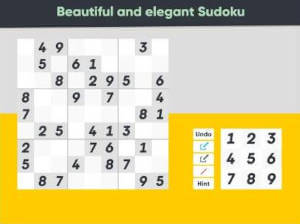 Game Description :
You've never played Sudoku like this.
Good Sudoku turns your iOS device into an AI powered Sudoku genius whose only mission is to help you learn and love this classic game.
Whether you've never tried Sudoku, or you play every day, Good Sudoku's elegant layout, intelligent hint system, and busywork reducing tweaks will help you play better and have more fun.
Game Features :
Over 70,000 of the highest quality puzzles you'll see anywhere
Optional tools to reduce busywork
AI powered hint support to continuously boost your skills
3 standard modes: Good, Arcade, and Eternal
3 Daily puzzle modes that get harder throughout the week + global leaderboards
5 levels of difficulty
Import your own puzzles from elsewhere in Custom mode (and share them with friends!)
We put everything we could into making the best digital Sudoku game ever released:
We wrote a puzzle generator from scratch to create over 70,000 of the highest quality puzzles you'll see anywhere. We spent weeks figuring out how to generate intricate and complex puzzles you won't find in other Sudoku apps. Our hardest puzzles require wild techniques like "XYZ Wings", "Hidden Quadrouples", "Jellyfish", and "Swordfish".
Most people don't know this but Sudoku puzzles are actually generated by programatic Sudoku solvers. The fastest way to know how hard your puzzle is, or if it's valid, is to write a solver that knows all the strategies that can try it. With Good Sudoku, we run our solver as you are playing, so if you get stuck, it can detect what you know by looking at your answers and your notes, and then help you find the next technique you need to solve the puzzle.
Most Sudoku games classify difficulty into vague Easy, Medium, and Hard difficulties — But what do these difficulties mean? Typically they refer to the kinds of solving techniques that are required to solve a given puzzle without resorting to guess-and-check. In Good Sudoku we aren't vague about it at all. We lay out exactly which techniques are required for each difficulty level. Good Sudoku allows you to practice them individually outside of puzzles, and keeps track of which ones you've learned!
When we first got interested in Sudoku we noticed that a lot of players spend most of their time looking at the board and counting. On easy puzzles, this counting serves as a way to increase the difficulty by making the puzzle take longer. We know some sudoku players love the counting but we found it a bit tedious and designed some tools to alleviate the busywork. At first these tools might feel a bit like cheating, but once your mind is freed up from counting you'll have space to see the much deeper more fascinating side of Sudoku: all of the beautiful technique structures. Freed from the burden of busywork Sudoku becomes one of the best search-style games we've ever played. More fun than word-searches and solitaire, high-level Sudoku is a real treat — and with Good Sudoku and a little practice, anyone can learn it!
We noticed when looking at other Sudoku apps although there are often daily puzzle modes, those modes never include global leaderboards. Weird! Good Sudoku remedies this problem!
We wanted to make the best Sudoku out there, and while we're proud of our puzzles, we recognize that puzzles come from all places. That's why we built a quick and easy custom puzzle mode into Good Sudoku, so if you have a paper puzzle that you're stuck on, or you're trying some wild variant (Like the Miracle Sudoku!) it's easy to put it into the game, play it, and share it with your friends. If the puzzle follows standard Sudoku rules, our hint system will even help you get unstuck!
We truly hope Good Sudoku can introduce you to, or deepen your love for this great game.
Zach and Jack
Additional Information :
Size 185.2 MB
Requires iOS 11.0 or later.
User Reviews :
Good start – a couple little things
Hi Zach and Jack, I hope you guys read these reviews. I'm a sudoku junkie and you fellas have yourselves a very nice little app here. I have 2 issues to report, one, kind of a big deal, the other not so much. The one that's not a huge issue is a graphical issue: on phones that have the notch at the top of the screen like the iPhone X, Xs and 11, there is a graphical glitch that makes the "horns" of the screen white while the rest of it yellow. Now the 2nd issue: related to the Techniques functionality. When browsing a given technique, and then clicking Hint to get more info about the technique, you're then given an option of Show Me. The issue is that when you click Show Me, there is hardly any time (about a split second) to see what the system is showing you. Almost immediately after clicking show me, the screen gets covered by another dialog box and it's only options are to go back to the main menu, or try another example. For people to be able to learn, the screen that results from pressing Show Me needs to persist for as long as the user needs it, and further, you should be able to toggle back and forth between the before and after of the number changes. This is the other Sudoku apps do it. Great work so far and hope to see that update soon!
Lives up to its name
I've tried a moderate number of Sudoku apps, and this is one of the best. The interface has some good time-savers. I especially like the ability to select multiple squares and make notes on all of them at once.

The worst thing for me is the legibility of notes. I'm using an iPad Pro 12.9, so the text is as big as it's going to be, and it's still hard to read in some circumstances. The typeface is light (as in thin strokes) and it also seems to be gray, not black. When it's on a white background, it's not bad, but in focus mode, you get gray on orange, which is terrible. I can read the numbers mainly by position in that case.

I also run into this bug fairly often: when I tap the hint button, the hint shows up, but if I tap the book icon for more details, nothing happens. To be sure, it works most of the time, but fails often enough to be aggravating.
Get Good Sudoku from App Store
What is your opinion about Good Sudoku
Bitcoin
Ethereum
MetaMask (ETH)
Xrp
Polkadot
Binance coin
Stellar
Dogecoin
Tron
Elrond
Donate Bitcoin to this address
Scan the QR code or copy the address below into your wallet to send some Bitcoin
Donate Ethereum to this address
Scan the QR code or copy the address below into your wallet to send some Ethereum
Donate Xrp to this address
Scan the QR code or copy the address below into your wallet to send some Xrp
Donate Polkadot to this address
Scan the QR code or copy the address below into your wallet to send some Polkadot
Donate Binance coin to this address
Scan the QR code or copy the address below into your wallet to send some Binance coin
Donate Stellar to this address
Scan the QR code or copy the address below into your wallet to send some Stellar
Donate Dogecoin to this address
Scan the QR code or copy the address below into your wallet to send some Dogecoin
Donate Tron to this address
Scan the QR code or copy the address below into your wallet to send some Tron
Donate Elrond to this address
Scan the QR code or copy the address below into your wallet to send some Elrond