(Game) Good Pizza – Great Pizza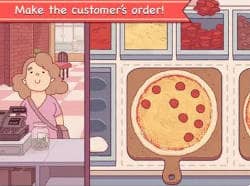 App Description :
Ever wanted to know what it feels like to run your own Pizza shop? Now you can with TapBlaze's newest game, Good Pizza, Great Pizza! Do your best to fulfill pizza orders from customers while making enough money to keep your shop open. Upgrade your shop with new toppings and equipment to compete against your pizza rival, Alicante!
App Features :
Featuring Pizza News Network (PNN), the first newscast about all things pizza.
Over 80 customers with unique pizza orders and personalities.
Pizza toppings including pepperoni, sausage, onions, and more.
Equipment upgrades to help you become the master ovenist.
Simple, fun and challenging gameplay.
Created by pizza making professionals; the game designer worked in a pizza kitchen for four years!
Can you become the master ovenist? Only time and your pizza skills will tell!
Download and start pizza making now!
Privacy Policy:
www.tapblaze.com/about/privacy-policy/
Terms of Service:
www.tapblaze.com/about/terms-conditions/
Additional Information :
Size 171.5 MB
Requires iOS 13.0 or later.
User reviews :
The perfect mobile game
I've been thinking about a game like this for years, and it has finally been realized, and perfectly. The writing is incredibly silly and fun, and relates to the mechanics in that customers lose happiness if you ask them to clarify their bad jokes. The art is absolutely precious and cohesive; the color scheme is remarkably charming and the customization options provided are lovely. The tactile experience paired with the sound effects of placing toppings is somehow incredibly satisfying. I feel the gameplay is balanced.

There are a few bugs and inconsistencies; sometimes prompt standards will be inconsistent from Chapter 1 to Chapter 2, sometimes my game just goes black and restarts, and sometimes I'll come back to the app and the SFX will be gone, which is annoying, but it doesn't detract enough from the game for me to detract a star for it. This game is amazing and harkens back to the good old days of strategy games I played online as a kid. I cannot recommend it enough.

You can see in every nook and cranny in this game how much love was put in. When playing in Japanese, the jokes are specialized to Japan and comprise entirely new requests tailored to the language rather than mere translations of the English prompts. I love this game so much I've already pumped like 6 hours into it and I know for a fact I'll be coming back until I've bought everything. Well done, Tapblaze. Thank you.
Developer Response ,
Thank you so much for playing our game and your feedback. We are working on fixing the bugs you mentioned and improving the game. We are touched that you noticed how much work we put into localizing the game for other languages such as Japanese! We actually worked with over 7 Japanese translators until we got the localization right! We really want to give the Good Pizza, Great Pizza experience to gamers everywhere. If you have any other bugs or issues with the game, please feel free to email us at support[at]tapblaze.com. Thank you again!
It's a really good game but…
I randomly found this game while I was bored,(being the pandemic and all) but when I found it,I was immediately BLOWN away! The art is so unique to me…And the overall story and fun points in the game is what truly makes the overall experience fantastic!!! BUT- Even with the amazing Story and artwork throughout the game, there is still a GAME here, and in the general gameplay mechanics, It's pretty meh. I mean, If you are Into the somewhat simple cooking esk games, that is totally fine! But in this case, there is obviously more of a story telling element then actual game play…Which is where I have my problem…I really wish that the main plot points weren't so far apart and spread out! Mostly because In between that long period of time between story arch's, your just making pizza! And that's it…Even though the story seems a lot more important at least in this case! Not only that, but make the characters a lot more interactive! I love the customers because of there wacky requests, but If it is more story driven and seeming to be more like a sim… Make them be more Interactive and have more personalities that already fit their unique character design! and that's just my opinion, but I still think the whole gameplay is still as much of a fascinating experience! Even though it can be somewhat slow and boring at times…so please try out this game either way!:DDD
Developer Response ,
Hello Master Ovenist! Thank you for your savory suggestions! We will make sure to pass your ideas down to our team 🙂 We are preparing more contents for you to taste this year! Please be prepared for any cooking challenge coming along your way 😉 If you have any questions, please email us at suggestions@tapblaze.com. Thank you!
Get Good Pizza from App Store
What is your opinion about Good Pizza
Bitcoin
Ethereum
MetaMask (ETH)
Xrp
Polkadot
Binance coin
Stellar
Dogecoin
Tron
Elrond
Donate Bitcoin to this address
Scan the QR code or copy the address below into your wallet to send some Bitcoin
Donate Ethereum to this address
Scan the QR code or copy the address below into your wallet to send some Ethereum
Donate Xrp to this address
Scan the QR code or copy the address below into your wallet to send some Xrp
Donate Polkadot to this address
Scan the QR code or copy the address below into your wallet to send some Polkadot
Donate Binance coin to this address
Scan the QR code or copy the address below into your wallet to send some Binance coin
Donate Stellar to this address
Scan the QR code or copy the address below into your wallet to send some Stellar
Donate Dogecoin to this address
Scan the QR code or copy the address below into your wallet to send some Dogecoin
Donate Tron to this address
Scan the QR code or copy the address below into your wallet to send some Tron
Donate Elrond to this address
Scan the QR code or copy the address below into your wallet to send some Elrond