(Game) Genshin Impact
 iphone games download free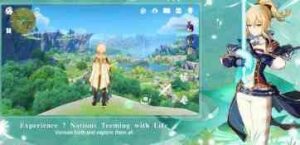 Game Description :
Step into Teyvat, a vast world teeming with life and flowing with elemental energy.
You and your sibling arrived here from another world. Separated by an unknown god, stripped of your powers, and cast into a deep slumber, you now awake to a world very different from when you first arrived.
Thus begins your journey across Teyvat to seek answers from The Seven — the gods of each element. Along the way, prepare to explore every inch of this wondrous world, join forces with a diverse range of characters, and unravel the countless mysteries that Teyvat holds…
Game Features :
MASSIVE OPEN WORLD
Climb any mountain, swim across any river, and glide over the world below, taking in the jaw-dropping scenery each step of the way. And if you stop to investigate a wandering Seelie or strange mechanism, who knows what you might discover?
ELEMENTAL COMBAT SYSTEM
Harness the seven elements to unleash elemental reactions. Anemo, Electro, Hydro, Pyro, Cryo, Dendro, and Geo interact in all sorts of ways, and Vision wielders have the power to turn this to their advantage.
Will you vaporize Hydro with Pyro, electro-charge it with Electro, or freeze it with Cryo? Your mastery of the elements will give you the upper hand in battle and exploration.
BEAUTIFUL VISUALS
Feast your eyes on the world around you, with a stunning art style, real-time rendering, and finely tuned character animations delivering you a truly immersive visual experience. Lighting and weather change naturally over time, bringing every detail of Teyvat to life.
SOOTHING SOUNDTRACK
Let the beautiful sounds of Teyvat draw you in as you explore this expansive world. Performed by the London Philharmonic Orchestra, the soundtrack changes seamlessly with the time and gameplay to match the mood.
BUILD YOUR DREAM TEAM
Team up with a diverse cast of characters, each with unique personalities, stories, and abilities. Discover your favorite party combinations and level up your characters to help you vanquish even the most daunting of enemies.
JOURNEY WITH FRIENDS
Play together with friends across various platforms to trigger more elemental action, tackle tricky boss fights, and conquer challenging domains together to reap rich rewards.
As you stand atop the peaks of Jueyun Karst and take in the rolling clouds and vast terrain stretching out before you, you may wish to stay in Teyvat a little longer… But until you are reunited with your lost sibling, how can you rest? Go forth, Traveler, and begin your adventure!
SUPPORT
If you encounter any issues during the game, you can send us feedback via the in-game Customer Service Center.
Customer Service Email: genshin_cs[at]mihoyo.com
Official Site: genshin.mihoyo.com/
Forums: forums.mihoyo.com/genshin/
Facebook: www.facebook.com/Genshinimpact/
Instagram: www.instagram.com/genshinimpact/
Twitter: twitter.com/GenshinImpact
YouTube: www.youtube.com/c/GenshinImpact
Discord: discord.gg/genshinimpact
Reddit: www.reddit.com/r/Genshin_Impact/
COMPATIBILITY
Requires iOS 12.0 or later
Compatible with iPhone 8 Plus, iPhone X, iPhone XS, iPhone XS Max, iPhone XR, iPhone 11, iPhone 11 Pro, iPhone 11 Pro Max, iPhone SE (2nd generation), iPhone 12, iPhone 12 mini, iPhone 12 Pro, iPhone 12 Pro Max, iPad Air (3rd generation), iPad Air (4th generation), iPad mini (5th generation), iPad Pro (12.9-inch) (2nd generation), iPad Pro (10.5-inch) (2nd generation), iPad Pro (11-inch) (3rd generation), iPad Pro (12.9-inch) (3rd generation), iPad Pro (11-inch) (4th generation), iPad Pro (12.9-inch) (4th generation), and iPad (8th generation).
Available Text Languages: Chinese (Simplified and Traditional), Japanese, Korean, English, French, German, Spanish, Portuguese (Brazil), Indonesian, Vietnamese, Russian, Thai.
Available Voiceover Languages: Chinese, Japanese, Korean, English (Voiceover and text language can be changed independently).
Additional Information :
Size 3.4 GB
Requires iOS 9.0 or later.
User Reviews :
Elemental magic rules the land of Teyvat in the remarkable Genshin Impact—and as a powerful Traveler, you put this power to good use. Vibrant visual effects transform elemental blasts of fire, ice, and lightning into jaw-dropping spectacles. But it's not just a looker: Genshin Impact's beautiful open world is filled with thrilling quests and fascinating secrets. Climb mountains, cook meals, and soar through the skies as you search for your lost sibling—or simply get lost in Teyvat and see what happens.
Great game !
The graphics and story to this game is beautiful. I play up to five hours each day for the past maybe month and a half and there is SO much content. I do see a lot of people complaining about a few things so I felt the need to kind of clear it up. Lots say its laggy and doesn't load well but that's because this game is so big. It's really a PC game so on your phone its difficult to run since the game is open world and has so many components. I went from mobile > PC and the graphics were WAAAY better and I had zero lag and way easier controls. I've also seen people complaining about archers and how they don't like aim mode because apparently they don't like having to hold down to aim and charge up each shot, but there is an option to lock aim mode and just tap when you want to shoot which is easier. It took me awhile to find this out so I hope it helps. Only thing I find annoying is that you have to wait for a specific day to get materials you need from a domain and that sometimes they make challenges or combat quests a little too overwhelming. I understand they are meant to be challenging but I once took at least and hour trying complete a puzzle which was a very small room with a hydro abyss mage, two large hydro slimes and a

cryo and electro range hilichurl. I kept getting cornered, stunned and froze over and over and it was timed, so it was a little frustrating but I eventually got it lul.
Super addicting
I wish I found out about this game later when more stuff is released, that way I could grind for that much longer. I'm AR 37 and this game is super fun. I've spent an average of 5 hours or so everyday playing this game since I got it.

I loved BOTW, it was one of my fave games, and this was obviously inspired by it, but other parts of Genshin make it unique in its own way. Great character personalities and designs, great story, and funny, interesting dialogue, entertaining gameplay… this is why it's so addicting. I love Childe and Xiao they're so cute. And I would've expected Paimon to be annoying, but she is actually really fun to have as my guide and her sassy attitude is amazing lol. Despite the traveler being silent, his replies are sassy and hilarious as well— to Paimon and to other characters in general. I'm glad his voice was added in the the voice over section of the game with Paimon.

UGH, this game is just so good and I'm going to be sad once I run out of things to do on it since the game is so new. My only complaint is the ridiculous rates on Gacha. They're not kidding when it says the chance to get a five star is .6 percent or whatever. At least make it 1 percent because dang… also, make artifacts and weapons a little bit more accessible as well. Otherwise, this is one of the best mobile games I've ever played. I'm happy for Mihoyo's huge success in sales in this game as well! I'm so grateful for u guys and keep producing great content!!
Get Genshin Impact from App Store
What is your opinion about Genshin Impact
Bitcoin
Ethereum
MetaMask (ETH)
Xrp
Polkadot
Binance coin
Stellar
Dogecoin
Tron
Elrond
Donate Bitcoin to this address
Scan the QR code or copy the address below into your wallet to send some Bitcoin
Donate Ethereum to this address
Scan the QR code or copy the address below into your wallet to send some Ethereum
Donate Xrp to this address
Scan the QR code or copy the address below into your wallet to send some Xrp
Donate Polkadot to this address
Scan the QR code or copy the address below into your wallet to send some Polkadot
Donate Binance coin to this address
Scan the QR code or copy the address below into your wallet to send some Binance coin
Donate Stellar to this address
Scan the QR code or copy the address below into your wallet to send some Stellar
Donate Dogecoin to this address
Scan the QR code or copy the address below into your wallet to send some Dogecoin
Donate Tron to this address
Scan the QR code or copy the address below into your wallet to send some Tron
Donate Elrond to this address
Scan the QR code or copy the address below into your wallet to send some Elrond