(Game) Funko Pop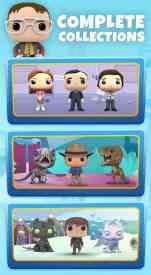 Game Description :
Swipe, swap, & match 3 to bring Funko Pop! figures to life in this fast-paced puzzle game. Grow your collection as you unlock iconic Pop! characters!
There over 200+ Funko Pops! to collect and play, featuring The Office, Jurassic Park, and Hello Kitty – with new fandoms added every week! Upgrade and play with classic characters: Marty McFly, Ron Swanson, Michael Scott, T-Rex and many more. See them come to life with adorable, expressive animations and powerful, upgradeable Super moves!
Game Features :
COLLECT iconic Funko Pop! characters
MATCH 3 in fast, exciting Blitz puzzles
GO SUPER to unleash Super moves unique to each Pop!
USE POWER UPS to boost your score and earn rewards!
WEEKLY EVENTS with fresh new Pops! to collect!
MEGA COLLECTION rewards collectors with rare Mythic Pops!
FUNKO® and POP!® are registered trademarks of Funko, LLC. POP! BLITZ™, FUNKO PETS™, POP! MYTHS™, FANTASTIK PLASTIK™, AROUND THE WORLD™, WETMORE FOREST™ & PEPPERMINT LANE™ © 2021 Funko, LLC. All Rights Reserved.
Universal Monsters, JAWS, The Breakfast Club, Battlestar Galactica, & E.T. the Extra-Terrestrial © 2019-2021 Universal City Studios LLC. All Rights Reserved.
Jurassic Park, Jurassic World, & Back to the Future © 2019-2021 Universal City Studios LLC & Amblin Entertainment, Inc. All Rights Reserved.
DreamWorks Shrek, DreamWorks Kung Fu Panda, DreamWorks Dragons, DreamWorks Trolls & 2021 DreamWorks Voltron Legendary Defender © 2019-2021 DWA LLC. All Rights Reserved.
Woody Woodpecker 2019-2021 © Walter Lantz Productions, Inc. All Rights Reserved.
Abominable © 2019-2021 Universal City Studios, LLC and Shanghai Pearl Studio Film and Television Technology, Co.
The Office [US], Saved By The Bell, and Parks and Recreation © 2019-2021 Universal Television LLC. All Rights Reserved.
BBC, DOCTOR WHO and TARDIS (word marks and logos) are trade marks of the British Broadcasting Corporation and are used under licence. BBC logo © BBC 1996. Doctor Who logo and WHO insignia © BBC 2018. Thirteenth Doctor images © BBC Studios 2018. Licensed by BBC Studios.
The Princess Bride © The Princess Bride Limited. All Rights Reserved.
Care Bears™ © 2020-2021 Those Characters From Cleveland, LLC. Used under license by N3TWORK Inc.
Hostess™ 2021 Hostess Brands, LLC. All Rights Reserved. TM The Hostess and Donettes trademarks are used under license from Hostess Brands, LLC.
Cheerios, Pillsbury, Trix, Lucky Charms & Cocoa Puffs © 2020-2021 General Mills. TMs used under license.
MASTERS OF THE UNIVERSE™ and associated trademarks and trade dress are owned by, and used under license from, Mattel. ©2021 Mattel. All Rights Reserved. Under license to Classic Media.
SHE-RA™ and associated trademarks and trade dress are owned by, and used under license from, Mattel. © (2021) Mattel; TV Series © Sleepy Kid. All Rights Reserved. Under license to Classic Media.
PEEPS®, and the PEEPS® Bunny Shape are registered trademarks of Just Born, Inc., Bethlehem, PA, USA and are used under license. © 2021.
Hello Kitty © 2021 SANRIO CO., LTD. Used Under License
© 2021 N3TWORK Inc.
To play this game, you must read and consent to the following:
Privacy Policy (static.n3twork.com/docs/privacy-policy.html)
Terms of Use (static.n3twork.com/docs/terms.html)
Additional Information :
Size 391.5 MB
Requires iOS 10.0 or later.
User Reviews :
Just a suggestion, but great game
I love this game, can't put it down. But I feel like the daily quests should be implemented before focusing on weekly events. I love the weekly events but something to do daily would be a bit more refreshing. The lives feature is nice, because It's the only thing to get me to put the game down so I can do things in the real world. But my biggest suggestion would be an option to choose the other pops that show up in the matches, (Like let us choose from what we have to be the back-ups) because sometimes when you end up with a bunch of pops with similar colors you just stare at the screen and waste a life (Ex: Funko Freddie, ET, Tenderheart, Marty McFly and the t-Rex. They are all really close in color and resulted in my lowest score ever) and for the last five seconds when we have sweaty stressed pops, I'd like an option to turn that off because I can't tell what each pop is when they all have that sweat drip covering a portion of them, so I hardly get anything done in that last few seconds. I hope you guys get this and try to find the best solution possible. I really love your game and want to stay will you for the long run. Also please remove the "are you enjoying this game/ do you want to rate the game?" Menu pop-up for players that have rated the game.
Suggestion. Reward your loyal players. Don't aggravate them.
I have to admit that I have become addicted to this amazingly fun and creative game. But I have to admit that I find the weekly challenges to be too much of a money trap. They are simply too unattainable. Unless you are playing nearly all day. I wish that I would have 2-3 hours a day to spend on your game, but that is not healthy. Shame on you for making these weekly challenges nearly impossible to complete unless you are extremely lucky and/or willing to spend money to buy more coins. There are many weeks that I will earn all the rewards and even get the exclusive figure. But still can't complete a set of the figures. I wish that the items exclusive for the week were all you could buy each week. Not full of randoms. You still have the randomness of how many stars each have to try and seek out with repetitive purchases. But please let a hard working person who plays as often as they can be able to complete a set of figures by playing at least 2 hours a day. Ignoring real life and jobs and family is not worth still failing at your game. You should make it hard, but not unattainable. Most weeks the challenges have been unattainable.
Get Funko Pop from App Store
What is your opinion about Funko Pop
Bitcoin
Ethereum
MetaMask (ETH)
Xrp
Polkadot
Binance coin
Stellar
Dogecoin
Tron
Elrond
Donate Bitcoin to this address
Scan the QR code or copy the address below into your wallet to send some Bitcoin
Donate Ethereum to this address
Scan the QR code or copy the address below into your wallet to send some Ethereum
Donate Xrp to this address
Scan the QR code or copy the address below into your wallet to send some Xrp
Donate Polkadot to this address
Scan the QR code or copy the address below into your wallet to send some Polkadot
Donate Binance coin to this address
Scan the QR code or copy the address below into your wallet to send some Binance coin
Donate Stellar to this address
Scan the QR code or copy the address below into your wallet to send some Stellar
Donate Dogecoin to this address
Scan the QR code or copy the address below into your wallet to send some Dogecoin
Donate Tron to this address
Scan the QR code or copy the address below into your wallet to send some Tron
Donate Elrond to this address
Scan the QR code or copy the address below into your wallet to send some Elrond