(Game) Fortnite
 free games for iphone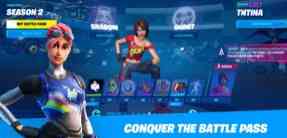 Game Description :
Fortnite DOES NOT support: iPhone 5S, 6, 6 Plus; iPad Air, Mini 2, 3; iPod Touch 6th gen and lower
Fortnite has come to mobile! Squad up and compete to be the last one standing in Battle Royale, or use your imagination to build your dream Fortnite in Creative.
Requires an internet connection and iOS 11 or above.
On mobile, Fortnite is the same game you know from PlayStation 4, Xbox One, PC, Mac, Switch. Same map, same gameplay, same weekly updates. Build your fort as you battle to be the last one standing. Jump in and squad up with friends around the world or in the same room!
Powered by Unreal Engine 4.
Game Features :
PARTY HUB – Connect with Fortnite friends on the go so the party never stops. See who's online, party up and jump into the game together on any platform or just voice chat. Want to hang with friends in game while you're out and about? Now you can take the party with you!
CREATIVE – Enter a universe of endless creative possibilities. Play games with your friends and explore countless community creations. Head to the Creative hub to check out new featured Islands every day.
BUILD & DESTROY – Shape the battlefield by building your own cover. Opponent hiding behind a wall? Take out their cover to get the edge.
GEAR UP – Board the battle bus and drop in on your favorite zone. Gather resources, collect gear, and battle your opponents! Last one standing wins.
SQUAD UP WITH FRIENDS – Team up with your friends around the world or in the same room!
EPIC UPDATES & EVENTS – Weekly updates constantly fuel the fun. New gameplay modes, serious and insane new looks for your avatar, new weapons and items….Fortnite is always expanding.
CONSOLE GAMING ON THE GO – Play the full game anytime, anywhere. Complete quests on the go, progress your Battle Pass, and more.
Additional Information :
Compatible with iPhone, iPad, and iPod touch.
Requires iOS 11.0 or later.
Size 236.4 MB
User Reviews :
Okay so first off let me just say that this is a great game! I know people say that the controls are horrible, but you honestly just have to get used to them. For a mobile game the graphics are actually pretty nice to look at. There are many other great qualities about the game but let cut to the chase, BUGS. I've been playing Fortnite for a while and it's been awesome, but up until recently there are these to really messed up bugs that have cost me countless games. 1. Is the bug were you can't interact with anything, chests, llamas, ammo boxes, loot drops everything. To fix this you need to go to settings and toggle the "hold to interact" button on or off. This isn't that bad but I have been in scenarios where I'm busy trying to change my settings to interact with something and I just get sniped. 2. Isn't really a bug but still, LAG. I've had times when I can move my character but can't look up, down, left, or right. And it happens a lot of times in my games. At first I thought it was the iPad I play on. But I play on a less than a year old iPad Pro, so that's not the problem. My WiFi is good and i don't have cellular data on my iPad. And it only started happening when the birthday celebration was added. Like I said I love Fortnite, but these bugs and lag are making the game not as enjoyable. Please fix these issues!
Fortnite is a fun game I guess but The first this I hate it that Errors Occur even though I am connected to the Internet, I don't get this and it's super annoying and I can't fix it. I tried Getting for GigaBites, I tried Getting better Internet connection, I even tried deleting it and installing it again, But Yet it doesn't work. If epic games is reading this then can you please improve the game and Improve Errors that happen for unknown reason. As well as it says Shields give you extra health, but It's useless in the storm So If you can either Vault the storm or make it to where Shield can help you in the storm. Another thing is that in Season 8 My pickaxe can't break through structure like trees, rocks, and houses. For me to break those I have to shoot it with a gun with wasted my ammo I really hope you can fix this glitch. I would also like to say in Season 8 if I step on something I hear a sizzling noise and it takes off 1% of my health, I don't know why it does this. My theory is it's because of the earthquake or volcano. But it's very annoying for me because I lost a game because of it. Fortnite I hope you can help fix all of these because if this keeps happening I might delete the game off my phone and laptop and throw away the disc for my Xbox.
Get Fortnite from App Store
What is your opinion about Fortnite
Bitcoin
Ethereum
MetaMask (ETH)
Xrp
Polkadot
Binance coin
Stellar
Dogecoin
Tron
Elrond
Donate Bitcoin to this address
Scan the QR code or copy the address below into your wallet to send some Bitcoin
Donate Ethereum to this address
Scan the QR code or copy the address below into your wallet to send some Ethereum
Donate Xrp to this address
Scan the QR code or copy the address below into your wallet to send some Xrp
Donate Polkadot to this address
Scan the QR code or copy the address below into your wallet to send some Polkadot
Donate Binance coin to this address
Scan the QR code or copy the address below into your wallet to send some Binance coin
Donate Stellar to this address
Scan the QR code or copy the address below into your wallet to send some Stellar
Donate Dogecoin to this address
Scan the QR code or copy the address below into your wallet to send some Dogecoin
Donate Tron to this address
Scan the QR code or copy the address below into your wallet to send some Tron
Donate Elrond to this address
Scan the QR code or copy the address below into your wallet to send some Elrond