(Game) Food Truck Pup – Cooking Chef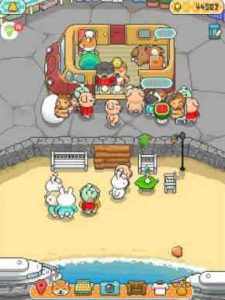 Game description :
2,000,000DL Thanx!
Cooking Crepes with a Shiba Inu.
Here comes a cute cooking x sim game featuring a Shiba Inu and other animals!
Cute pixel graphics + cooking + business management!
Prepare crepes in the cooking game and design your shop with furniture you like. You can dress up the adorable pixel dogs, too. There's a Shiba Inu, a retriever, a beagle, and more.
Game Features :
How To Play
Work with the dogs to build a global crepe business. Use the money you earn to buy furniture and clothes, and decorate your crepe truck or cafe.
Gathering Ingredients
Collect strawberries, bananas, and other crepe ingredients.
Hand Out Flyers
Promote your shop by handing out flyers to the animals passing by.
Cooking Mode
Prepare crepes for customers in Cooking Mode.
Part-Timers
You can hire other dogs to work as part-timers. Part-timers can do tasks such as gathering ingredients or helping customers on their own. Work together to expand your crepe business.
Furniture
Buy furniture at the cat shops. Make life better with a chair or a bed. Customize the interior of your shop with benches, tables, and more.
Clothes
You can buy clothes on the second floor of the cat shops. Have your dogs wear matching outfits or clothes that go with your shop. You can keep up to three sets of clothing for each dog.
Go Global
Save up money and open a shop in a new area.
Mini games
Match-3 puzzle game.
Clothes, furniture, and different animals will be added in future updates.
SNS
Twitter twitter.com/game_start_llc
Facebook www.facebook.com/GAME-START-LLC-494823844363263
Additional Information :
Size 123.4 MB
Requires iOS 10.0 or later.
User Reviews :
SO CUTE! MUST PLAY!
Sure the ads are annoying in this but there aren't a lot, and you get on lots of gameplay. The thing I like the most is buying furniture to spice up my food truck! All the little items you can get are so cute. If you want a game that's a good time waster, but so easy and fun, please play this! I literally played this for 2 hours, and I got so much money. I really do recommend this game, it's just such a cutesy game to play. I do hope you get this app. Also another tiny little spoiler, you get to pick your dog! That meaning, you get to choose a dog to take over, and run the food truck. You may change at any time to a new dog. I picked the little brown and black dog. I love watching my little dog eat some take out, or taking orders. The only thing I don't like about it, is the ads. There a bit annoying at times, but they have the little dog you chose say "Thank you" at the end of watching the ads. For the last time, I do highly recommend this game. Go have some doggy fun, and good luck!
Best Game!
This is the best game I have ever downloaded from the AppStore. It truly never gets old, and the creators made every detail of the game with evident intent. The dogs are adorable, the tasks are entertaining, the furniture is fun, the clothes are humorous, and the different locations are intricate. The pixelated and colorful design makes it aesthetically pleasing and even more fun to play.

The only problem is that I can't get enough! A new update is definitely necessary, and I must admit that it concerns me that there are only two more locations on the map. What happens after that? A new island? I hope so!

Also, while others have complained about the part time worker dogs making the wrong flavors or getting stuck in the same spot as the main dog and causing some chaos, I think these details make the game even more entertaining and fun!!
I've fallen in love
This game is so SO CUTE, It's like harvest moon crossed over with animal crossing set in a food truck instead of a farm. At first I was hoping there'd be a small town you could walk around too, but I'm totally okay that there isn't now, the mini games are so cute and easy to understand! The tutorial is really straightforward too, and it doesn't force ads on you but asks if you want to watch them to speed things up. The wait time for the things it speeds up isn't even that long so it's not hard to play without watching the ads, they're just a nice helpful speed up if you feel like watching them. It's easy to get coins too! I can not tell you enough how cute and absolutely lovely the pixel art style of this game is, I've fallen in love with this nice relaxing wonderful little game!
Get Food Truck Pup from App Store
What is your opinion about Food Truck Pup
Bitcoin
Ethereum
MetaMask (ETH)
Xrp
Polkadot
Binance coin
Stellar
Dogecoin
Tron
Elrond
Donate Bitcoin to this address
Scan the QR code or copy the address below into your wallet to send some Bitcoin
Donate Ethereum to this address
Scan the QR code or copy the address below into your wallet to send some Ethereum
Donate Xrp to this address
Scan the QR code or copy the address below into your wallet to send some Xrp
Donate Polkadot to this address
Scan the QR code or copy the address below into your wallet to send some Polkadot
Donate Binance coin to this address
Scan the QR code or copy the address below into your wallet to send some Binance coin
Donate Stellar to this address
Scan the QR code or copy the address below into your wallet to send some Stellar
Donate Dogecoin to this address
Scan the QR code or copy the address below into your wallet to send some Dogecoin
Donate Tron to this address
Scan the QR code or copy the address below into your wallet to send some Tron
Donate Elrond to this address
Scan the QR code or copy the address below into your wallet to send some Elrond