(Game) Farm Heroes Super Saga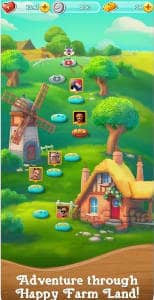 Game Description :
The Cropsies are back and they're bigger than ever!
Rancid Raccoon is up to his old tricks again. Ruining the harmony of rural life by winning all of the Country Shows and claiming the prize money for his sneaky self. The Farm Heroes know he's cheating and it's up to you to help them defeat him.
Help them in their mission to grow the biggest Super Cropsies, win the Country Show and stop Rancid ruining the fun for everyone.
Move through this Farmtastic Saga while collecting as many Cropsies as you can! You can help Fidget the squirrel gather his nuts, grow some Super Cropsies and meet a host of exciting characters along the way! But be careful, Rancid the Raccoon is trying to stop you and he'll pop up where you least expect him…
Take on this Croptastic Saga alone or play with friends to see who can get the highest score!
Game Features :
Exciting new Country Show! See who can grow the biggest Cropsie!
Collect Cropsies in hundreds of amazing new game levels
Switcher game that is easy and fun to play, yet challenging to fully master
Farmtastic game modes and new super sized Cropsies!
Have the best and biggest Super Cropsies in all the land to win the Country Show!
A host of new Heroes, but watch out for Rancid Raccoon, he causes mischief where you least expect!
You can connect to Facebook to compare scores with your friends on leaderboards
Easily sync the matching game between mobile and tablet devices and unlock the full game features when connected to the internet
Take on Rancid Raccoon in this Croptastic puzzle game and stop his sneaky plans to win the Country Show! Help the Farm Heroes grow the best and biggest Super Cropsie in the land!
Download Farm Heroes Super Saga today and start playing this fun matching game!
Farm Heroes Super Saga is completely free to play but some optional in-game items will require payment.
You can turn off the payment feature by disabling in-app purchases in your device's settings.
Visit care.king.com/ if you need help!
Follow us to get news and updates;
www.facebook.com/FarmHeroesSuperSaga/
twitter.com/farmheroessuper
www.youtube.com/user/FarmHeroesOfficial
www.instagram.com/farmheroessuper/
Do not sell my data: King shares your personal information with advertising partners to personalize ads. Learn more at king.com/privacyPolicy. If you wish to exercise your Do Not Sell My Data rights, you can do so by contacting us via the in game help centre or by going to soporto.king.com/
From the makers of Candy Crush Saga. Have fun playing Farm Heroes Super Saga!
Additional Information :
Size 394.3 MB
Requires iOS 9.0.0 or later.
User Reviews :
Challenging but fun
It's so annoying seeing people saying king is basically scamming them for money and I get that you feel that way but there are thousands I MEAN thousands of people on such a very high level without spending no money what's so ever if you choose to spend money then that's ur choice King's prices ARE pricey so I don't blame you for not buying any boosters for ANY game but king gives you a lot of reward and gold for winning races and doing daily challenges and just for playing the game eventually it adds up so don't rate it such a trash game Bc you can't seem to beat a level. Farm Heroes Super Saga is a very challenging game if you like a challenge this game might be for you if you don't this game might not be for you. some of King's games are much more easier and fun but this game is very challenging and also really fun so I recommend it. Sole lvl are very hard and it makes you want to throw ur phone but I swear it's still such a fun and cute game when u pass it feel like u won a race in a running competition haha.
It was a good game…
I used to really enjoy this game, it was fun and challenging and a great way to ignore the football my family was watching. But they have added a lot of unnecessary things, I feel like the game is crowded. One of my least favorite things is that they give you extra moves for however many days you don't play, it just seems really counterintuitive. They also recently started comparing your scores to other people, you could always see who got the best score on a level, but now they compare specific things with a single person, it really ruins the game. There are quite a few more little things that I don't care for, but this is already a long review. On a good note, there are few ads and the levels don't feel like you're playing the same one over and over. I'm sure anyone who is just getting the game wouldn't mind the new things because they didn't know how it used to be, it's just sad how they are slowly ruining what used to be my favorite game.
Get Farm Heroes Super Saga from App Store
What is your opinion about Farm Heroes Super Saga
Bitcoin
Ethereum
MetaMask (ETH)
Xrp
Polkadot
Binance coin
Stellar
Dogecoin
Tron
Elrond
Donate Bitcoin to this address
Scan the QR code or copy the address below into your wallet to send some Bitcoin
Donate Ethereum to this address
Scan the QR code or copy the address below into your wallet to send some Ethereum
Donate Xrp to this address
Scan the QR code or copy the address below into your wallet to send some Xrp
Donate Polkadot to this address
Scan the QR code or copy the address below into your wallet to send some Polkadot
Donate Binance coin to this address
Scan the QR code or copy the address below into your wallet to send some Binance coin
Donate Stellar to this address
Scan the QR code or copy the address below into your wallet to send some Stellar
Donate Dogecoin to this address
Scan the QR code or copy the address below into your wallet to send some Dogecoin
Donate Tron to this address
Scan the QR code or copy the address below into your wallet to send some Tron
Donate Elrond to this address
Scan the QR code or copy the address below into your wallet to send some Elrond