(Game) Eternium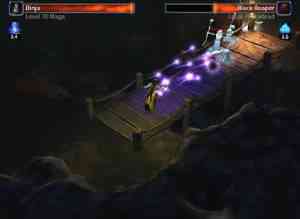 Game Description :
Indie RPG made with passion, not greed, by a handful of oldschool RPG fans.
Eternium is an amazingly fun and beautifully crafted Action RPG, reminiscent of the great classics Diablo and Torchlight.
Eternium stands out from other mobile Action RPGs, like Dungeon Hunter or SoulCraft, by its effortless "tap to move" and innovative "swipe to cast" controls, and its player-friendly "no paywalls, never pay to win" philosophy.
With the exception of a couple of online-only features, the game can also be played offline after the content download completes.
Drawing signs to cast spells is easy and rewarding. The tap-to-move control is more natural and relaxing than thumbsticks, and it's also truer to the vintage point-and-click Action RPG experience.
The game can be really played for free, as more than 90% of our players do. Purchases are completely optional. Gems, the game's main currency, can be collected from enemies and quests. There is no limiting stamina or energy. The best things in the game are obtained by playing, not paying.
Eternium initially launched in 2014, and is actively being improved by the original development team. Through years of polishing, and feedback from millions of players, the quality of the game has steadily increased, making it now one of the highest rated games.
Enjoy the visceral satisfaction of responsive, fast-paced combat, with spectacular special effects, pleasing sounds, rewarding damage numbers, all set against immersive backdrops and atmospheric, inspiring music scores.
Game Features :
Play as a Mage, Warrior or Bounty Hunter, wielding a sword, axe, staff or gun. Level up to learn new abilities and increase your attributes.
Battle skeletons, zombies, automatons, aliens, demons, dragons and many other creatures, across four beautifully hand-crafted worlds, or in endless generated levels.
Venture into dark caves and dungeons, explore forests, villages and graveyards, lay siege to demon controlled castles, brave snowy mountain peaks, travel to the moon to slay strange creatures among craters and canyons, and beyond, to the deserts, pyramids and jungles of the red planet.
Open treasure chests to loot gold, gemstones and battle gear. Equip shiny breastplates, menacing helmets and hoods, spiked shoulder pads, mysterious cloaks or capes. Protect yourself with a shield, or choose to wield two weapons as a warrior.
Rescue your tank, healer and ranger companions who will join you in battle. Use their abilities together with yours to create rewarding and powerful tactical combos.
Experience a refreshing storyline, filled with interplanetary intrigue and seasoned with funny characters. Hunt your arch-enemy, Ragadam, across the worlds, while trying to uncover and undo his twisted plans
Progress from common to rare, epic and legendary gear. Find gemstones that fit in your armor's sockets. Craft socketed rings and amulets, and fuse three of them into a higher quality one.
Unleash awesome offensive abilities, such as Whirlwind, Shockwave, Arc Lightning or Blizzard, control the enemy crowd with Frost Nova, Vortex, Silence, or sneak and assassinate with Smokescreen, Traps and Snipe.
Each hero class has access to about 20 abilities (skills or spells), and each of your three companions has four more. The game starts simple, but culminates in a flurry of tactical possibilities at high levels.
Once your hero reaches level 70, your experience points go into Champion Levels, which are unlimited and yield steady stat upgrades. Champion Levels are also inherited by your new heroes, so they will have an easier time growing up.
Aside from the four story acts, an endless progression of beautiful, randomly generated levels awaits in the Trials of Valor game mode.
Please see here for our Privacy Policy. We take privacy very seriously.  www.makingfun.com/footer/privacy-policy/
Additional Information :
Size 895.4 MB
Requires iOS 9.0 or later.
User Reviews :
Best game I've ever ran into in the iOS App Store
I typically don't like mobile games and especially paying for them because I usually know I won't like them. Eternium has become the exception not only because I didn't have to pay to start playing, but only had to pay $0.99 cents for the beginner starter pack which came with 350 gemstones and $2000 gold, which is completely optional if you got tired of having to watch ads for gemstones. That $0.99 cents were the was best dollar I've ever spent.

The game itself reminds me of Diablo 1 and 2. It retains the same gameplay mechanics as the Diablo series and being a Diablo fan, makes this game all the more better. The story so far seems it a bit bland and tasteless, but that may be my fault for starting to skip through a lot of the dialog from boredom. Running on my iPhone 7, the game had a couple areas where it started running down into the lower frames (Some areas went as low as 30, some areas dipping only to 45), but other than that the game runs at 60 FPS. If you have a new generation iPhone, you'll more than likely won't have frame drops like I am.

I would recommend this game to anyone who enjoys diablo like style games. The game is free and probably playable if you really didn't wanna cough up the $0.99 cents for the starter package. I plan on letting my friend know about this game so that he may enjoy it like I am too.
Best mobile game I've played.
If you liked Torchlight or Diablo on the PC, you'll love Eternium. Controls are very easy and the levels are varied and fun. Crafting, buying/selling equipment, using jewel sockets are very familiar to experienced RPG players. The depth of the game is actually surprising given it is a FREE mobile game. And there is lots of loot and gold to be found. There are also a lot of additional daily giveaways and extra gems to be had if you're willing to sit through a bunch of 20 second ads during gameplay. Gaining experience and leveling up your character is relatively easy; however, once you get past the first few experience levels it takes a long time to level up your abilities and you can only level one ability at a time (unless you pay to level quicker). But so far I have not found the need to pay real world money for bonuses, gold, gems, etc. to advance in the game.

The game doesn't give you much in the way of tutorials, help or guidance considering how complex it can be, but there are online forums that can provide the information you need to play the game at whatever level you choose to play, from casual to hardcore.

So all in all I've found Eternium to be a very enjoyable and even addictive game.
Get Eternium from App Store
What is your opinion about Eternium
Bitcoin
Ethereum
MetaMask (ETH)
Xrp
Polkadot
Binance coin
Stellar
Dogecoin
Tron
Elrond
Donate Bitcoin to this address
Scan the QR code or copy the address below into your wallet to send some Bitcoin
Donate Ethereum to this address
Scan the QR code or copy the address below into your wallet to send some Ethereum
Donate Xrp to this address
Scan the QR code or copy the address below into your wallet to send some Xrp
Donate Polkadot to this address
Scan the QR code or copy the address below into your wallet to send some Polkadot
Donate Binance coin to this address
Scan the QR code or copy the address below into your wallet to send some Binance coin
Donate Stellar to this address
Scan the QR code or copy the address below into your wallet to send some Stellar
Donate Dogecoin to this address
Scan the QR code or copy the address below into your wallet to send some Dogecoin
Donate Tron to this address
Scan the QR code or copy the address below into your wallet to send some Tron
Donate Elrond to this address
Scan the QR code or copy the address below into your wallet to send some Elrond