(Game) Endless Survival – Online Co Op
  iphone games download free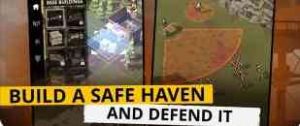 Game Description :
Work together, explore, build your base and defeat epic bosses in this survival multiplayer game. Endless Survival takes place in a ruined world controlled by powerful, malevolent witches. Now, your survival journey begins.
Put your wasteland survival skills to the test as you craft, build and repair weapons and tools in your base. Build a safe haven to survive the apocalypse, then venture forth into danger.
Explore the world in co-op multiplayer to take down zombies and monsters. Find epic loot and resources so your base can grow. Equip your character and gear up with crucial tools to survive and help your clan.
Choose your faction, conquer unexplored map areas, defeat bosses to level up and help your faction win each season's war. The multiplayer battle for survival begins in Endless Survival!
Game Features :
SURVIVAL MMO
Gather and craft resources in a post-apocalyptic world.
Zombie shooter: fight or flee to escape zombies, monsters and worse.
Create a safe haven for survivors.
Find the right weapon for the right situation: assault rifles, machetes, sub-machine guns, and more!
Join a faction and fight to survive.
TEAM UP TO SURVIVE
Multiplayer survival game: play with your friends and take down powerful World Bosses.
PvE: Save other players from hordes of zombies, critters and other deadly enemies.
Co-op multiplayer: pick your faction and fight for the glory of witches and demons bent on world destruction.
BUILD YOUR BASE
Start a camp and gather a team of survivors as you learn to thrive in this hostile world.
Fortify your base with defensive structures like sniper towers, landmines and more!
Choose from an expanding list of structures and decorations to customize your fortress.
Build an outpost to trade resources with friends and visiting survivors.
WASTELAND SURVIVAL
Roam across massive worlds and gather resources, rare loot, and more!
Unlock hidden regions to discover the mysteries and monsters that lie within.
Take on unique challenges spread across the land to earn rewards.
Choose your side, build your base and fight to survive in a wasteland world overrun by zombies. Download Endless Survival today!
Visit our official site at gmlft.co/website_EN
Check out the new blog at gmlft.co/central
Don't forget to follow us on social media:
Facebook: gmlft.co/SNS_FB_EN
Twitter: gmlft.co/SNS_TW_EN
Instagram: gmlft.co/GL_SNS_IG
YouTube: gmlft.co/GL_SNS_YT
This app allows you to purchase virtual items within the app.
Terms of Use: www.gameloft.com/en/conditions-of-use
Privacy Policy: www.gameloft.com/en/privacy-notice
End-User License Agreement: www.gameloft.com/en/eula
Additional Information :
Size 636.8 MB
Requires iOS 13.0 or later.
Compatible with iPhone, iPad and iPod touch.
User Reviews :
The game is good at it seperate the whole every last day on earth theme.. it have alot of potential cause u can do co-op and hang with strangers and be friends with them its enjoyable… BUT! theres alot of bugs on quest and when you enter some rooms when u go out u get stuck and some of it are where u roam.. I just download it and played it today yet I'm stuck on the axe quest.. so wish you can fix the quest bugs, roam bugs, etc. Its a good game i have to tell the developer that Thank you for making this game and this is the first time i have done this kind of review cause i love the game when it first release i did download it too and it was full of bugs too now its the same so All the players are playing this and wanna download this. Enjoy it cause its the only one that has co-op. Thanks dev Hope u fix everything. -Shin
Developer Response ,
Thank you for sending your feedback Shiiora and for playing this early access version! We're working on an update that will solve many of these issues and more really soon This is a really cool game to do! I LOVE when games go the extra mile especially for a zombie mobile rp game. This has a really nice concept that I do hope would still continue to build up in the future updates. The bugs do take the fun out of it but IT IS an early access game. Which is surprising to see on iOS, since most iOS apps isn't easy to put into the App Store, let alone the early access ones. Hope you keep us updated with patches soon! I'd love to play more and see where this goes. Kudos devs
Developer Response ,
Hi there! Thanks for playing this early access version of the game & taking the time to submit a review 🙂 We're so glad to hear you're enjoying it–well, except for the bugs We know the game isn't perfect right now and our devs are speedily working on fixing the issues for future updates & for the official launch ✌ Stay tuned!
Get Endless Survival from App Store
What is your opinion about Endless Survival
Get more free apps & games daily
Subscribe to our mailing list and get free apps & games daily to your email inbox.
Thank you for subscribing.
Something went wrong.
Bitcoin
Ethereum
MetaMask
Xrp
Polkadot
Binance coin
Stellar
Dogecoin
Tron
Elrond
Donate Bitcoin to this address
Scan the QR code or copy the address below into your wallet to send some Bitcoin
Donate Ethereum to this address
Scan the QR code or copy the address below into your wallet to send some Ethereum
Donate Xrp to this address
Scan the QR code or copy the address below into your wallet to send some Xrp
Donate Polkadot to this address
Scan the QR code or copy the address below into your wallet to send some Polkadot
Donate Binance coin to this address
Scan the QR code or copy the address below into your wallet to send some Binance coin
Donate Stellar to this address
Scan the QR code or copy the address below into your wallet to send some Stellar
Donate Dogecoin to this address
Scan the QR code or copy the address below into your wallet to send some Dogecoin
Donate Tron to this address
Scan the QR code or copy the address below into your wallet to send some Tron
Donate Elrond to this address
Scan the QR code or copy the address below into your wallet to send some Elrond