(Game) Empty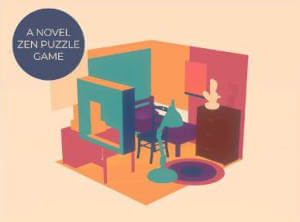 Game Features :
A relaxing puzzle game to unwind with. Each level teaches you to value simplicity in life.
Game Description :
Unique puzzle mechanics — clear the room by rotating it!
One-touch controls — play with one hand!
No ads. No paid content. Supported by donations.
Accessible for players of all ages.
19 beautiful hand-crafted levels.
Original soundtrack – a full length album.
Learn the timeless concept — that less is more — that will contribute to your wellbeing in addition to simply joyfully passing time.
Additional Information :
Size 132.9 MB
Requires iOS 11.0 or later.
User Reviews :
Just play it!
This is quite simply one of the best puzzle games I have ever played. I would even say this is one of the best mobile games in general than I have ever played. The levels are fun and challenging, not too hard (of the levels I've played.) The level design is great. (Sometimes you have to be a bit specific) The colorful look of the game is great and I love the minimalistic style of it. The music that accompanies the game is meant to put you at peace and it is some of the most relaxing music that you will ever hear and compliments the game very nicely. Describing the game is a bit difficult I will just say that each level has you getting rid of objects by making them blend in with your surroundings (if that makes sense) all in all this game is incredible even though I am earlier in the game I think. This is one of those games that I would just say "play now!" Don't spend time reading reviews just get this. Kudos to the developers- you've achieved greatness!
Yes
This game is probably the best environment/puzzle mobile game ever. It uses the minimalist's art styling, but instead of the over defined/under defined object textures that many mobile games use, it employs a soft yet consistent coloring. I'm not gonna lie, I haven't seen any of those colors used in other games, probably because they don't pop. Empty uses these muted colors and combines them perfectly, making each color seem its own. And the gameplay itself is astounding. Simple, short, hard, and easy. Detail is something that at first glance isn't really there, but as the levels progress, you're forced to take a look at your surroundings, and you notice these small objects that you maybe haven't noticed. When it clicks together, it's a very gratifying feeling. Amazing game. Thank you for putting in effort, something that you don't really see these days, and thank you for creating such an amazing game.
It's "supposed" to be short!
Before I explain the title, I want to give huge kudos to the developers. It's one thing to have a unique idea, but to execute it with universal understanding and care for the player is super rare. Thank you so much for a wonderful experience.

Now, many of the reviews mention how short the game is. Well, the game itself follows the theme, that we are to focus on two things: the feeling of when something is gone, and how we react to it. The game ending so soon is no different than the items we've removed in the levels… we feel "empty" when something we've "had" in our lives is now gone. And, our varied reactions challenge how we cope with that "loss".

For me, I'm happy to have experienced it, and to cherish the time we spend with things and people we enjoy. Again, thank you for the journey and the lessons gained.
It's a work of art
I download this app simply because I was bored and wanted something to do to pass time. The more time I spent solving puzzles I also learned many things. How something so simple is yet so interesting. No scores or timers, just you and the puzzle. Their are no ads or pay walls, they built the game on donations. I would donate as well but I'm only 16 so… But throughout each level their is a phrase with a deeper meaning behind it. I saved some of them because they spoke to me in a more spiritual manner. And this app really did make me open up my eyes to a new way of thinking. So thank you to everyone who made this. And overall just an amazing experience and definitely recommend to anyone who feels life is just more than simplicity
Beautiful and soothing!
I pre-ordered this app and I'm so glad I did! I've only been playing it for an hour or so today, but I'm loving it. The music is so relaxing, the aesthetics are cool, and the concept is so clever! So far, the puzzles aren't super difficult. As you continue inn the game, the scenes become more intricate, but they don't make you frustrated. Everything seems to be well-executed, though I think I got a bug in the lighthouse level. The colors weren't changing when the anchor and propeller were left, but then I restarted the level and was able to solve it. I think if you like Monument Valley you'd like this. This is such a high-quality game, there are no ads to run the atmosphere. Please support these developers and this really chill game!!
Get Empty from App Store
What is your opinion about Empty
Bitcoin
Ethereum
MetaMask (ETH)
Xrp
Polkadot
Binance coin
Stellar
Dogecoin
Tron
Elrond
Donate Bitcoin to this address
Scan the QR code or copy the address below into your wallet to send some Bitcoin
Donate Ethereum to this address
Scan the QR code or copy the address below into your wallet to send some Ethereum
Donate Xrp to this address
Scan the QR code or copy the address below into your wallet to send some Xrp
Donate Polkadot to this address
Scan the QR code or copy the address below into your wallet to send some Polkadot
Donate Binance coin to this address
Scan the QR code or copy the address below into your wallet to send some Binance coin
Donate Stellar to this address
Scan the QR code or copy the address below into your wallet to send some Stellar
Donate Dogecoin to this address
Scan the QR code or copy the address below into your wallet to send some Dogecoin
Donate Tron to this address
Scan the QR code or copy the address below into your wallet to send some Tron
Donate Elrond to this address
Scan the QR code or copy the address below into your wallet to send some Elrond