Draw It game by Kwalee Ltd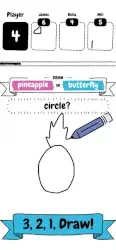 App Description :
Get ready to sketch fast in this exciting game of wit and creativity!
Put your creative flair to the test as you compete against others to claim the top spot. But make sure you're quick! Your time to create the perfect picture is limited so speed is key if you want to win this craft battle.
App Features :
Simple and addictive gameplay
Fast paced and competitive
Variety of words to unlock and draw
SUBSCRIBE TO DRAW IT
Subscribe to Draw it for all of the following benefits:
VIP Wordpacks
Free Coins Everyday
The Remove Ads product, which removes non-optional adverts from the game
SUBSCRIPTIONS INFORMATION:
Draw it VIP Membership access offers two membership options:
1) A weekly subscription costing $5.49 per week after a 3 day FREE trial period.
2) A monthly subscription costing $14.49 per month.
After buying this subscription, you will unlock VIP wordpacks, free coins every day and remove non-optional ads. This is an auto-renewable subscription. The payment is charged to your account after confirmation. The subscription is renewed unless you unsubscribe 24 hours before the period ends. Your account will also be charged for renewal
The prices notes are for United States customers. Pricing in other countries may change and actual charges may be converted to local currency.
End of trial and subscription renewal:
The payment is charged to your iTunes account after a confirmation of purchase
The subscription is renewed unless you unsubscribe 24 hours before the end of the current period
The account will be charged for renewal 24 hours before the end of the current period at the standard cost of the weekly subscription
The user may manage the subscription and auto-renewal by accessing the user's account settings after purchase in the store
No cancellation of the current subscription is permitted during the active subscription period
Any unused portion of the free trial period will be forfeited when the subscription is purchased
Cancelling a trial or subscription:
In order to cancel a subscription during the free trial period you need to cancel it through your account in the Store. This must be done at least 24 hours before the end of the free trial period to avoid being charged.
Machine Learning Code, models and Draw training dataset based on Google's "Quick, Draw!" github.com/googlecreativelab/quickdraw-dataset
Licenses: creativecommons.org/licenses/by/4.0/
privacy.servers.kwalee.com/privacy/DrawitEULA.html
Additional Information :
Age Rating 12+
Size 217 MB
Requires iOS 11.0 or later.
User Reviews :
I deleted it while ago but read before u download…I'm creating this review on my iPad 9th generation
It removed the adds I think now but… I don't like how u can't just draw whatever But overall it's good I don't and do recommend it (why I don't recommend it) if u have a iPhone 7 like me it took up LOT OF ICLOUD STORAGE SO IM LOOKING for a better app with no adds or pay anything (and now why I do recommend it because it's really fun! If ur bored because of covid and stuff this app is perfect but overall I got lil bored because… if u had it for some months or like a week uhmmm it gets boring after each drawing now I don't mind the adds but I think u can do not a lot maybe if ur level 6 yes and if ur level 2 no or longer I'm thinking to download it again some time when I turn 11 or so idk yet I just have fun at first okay so……I couldn't play it everyday because I'm bit busy but. When I have time I play it on my phone I LOVE ITT and yes I deleted it because of my iCloud storage when I get a iPhone 12 I MAYYYY DOWNLOAD IT overtime don't play it at night like I did .. I HATE it when u get bored with it Okk so if ur looking for a game if ur older or younger it's draw it and idk anything else I'll update it if I see anything else fun games byeeee for now
Good but…
So I just downloaded this game and it's pretty fun but the ads ruin it all! PLEASE add less ads their really annoying and I know your trying to make money but please add ads after like 10 rounds PLEASE!! There's so many ads I wanna delete the game. Turning off the wifi doesn't work either! Please atleast also just use ads for like the ad buttons. Overall I would recommend this game if there was less ads. The ads make the game less fun. PLEASE ADD LESS ADS!!!!!! And I know about the money thing but I'm not sure if your gonna get more money with all of these ads. Sorry I'm just mad about the ads. Their annoying and I just think its weird that the game thinks a classic knife design looks like a square? Like is it that bottom part of something? That's not important but PLEASE! Add less ads I'm begging you! overall with less ads you could get better reviews instead of all the bad reviews arguing about ads! Please just add less ads for us fans. Some of us can't buy the "no ads" thing because one: I guess their broke or two: their mom or dad or parent won't let them get stuff from games. It's basically like the game is forcing you to get the "no ads" thing. So at least add less ads, and I know I keep saying that, but please. (Note: can you also make it where we can play the game without wifi bc I kinda travel a lot and I bring my iPad with me and I really want to play this game but I cant bc we need wifi) just please add less ads
Both
I enjoy playing this app a lot it's something I don't get tired of because you guys put new word categories in by playing the game. It's also fun to play or test your drawing skills, but however there are some thing I would change about the game. One thing that irritates me is that when I draw something that looks like it it doesn't say the thing. What I'm trying to say is the drawings are really specific on some of the categories so maybe you guys could of demonstrated how to do them in the tutorial in the beginning. Another thing that bothers me is how whenever I press the erase button it takes me to an add. I thought maybe just this one time but it's every time. Maybe instead of an add every time you could do an add every time a game ends and starts or maybe just a few in the game on the erase button, but at least not every time you hit the erase button. Besides that the game is great for everyone and I recommend it. The big thing that bothers me is how picky the drawings can be. Coming from me my advise is to fix these things and add more things to the game. Yes it doesn't get boring easily though like I get frustrated or just plain bored so I go play a different game. The game really is just a relaxing game and fun but still competitive in a fun way! I like how the character changes and that you can change your name. Hope this helps in some kind of way for the game to be better.
Get Draw It from App Store
What is your opinion about Draw It
Bitcoin
Ethereum
MetaMask (ETH)
Xrp
Polkadot
Binance coin
Stellar
Dogecoin
Tron
Elrond
Donate Bitcoin to this address
Scan the QR code or copy the address below into your wallet to send some Bitcoin
Donate Ethereum to this address
Scan the QR code or copy the address below into your wallet to send some Ethereum
Donate Xrp to this address
Scan the QR code or copy the address below into your wallet to send some Xrp
Donate Polkadot to this address
Scan the QR code or copy the address below into your wallet to send some Polkadot
Donate Binance coin to this address
Scan the QR code or copy the address below into your wallet to send some Binance coin
Donate Stellar to this address
Scan the QR code or copy the address below into your wallet to send some Stellar
Donate Dogecoin to this address
Scan the QR code or copy the address below into your wallet to send some Dogecoin
Donate Tron to this address
Scan the QR code or copy the address below into your wallet to send some Tron
Donate Elrond to this address
Scan the QR code or copy the address below into your wallet to send some Elrond