(Game) Dragalia Lost
 iphone games for free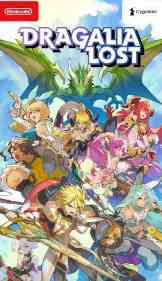 Game Description :
An action RPG forged by humans and dragons
Dragalia Lost is a swipe-controlled action RPG about the bonds shared between humans and dragons. Conquer your enemies using an array of powerful attacks and special skills and even by transforming into a dragon yourself!
Game Features :
A tale of heroes, legends, and allies, together
Over 60 voiced characters are ready and waiting to aid your quest!
Music by DAOKO
Dragalia Lost features music by the Japanese artist DAOKO.
Her captivating musical score enhances the upbeat gaming experience!
This application is free to download and offers some optional in-app purchases.
Internet connectivity required to play. Data charges may apply.
We permit our third-party partners to collect data from this app for analytical and marketing purposes. For more information about our ads, please see the "How we use your information" section of the Nintendo Privacy Policy.
May include advertising.
You must be at least 13 years old to play this game.
The game will request permission to access your location data when playing multiplayer mode with nearby users.
Additional Information :
Size 1.4 GB
Requires iOS 9.0 or later.
User Reviews :
Very Early Review
I've only played two chapters but wow! This game is pretty amazing! I've played a fair share of these types of rpg games but this one is very well made. The music is really catchy and fun. I love the unique walking screen at the main menu. The graphics are really good and the story is decent. I'm not much of a fan of the "cliche" fantasy plot in these games, but it does have some interesting element to it with the mysterious girl probably being the sister from the future. I have seen similar parallels to fire emblem heroes in which you must summon heroes and level them up. So far the plot reminds me of fire emblem awakening a bit so that's a good thing. The gameplay feels very refreshing to me and I love moving my character smoothly across the screen with his friends following him behind. This game is super big so make sure that you got enough space to download. I didn't realize that after you download the game you have to download all the chapters as well. So far the only real complaint I have about the game is the kinda "cliche plot" but that's really more of a nitpick since I expect that type of plot in these types of games. I'll probably write a better review later on when I've played the game more. It's really cool that these two company's collabed together. This is quite amazing and clean so far. Great job guys!
I never thought I'd enjoy a free to play mobile game
but here I am and I can't put Dragalia Lost down. The gameplay is simple and satisfying with taps, presses, and dragging of one finger doing everything. The visuals are amazing and akin to some Fire Emblem art. The music is catchy and the English text translated by the ninjas of the game industry over at 8-4 absolutely bring the characters to life. All of this sounds great and I'd expect it to be ruined once it's wrapped up in all the free to play game tropes that drain the fun out of anything. This isn't the case with Dragalia. It does have a stamina bar, a handful of different currencies that can be bought and are individually used to level up different things, but none of that have felt like it's held me back from playing and enjoying the game. It is a grind and you can pay to alleviate some of that but I don't feel compelled to. I do feel like I'd buy a pack of resources but only because I'm enjoying the game so much and I've never felt that while playing a mobile game. Give the game a shot if you enjoy quick co op dungeon runs that reward you with EXP and resources used to upgrade your characters.
Lovely! But just one problem…
So I started playing recently because I am playing FEH (Fire Emblem Heroes) so I wanted to try out this game since it was the game that FEH was having a crossover with. I've been enjoying the game recently. I love the music(not to mention the vocal remix of the fire emblem theme) and just playing the game in general had me captivated! I play this on an iPhone 6. I believe this is where the problem begins. Since I've started playing, the game has had the tendency to crash during many actions including summoning, story mode quests, co-op, etc. It's kind of stressful to have to carefully examine your adventurers list to see if you got any 5 star adventurers from when your game crashed. And don't forget the pity you feel when you are the host of a co-op quest and your game crashes. I dunno if the problem is storage space or the phone model because I searched up this problem online, and other people were stating that they had the same crashing problem with other types of phones. Anyone working at Nintendo, if you are actually reading this, please at least try to make this game more accessible to players with older phone models. Yes there are other problems like people trying to ask you all to get rid of something in the game (I'm new to the game so I forgot what it was called) but I believe it is more important to serve to those who are having trouble actually playing the game before tending to those who can play the game just fine.
Get Dragalia Lost from App Store
What is your opinion about Dragalia Lost
Bitcoin
Ethereum
MetaMask (ETH)
Xrp
Polkadot
Binance coin
Stellar
Dogecoin
Tron
Elrond
Donate Bitcoin to this address
Scan the QR code or copy the address below into your wallet to send some Bitcoin
Donate Ethereum to this address
Scan the QR code or copy the address below into your wallet to send some Ethereum
Donate Xrp to this address
Scan the QR code or copy the address below into your wallet to send some Xrp
Donate Polkadot to this address
Scan the QR code or copy the address below into your wallet to send some Polkadot
Donate Binance coin to this address
Scan the QR code or copy the address below into your wallet to send some Binance coin
Donate Stellar to this address
Scan the QR code or copy the address below into your wallet to send some Stellar
Donate Dogecoin to this address
Scan the QR code or copy the address below into your wallet to send some Dogecoin
Donate Tron to this address
Scan the QR code or copy the address below into your wallet to send some Tron
Donate Elrond to this address
Scan the QR code or copy the address below into your wallet to send some Elrond