DIY Projects game by Playgendary Limited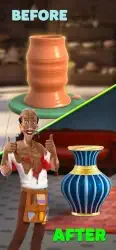 Game Description :
Help Victor, an eccentric design genius, make the world more beautiful! Complete exciting match 3 levels and create your own unique paintings, ceramics, sculptures, bouquets and much more. Explore and restore abandoned sites like rooftop restaurants, romantic gazebos, and luxury yachts. Join Victor to transform the art world and become a design legend!
Game Features :
Beat a path to victory through tricky match 3 levels!
Use your creative genius to restore abandoned spaces!
Reveal your artistic talent in unique DIY mini games!
Win epic rewards in bonus and extra-hard levels!
Get inspired and create your own masterpieces in DIY Projects!
Your incredible artistic adventure starts NOW!
Additional Information :
Age Rating 4+
Size 383.8 MB
Requires iOS 11.0 or later.
User Reviews :
DIY Project
This game is way better than Candy Crush Saga, Homescapes, and Royal Match! I fell in love with this game from the first minute. Firstly, it's really fun to draw pictures and make pots with your own hands. You can create any design for your picture and it will be placed in the location, which is much more interesting than what I've seen in other games. The developers came up with this and I think it's really cool for developing creativity. You can make any picture, choose colors, and it will all be with your unique design, and most likely it won't have any analogs. I've never seen anything like this before. Secondly, I love the main character, he speaks so cool, like I'm playing with a real Italian, I find it very fun, I even speak these phrases with my kids. It's a lot of fun. And of course, there are realistic interiors, they are so interesting that every time I play, I wonder what the new mini-game will be. But there are also problems, the game has a lot of bugs. I play for about 20 minutes a day and encounter bugs every day.
design is great there!
Look, I've played my fair share of match-3 games, but DIY Projects has quickly become my favorite. It's surely not ideal, there are issues with productivity, but after all it's fun! The levels are not too frustrating, and the design aspect is so much fun. I love being able to create my own interiors and exteriors, and the graphics are really beautiful. The DIY mini games are also a great addition and make the game even more enjoyable. The game can be a bit repetitive at times, but it's still a good game. I played Gardenscapes for 5 years and it gradually was getting more and more boring. Yet DIY Projects offers a fresh experience. Overall, I recommend giving this game a try if you're a fan of the match-3 genre.
Cool design game!
I'm not usually one to write reviews, but I had to share my love for DIY Projects! As someone who's been burned out on mobile games lately, this one was a welcome surprise. The match-3 game is challenging, but not so hard that it's frustrating. And the design aspect is what really sets it apart. I love being able to create my own interiors and exteriors, and the graphics are so beautiful and stylish. But the real highlight for me is the DIY mini games. They're so creative and fun, and I've even learned a few new crafting skills! I used to play games like Homescapes and Gardenscapes, but I got tired of the same old thing. DIY Projects is a fresh take on the genre and one that I'll be playing for a long time.
More mini games please!
I was hesitant to try another match-3 game, because I got tired of them being pretty similiar, but DIY Projects exceeded my expectations. M3 is challenging and the design aspect adds a unique twist. And I love the mini games! I would say, the best part of the game! However there are not so many different mini-games, at some point the game become repetative. I would be really happy, if the developerts would have done more of them, not another 100 m3 levels. Yet, it's still a bit of a fresh air, comparing to the majoriry of m3 games I played lately.
Developer Response,
Hi!

Thank you so much for your feedback – we are really glad that you are enjoying the game. We are always working on creating new events and new mini games. So stay tuned for that!
The Update
I've been playing this game for the last 4 months, it's been fun and I really enjoy it. It is a good way to escape from your problems for a while. However, with the latest update, it is clear that the developers are trying to find ways to make more money by awful ways. The money you earn in the game is always a problem and I need it especially to add extra moves to complete the level. It is hard to earn that money too. And now they added a piggy bank! Most of the money you earn goes to that bank and you have to spend REAL money to break it! I won't spend a dime from my real or artificial pocket nuh uh
Get DIY Projects from App Store
Leave your feedback regarding DIY Projects
Bitcoin
Ethereum
MetaMask (ETH)
Xrp
Polkadot
Binance coin
Stellar
Dogecoin
Tron
Elrond
Donate Bitcoin to this address
Scan the QR code or copy the address below into your wallet to send some Bitcoin
Donate Ethereum to this address
Scan the QR code or copy the address below into your wallet to send some Ethereum
Donate Xrp to this address
Scan the QR code or copy the address below into your wallet to send some Xrp
Donate Polkadot to this address
Scan the QR code or copy the address below into your wallet to send some Polkadot
Donate Binance coin to this address
Scan the QR code or copy the address below into your wallet to send some Binance coin
Donate Stellar to this address
Scan the QR code or copy the address below into your wallet to send some Stellar
Donate Dogecoin to this address
Scan the QR code or copy the address below into your wallet to send some Dogecoin
Donate Tron to this address
Scan the QR code or copy the address below into your wallet to send some Tron
Donate Elrond to this address
Scan the QR code or copy the address below into your wallet to send some Elrond