(App) Discord – Talk, Chat, Hang Out
 iphone apps info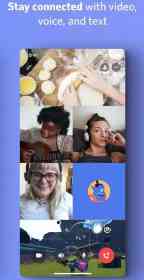 App Description :
Discord is your place to talk. Create a home for your communities and friends, where you can stay close and have fun over text, voice, and video. Whether you're part of a school club, a gaming group, a worldwide art community, or just a handful of friends that want to spend time, Discord makes it easy to talk every day and hang out more often.
App Features :
CREATE AN INVITE-ONLY PLACE TO TALK
Organized text channels give you plenty of room to talk. Share your latest cooking mishaps while coordinating next week's game night, or just talk about your day without clogging up a group chat.
Voice channels make hanging out easy. Grab a seat in a voice channel when you're free. Friends can see you're around and pop in to talk, without having to call.
Reliable tech for staying close. Low latency voice and video feels like you're in the same room.
STAY CLOSE WITH TEXT, VOICE, AND VIDEO
Wave hello over video, watch friends stream their games, or gather up and have a drawing session with screen share.
Turn any image into your own custom emojis and share them with friends.
Share anything from a funny video to your latest group photos, and pin your favorites to remember later.
FOR A FEW OR A FANDOM
Custom moderation tools and permission levels can group up your friends, organize your local book club, or bring together music fans from around the world.
Create moderators, give special members access to private channels, and much more.
Additional Information :
Size 153.3 MB
Requires iOS 10.0 or later.
Compatible with iPhone, iPad, and iPod touch.
User Reviews :
Less then 5 star for a feature you can turn off with one click?
So, discord is the best app with the best devs I have ever found. Let's say they make a mistake, they always fix it and if you really use discord a lot you know what I mean. Now for you guys giving 1-4 stars just because of the calling system on the phone, it's so easy to fix. All you have to do is go into settings>notifications and turn off integrate calls with phone app. That's literally all you have to do. Also I really get annoyed of people complaining about changes to the app! Just because you are not used to it does not mean it's bad. Especially when discord wants to make the phone app more like a phone app then a desktop app, they want to adapt the app to the platform it is on. So, please stop complaining and think about all factors! Lastly for people that used discord from a year or 2 ago, there is a huge difference with lag and connection etc because the servers now are way more crowded and busy with new updates and features and bots, there are so many more people on discord now then before and the servers are always getting crowded with everything so stop complaining about the connection when it could also be your fault and there are so many people on discord.
New update reminds me of iMessage…
Don't get me wrong, I love Discord, but ever since the update that made the text box cluttered with so many buttons, I feel like the app lost some of its uniqueness (and gained more glitches, at least with my phone). It feels like iMessages and the text box feels so small when I write because I can only get five or six words to a line when I used to get the entire width of my phone screen besides where the "send" button was (the one that didn't used to be so obnoxious). I guess you could say I miss the simplicity of the chat box.

Also, the movement of the it when you click into the text box versus when you click out glitches on me and makes the whole app slow when switching between chats, channels, or servers. Everything lags behind and it gets to be pretty annoying.

One thing I absolutely love, though, is that when you type something, but let's say your phone dies (like mine did twice), Discord saves what you wrote in the chat box! I have been saved so many times by that feature. Discord is a great app and I use it for so many things, but I also write a lot on it, so what I wrote affects me the way it might not affect others. The 2,000 character limit can get a bit irritating, too, so I wish there was a way you could switch the limit off, but I've found ways to work around it so it's not an immediate issue. Overall, I love Discord, but I miss some things from its "Dark Ages," as they called it.
Get Discord from App Store
What is your opinion about Discord
Bitcoin
Ethereum
MetaMask (ETH)
Xrp
Polkadot
Binance coin
Stellar
Dogecoin
Tron
Elrond
Donate Bitcoin to this address
Scan the QR code or copy the address below into your wallet to send some Bitcoin
Donate Ethereum to this address
Scan the QR code or copy the address below into your wallet to send some Ethereum
Donate Xrp to this address
Scan the QR code or copy the address below into your wallet to send some Xrp
Donate Polkadot to this address
Scan the QR code or copy the address below into your wallet to send some Polkadot
Donate Binance coin to this address
Scan the QR code or copy the address below into your wallet to send some Binance coin
Donate Stellar to this address
Scan the QR code or copy the address below into your wallet to send some Stellar
Donate Dogecoin to this address
Scan the QR code or copy the address below into your wallet to send some Dogecoin
Donate Tron to this address
Scan the QR code or copy the address below into your wallet to send some Tron
Donate Elrond to this address
Scan the QR code or copy the address below into your wallet to send some Elrond