Decor Life – Home Design game by SayGames LTD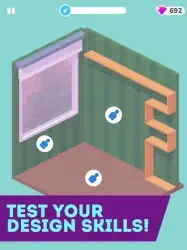 Game Description :
Do you love the idea of renovation? Do you dream of a fresh canvas on which to create your ideal home design again and again? Are you looking for a casual mobile game that lets you live out your interior design fantasies in a fun, relaxing environment where you can try out different furniture and décor concepts in any way you want? Then Decor Life is the game for you.
Combining a series of simple and easily mastered mechanics with a huge range of unique spaces, furniture items and design objects, Decor Life brings you all the fun parts of moving and decorating with none of the real-life hassle and hard work.
Game Features :
Homes, sweet homes: A huge and ever-expanding variety of rooms to work on, each with the unique atmosphere and attributes of its owner. Try and try again to find the right renovation solutions to suit each space. Choose furniture and décor options, then move them around the room until you find just the right spot.
Outside the box: Decor Life is a game that follows the renovation process from start to finish. Begin by sorting the furniture and contents of the old, unrenovated room into the right boxes, before moving on to selecting home design options, unboxing and placing furniture, then finally unpack and arrange new decorative items and possessions in the redecorated room.
No judgment: Unsure of your taste in home design? There are no right answers in Décor Life, and nobody to correct your choices at the end of each level. You get to select the designs and furnishings you want and judge their success on your own terms, so there's nothing to stop you relaxing and getting the maximum pleasure out of letting your design fantasy run free.
A place for absolutely everything: When it comes to unboxing, you never know what you're going to find. Can you work out where best to place a drum kit, a safe, a beautiful still life, or any number of other unique and individual items that are looking for the right home in your new room?
Anywhere on the map: the home design map opens up for you. No need to play levels in order, you can get decorating anywhere you want to in the game by exploring all the different rooms on the map.
RENOVATION TIME
Let your creativity run wild in this imaginative and original decorating game where you're free to make your own interior choices and admire the results of your design labors in a relaxing and open gaming environment. Got an insatiable taste for home improvement? Then download Decor Life now and get renovating.
Privacy Policy: say.games/privacy-policy
Terms of Use: say.games/terms-of-use
Additional Information :
Age Rating 12+
Size 270.8 MB
Requires iOS 12.0 or later.
User Reviews :
Only a few things could be improved
This is the first design/decorating app that doesn't falsely advertise the gameplay; it's actually just arranging and decorating which I love! I'm glad they finally added the option to remove ads, however the one flaw/missing feature in my opinion is some sort of storage/selling option for the items you earn for your house. It's a bit inconvenient that since the items you get for your own house by completing levels are randomly selected and there is now way to hide/store or even sell items you don't want so they just end up cluttering your house, especially if they are big items that don't fit in the closet/drawers provided. There should be some in game option to sell or store unwanted items. It also would be nice to be able to buy interior items for your house using the in game currency like a daily refreshing store inventory or something like that because otherwise you get left with clothing without hangers to hang them up with or one shoe, etc. I also think that you should be able to rotate items yourself instead of having to rely on it auto rotating while moving the item around because it doesn't always turn the way you want. Other than that it's a great game, but the ability to get rid of unwanted items is a feature I really think would benefit the quality of the gameplay otherwise your house will get filled with random items pretty fast along with the other minor things I also mentioned.
Amazing game! But-
It's a good game I really like it but there are way too many ads… I find this game really relaxing but when im putting stuff away and an ad just randomly starts It gets me anxious.. Reason for that being I get possibly around 6-7 ads for one room alone sure I'm ok with the ads to unlock things or even just an ad when i finish and already hit complete but while I'm playing I want to be able to organize things how I like them without constantly being interrupted every 5 minutes, sure there's something to remove the ads but I'm only 15 and am unable to buy things online without asking my parents and even then it's most likely they won't pay money for a game, theres also the main home interior… The ones you get at random- there's no way to put them away if you don't need them and not all of them would match the same design if you were going for something specific having a place to store them all would make things easier if you don't want to use them otherwise they take up space. Next would probably be to have more options.. Possibly not just to buy interior items but as well as being able to buy different wallpapers or chairs and stuff… Other then the options already given having more options to design the main mansion would be great! I want to be able to design the mansion in my own way but I don't fully like all the options given and to be able to choose different things would be great
Get Decor Life from App Store
What is your opinion about Decor Life
Bitcoin
Ethereum
MetaMask (ETH)
Xrp
Polkadot
Binance coin
Stellar
Dogecoin
Tron
Elrond
Donate Bitcoin to this address
Scan the QR code or copy the address below into your wallet to send some Bitcoin
Donate Ethereum to this address
Scan the QR code or copy the address below into your wallet to send some Ethereum
Donate Xrp to this address
Scan the QR code or copy the address below into your wallet to send some Xrp
Donate Polkadot to this address
Scan the QR code or copy the address below into your wallet to send some Polkadot
Donate Binance coin to this address
Scan the QR code or copy the address below into your wallet to send some Binance coin
Donate Stellar to this address
Scan the QR code or copy the address below into your wallet to send some Stellar
Donate Dogecoin to this address
Scan the QR code or copy the address below into your wallet to send some Dogecoin
Donate Tron to this address
Scan the QR code or copy the address below into your wallet to send some Tron
Donate Elrond to this address
Scan the QR code or copy the address below into your wallet to send some Elrond