(Game) DEADWORD
 iphone games download free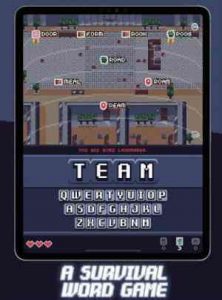 Game Description :
DEADWORD is a survival word game.
As the DEAD surround the city, you'll need to use your HEAD to avoid the HERD. It's not HARD to WARD off the enemies, as long as you find the right WORD.
DEAD -> HEAD -> HERD -> HARD -> WARD -> WORD
DEADWORD is a pixelated brain puzzler. Link four-letter words as you strategically move through the city, avoiding zombies, gathering supplies, and investigating clues. Discover Perks along the way that will give you the necessary skills to survive! Loot supplies and find items to patch your wounds, find your way, and distract the zombies! Can you escape DEADWORD?
Game Features :
DEADWORD features a Story Mode with a fun and challenging journey across 30 chapters. Each playthrough is different, offering a new experience every time!
DEADWORD is a free app with intermittent advertisements. Purchase the DEADWORD Extras Pack to remove ads, unlock Endless Mode, and unlock all Perks and gain an extra Perk slot.
Endless Mode: How long can you survive? Progress through chapter after chapter of ever increasing difficulty. Ration supplies and make strategic choices to stay alive as long as possible!
Bliss Mode: OMG puppies! Forget about the zombies for a while and just pet puppies. Seriously. No stress, just puppies. Tummy rubs for everyone!
DEADWORD features slick pixelated graphics and a killer soundtrack.
Use your brain… before you lose it!
Additional Information :
Size 147.6 MB
Requires iOS 11.0 or later.
User Reviews :
It's great!!!
I think this game is really fun and energetic… but I would only give this game 5 stars if there were checkpoints. I'm pretty good at this game so it's not like I need a checkpoint because it's hard, the reason it's needed is because it's frustrating when you beat 21 levels and then you have to start over from the beginning.
Hidden gem!
This is the kind of weird genre combo I can get behind! Really unique concept and gameplay, that could maybe use a little more challenge (maybe a penalty/reward system for the amount of words you use?), but is still a five star game in my eyes based on creativity and execution alone.

In story mode, it eventually gets more challenging after level 20, but getting there feels like an super engaging brain-trainer, and I think anyone who enjoys word games will appreciate how different it is. I could also see this game being a fun exercise for non-native English speakers! It really has a lot of potential, and I'm gonna unlock the rest to see what endless mode is all about.

Another solid game, dev! Been playing Fire Ant Solitaire, and I enjoy that one too. I appreciate your creativity in genre mixing. Keep up the good work!

Edit: Having trouble buying the expansion from the settings menu. When I click "buy", it gets stuck at "processing". The App Store has been acting weird all morning, so maybe it's on Apple's end. Excited to support this game, hope it gets fixed soon 🙂
Needs work
I literally loved this game until I got to the timed portions. I absolutely loathe games that put you on a timer. I don't mind more rules, more enemies or more challenges in getting from A to B but don't put a timer on me or I lose interest. It takes all the strategy out of it and becomes something else. I read another reviewer on an app site who had the same complaint. Unfortunately I read the review after I got sick of the timer and decided to go play a word game that isn't about speed but about strategy.
DONT RESTART LEVELS
EDIT: Just finished the game. I like it. If you have problems with the issue stated, pressing the home button and Force-Closing the app is the same as Restart, but you keep items.

It also helps with another thing ;€

Doing so removes any items you use for good.

As well as your progress.

You'll basically restart the entire level with even less of a chance to pass. You'll put yourself in a crutch until you end up in the hospital.

Seems like an oversight that needs fixing since it doesn't make sense to lose items that happened in a past run which the game has erased.
Simple yet entertaining
Was a little confusing in the beginning, but once I started collecting perks, game had me hooked!
Get DEADWORD from App Store
What is your opinion about DEADWORD
Bitcoin
Ethereum
MetaMask (ETH)
Xrp
Polkadot
Binance coin
Stellar
Dogecoin
Tron
Elrond
Donate Bitcoin to this address
Scan the QR code or copy the address below into your wallet to send some Bitcoin
Donate Ethereum to this address
Scan the QR code or copy the address below into your wallet to send some Ethereum
Donate Xrp to this address
Scan the QR code or copy the address below into your wallet to send some Xrp
Donate Polkadot to this address
Scan the QR code or copy the address below into your wallet to send some Polkadot
Donate Binance coin to this address
Scan the QR code or copy the address below into your wallet to send some Binance coin
Donate Stellar to this address
Scan the QR code or copy the address below into your wallet to send some Stellar
Donate Dogecoin to this address
Scan the QR code or copy the address below into your wallet to send some Dogecoin
Donate Tron to this address
Scan the QR code or copy the address below into your wallet to send some Tron
Donate Elrond to this address
Scan the QR code or copy the address below into your wallet to send some Elrond