(Game) Crash Bandicoot – On the Run!
 iphone games download free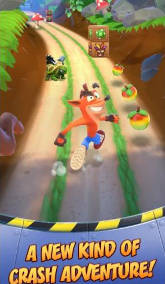 Game Description :
Join Crash Bandicoot and his sister Coco on a mission to save the multiverse!
Think fast to keep Crash and Coco running, jumping, spinning and smashing in lanes loaded with obstacles. Speed through mysterious lands, defeating the henchmen of Doctor Neo Cortex.
Swipe to explore wild and exotic locations. Customize Crash and Coco with N.Sane Skins, build an arsenal of stupendous weapons, and hone those running skills for rewards.
Get ready for the run of a lifetime!
Game Features :
Legendary locations and infamous bosses
A variety of running challenges await Bandicoot fans, both new and back for more!
The Wumpa Archipelago is vast, featuring classics such as Turtle Woods, Temple Ruins and The Great Gate to delight all Crash fans. Every adventure is a thrill ride, risking dangerous Sewer or Later or a dash through the perilous Snow Go Mountain.
Dr Neo Cortex has pulled from the multiverse Crash and Coco's most dangerous enemies: Nina Cortex, Dingodile, Dr N-Gin, Fake Crash & Coco plus many more old and new bosses are stealing Power Gems. It's up to Crash and Coco to stop them!
Team up for greater rewards
Get ready to join the best Bandicoot in the asynchronous multiplayer runs!
Teams are about playing with friends and pulling together, with bragging rights for being the best and seeing your name on the leaderboards. Who went farthest, or lasted longest? By challenging others, your Team could claim huge Trophies.
Adventure in bold Bandicoot style
There is more than meets the eye with incredible skins available to unlock.
The classic Crash Bandicoot and Coco are yours from the start, plus Punk skins to make a statement. As you explore the multiverse, you'll unlock skins that give extra Trophies, bonuses, modifiers and even an Aku Aku Mask!
Unlock new lands to explore
Choose where to take Crash or Coco running for prizes or just for fun.
Rewards offered, or enemies faced, influence choices of Skins and weapons to take running with you. Islands pose varied challenges with multiple routes and lanes weaving to-and-fro, above and below. The resources to collect depend on the path you take, so choose wisely.
Perfect that aim, boost your game
When it comes to boss battles, Crash and Coco make weapons to take 'em down!
Serums to sloosh Frosty Ant Drone out of his lane. Bombs that rattle Nitro Crab in his shell. It takes a Ray Gun AND Bazooka to humiliate Nitro Neo Cortex.
Build and upgrade your bandicoot base
Help Coco to develop her Wumpa Island HQ.
Coco or Crash go on-the-run to comb Wumpa Island for resources. Parts are used to build high-tech labs where weapons get made, such as Nitro Bombs and Frosty Ray Guns.
Visit our website for more details at crashontherun.com/
Follow Crash for the latest news!
Instagram: @CrashOnTheRun
Twitter: @CrashOnTheRun
Facebook: CrashOnTheRun
Crash Bandicoot: On the Run! is completely free to play but some optional in-game items will require payment.
You must be connected to the Internet to access the game.
The download of this app is only a partial download of the game. Additional content will be installed upon opening the app.
You can turn off the payment feature by disabling in-app purchases in your device's settings.
Easily sync the game between devices and access full game features when connected to the internet.
Do not sell my data: King shares your personal information with advertising partners to personalize ads. Learn more at king.com/privacyPolicy. If you wish to exercise your Do Not Sell My Data rights, you can do so by contacting us via the in-game help centre or by going to soporto.king.com/contact
© 2021 Activision Publishing Inc. CRASH BANDICOOT: ON THE RUN!, CRASH BANDICOOT and CRASH are trademarks of Activision Publishing, Inc. KING and the KING crown logo are trademarks of King.com Ltd.
Additional Information :
Size 250 MB
Requires iOS 11.0 or later.
User Reviews :
Absolutely love this game! But cool it with the pop ups!
I am sooo addicted to this game. I have been a crash lover since I was young and playing it on the ps1, so once I saw that they came out with this I was super excited. The only thing I hate about this game is the pop ups. I can understand using pop ups to show what deals you have for purchase when you first open the app, but it's annoying to see them every time I come back to home base from a challenge run.

Also, as a message to the developers, I will never, ever, EVER purchase anything, and I recommend other people don't either. I am going to play the game like you're supposed to, not use money to speed things up. I like to play the game just like I would on the PlayStation. Purchasing items to speed up the process is almost like cheating to me. Play the game and earn your trophies. I don't care if it takes 3 hours to make a bazooka. I can do things in the mean time while I wait for it. Usually I start making it when I am working so it's finished by the time I am off. If they cool it with the pop ups, I would give this game 6 stars if I could. So besides the pop ups constantly being in your face, this game is awesome and I highly recommend it! It's so fun!
This is pretty 'Nsane.
When the news broke that Crash was going to have his own game on mobile, I was excited. Then I looked at the gameplay, and thought it was a copy of Subway Surfers. But I was very wrong.

The gameplay is extremely similar in terms of how you play the game. Run straight, while turning side to side along with jump, and slide. But what makes this game so unique to all the competitors that use this method, is that it's CRASH! And no, I don't mean the IP only makes it good, but all the perks that come with it.

First of all, if anything, Subway Surfers copied of of Crash! This style of gameplay was first used in his early games and fits very well with this mobile introduction to Crash. There are boss fights, missions, skins, and even different islands which makes it completely unique. Another thing is, it's a great time consumer. Super addicting. Music is catchy, game looks, and runs smooth, and most of all, it's FUN! What's a game's purpose if it's not fun to play and puts a smile on your face? King and Activision outdid their selves on this one. I've only played for a little while, but enough for me to give it a good review. Can't wait to see what's to offer in this game!
Get Crash Bandicoot from App Store
What is your opinion about Crash Bandicoot
Bitcoin
Ethereum
MetaMask (ETH)
Xrp
Polkadot
Binance coin
Stellar
Dogecoin
Tron
Elrond
Donate Bitcoin to this address
Scan the QR code or copy the address below into your wallet to send some Bitcoin
Donate Ethereum to this address
Scan the QR code or copy the address below into your wallet to send some Ethereum
Donate Xrp to this address
Scan the QR code or copy the address below into your wallet to send some Xrp
Donate Polkadot to this address
Scan the QR code or copy the address below into your wallet to send some Polkadot
Donate Binance coin to this address
Scan the QR code or copy the address below into your wallet to send some Binance coin
Donate Stellar to this address
Scan the QR code or copy the address below into your wallet to send some Stellar
Donate Dogecoin to this address
Scan the QR code or copy the address below into your wallet to send some Dogecoin
Donate Tron to this address
Scan the QR code or copy the address below into your wallet to send some Tron
Donate Elrond to this address
Scan the QR code or copy the address below into your wallet to send some Elrond