(Game) Classic Solitaire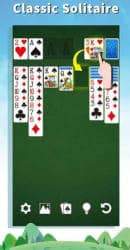 Game Description :
Solitaire by Aged is a funny, challenging Classic Card Games for all players who love card game.It is a popular casual card game with simple UI, easy to operate and play.
The classical Solitaire you played on computer, now you can play it on your phone!
You will see all the classical elements but with more new features, such as a time reminder which is designed for helping users to manage their time on this game. We know it's fun, but don't get too addicted!
Now, get your brain exercise and dive into the new mobile Solitaire with all the beautiful backgrounds of your choice!
Game Features :
Multiple language choices
Can choose whether one or three cards are drawn from the deck at a time
Can Choose playing by left hand or right hand
Multiple choice backgrounds and cards with different face styles.
Click & Draw function, when you click on one card, it can automatic move to the right place
HINT can guide to move next
Auto save incomplete game
Unlimited UNDO
Can be timed for additional points if the game is won.
LIKE US on Facebook
www.facebook.com/agedstudiolimited
[Auto Renewable Ads Removal Subscription] Subscription Service: Remove the ads
Subscription Price: One month $2.99 USD or your local equivalent currency, Three month $7.49 USD, The yearly $21.49 USD.
Subscription Payment: Once you confirm the payment, you can find the record in your iTunes Account
Subscription Cancelation: Go to "Setting" -> "iTunes Store and App Store" -> "Apple Id"-> "View Apple Id"-> "Account Setting" -> "Subscription"
You have to cancel the subscription 24 hours before the end of previous subscription
Term of Use:
www.agedstudio.com/static/terms_of_use_solitaire.html
Privacy Policy:
www.agedstudio.com/static/privacy_policy_solitaire.html
Additional Information :
Size 228.1 MB
Requires iOS 10.0 or later.
User Reviews :
Report on game!!
A+, I love this game I use to play a lot of it growing up, but, since my car a ccident, 18 years ago already I lost the use of my left side so I'm just so happy I get to shuffle & play this wonderful card game!, Thanks, stay safe and love always-Aniko !!Hello again!, Thanks for asking for my opinion on this game!, cause I just absolutely love it

I'm so impressed with the extra choices of changes too!, background and cards' back's!!, so nice Thanks !!
Scoring is wonky/frustrating
In an effort to beat my own high score I've been paying attention to the way the game scores and there doesn't seem to be any rhyme or reason. It's like the algorithm randomly chooses the score no matter if you beat the previous time & number of moves. Sometimes I get a higher score with more moves and time, other times I need fewer moves and less time to beat a previous score. What gives?? Thinking about just deleting the app and trying another that has better, more reliable programming.

Also, the timer sometimes starts before I even tap on a card to make my first move…
Classic Solitaire-Card Games
Just learning, totally enjoy this particular version, as this game actually lets you have enough time, does not to jump in and show you next move you should make!!

Trying to advance my skills, so totally appreciate this game & as time goes on you start to developing your own skills.
Scoring
I've had one deal where the Ace of clubs will not more from the stack. I had to replay the game.

Also, the scoring is unreasonable. 103 moves in 2 minutes only got me a 747 points, where I've had 910 points for more time and moves. Other then that, the shuffle amount is considerably good but I've gone thru the limit 3 times now. They good for burying the last card under the second to last card. Around 30% win ratio.
Relaxing Hours
I am getting my skills back up to par by resting and relaxing and playing this game . Before I realize it I have relaxed for hours just relaxing and having a wonderfully stress free game. I am near to be 75 years young and just enjoy it so much . Thank you for a truly relaxing game . I am already being called the Senior Citizen Gambler kikiki I think it's cute. The SCG kikiki
Only one flaw
In no advertisement for this game they say it has no commercials but it does. I was in the head makes it seem like you're playing cards with the pictures of birds. This is not so and they don't tell you how are you make it she's a beautiful background. Other than that the solitaire itself is great
Less than 100 characters
Classic Solitaire – an excellent game to learn the basics of the game. Keep up the good work! I do not know why "Send" is not highlighted, since I am ready to do just that. Classic Solitaire – an excellent game to learn the basics of the game. Keep up the good work! I do not know why "Send" is not highlighted, since I am ready to do just that
Get Classic Solitaire from App Store
What is your opinion about Classic Solitaire
Bitcoin
Ethereum
MetaMask (ETH)
Xrp
Polkadot
Binance coin
Stellar
Dogecoin
Tron
Elrond
Donate Bitcoin to this address
Scan the QR code or copy the address below into your wallet to send some Bitcoin
Donate Ethereum to this address
Scan the QR code or copy the address below into your wallet to send some Ethereum
Donate Xrp to this address
Scan the QR code or copy the address below into your wallet to send some Xrp
Donate Polkadot to this address
Scan the QR code or copy the address below into your wallet to send some Polkadot
Donate Binance coin to this address
Scan the QR code or copy the address below into your wallet to send some Binance coin
Donate Stellar to this address
Scan the QR code or copy the address below into your wallet to send some Stellar
Donate Dogecoin to this address
Scan the QR code or copy the address below into your wallet to send some Dogecoin
Donate Tron to this address
Scan the QR code or copy the address below into your wallet to send some Tron
Donate Elrond to this address
Scan the QR code or copy the address below into your wallet to send some Elrond