(Game) Chessplode
 iphone games download free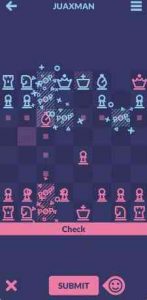 Game Description :
Chessplode is modern chess for everyone, it makes chess fun even if you're bad ¯\_(ツ)_/¯, one simply move… can change all game.
Game Features :
THE MODERN RULE
Chessplode is pretty much like chess with a really BIG twist…
CAPTURE a piece and everything in the same LINE and COLUMN will EXPLODE…
But if a KING is in that LINE or COLUMN it will be a really *boring* chess capture (no explosions)
THINK DIFF… *DISTINCT*
This rule is pretty tricky, in regular chess you need to defend your KING, but in Chessplode it can save your pieces.
Remember, you can't capture some pieces because you could get check.
Sometimes you will checkmate capturing a piece that explodes.
And other you will be afraid of having several pieces in the same line or column…(POP!)
FRIENDS (Who love chess) REVIEW
They find Chessplode a great challenge and love how they need to change the old way of thinking even if they are winning… a bad move and they will run out of pieces.
FRIENDS (Who *meh* chess) REVIEW
Chess + Explosions… you got my attention. Some of these friends were casual chess players and others didn't really feel the attraction for chess. Both find Chessplode a really fun game. When they were playing regular chess they were not good, now they are the kings of the hill.
FEATURES
FREE TO PLAY
Realtime chess battles multiplayer with people around the world.
In multiplayer you can send an emoji (to express your feelings) with every move you submit. Instant fun!
Play Levels created for other players, you can find really madness here, but you can undo your move… everyone can make a mistake.
Create your own custom Level and submit it to everyone can play it. Challenge the world!
Try local multiplayer battles with friends in the same device. Head to head!
Practice playing versus Ziri.
A lot of different color themes, play day and night with your favourite colors.
Thank you for playing "Chessplode"! I really hope you enjoy it as much as I did making it 😉
Support:
Are you having problems?
twitter.com/juaxma
twitter.com/chessplode
hello[at]juan.ma
Privacy Policy:
juan.ma/chessplode/privacypolicy/
AppPreview Music:
www.bensound.com/royalty-free-music/track/jazzy-frenchy
© Juan Manuel Altamirano Argudo / juan.ma
Additional Information :
Compatible with iPhone, iPad, and iPod touch.
Requires iOS 10.0 or later.
Size 97.8 MB
User Reviews :
I just STARTED chess and it's INSANELY HARD FOR ME ON THE EASY LEVEL + FIRST LEVELS OF GAME please make a even EASIER mode so I can win also I don't see the point of making our own level I check it out looked boring( not to boring still bit fun ) ideas: new titles

Like… off the bat I can name… lava ( land on or go past u lose ) ice ( can't go on if click ice and stuff u go to the closest space ahead ) bounce ( player when on and has turn can jump over one chess piece ♟) paint gun ( Land on it and ur chess piece explodes while every chess piece in Column and row also explodes ) that's all my ideas otherwise it's a great game love the concept
Developer Response ,
Hi OOF OOF 12,

Did you try with the BASIC LEVELS? They are created for beginners, please, let me know.

Your ideas are really cool , thanks for the feedback!
This game has all the makings of a great game, and thanks to developer response to feedback, it has become a personal favorite.

The spin on traditional chess is a good one, requiring the player to rethink every move based on the potentially explosive outcome.

The UX design is clean and crisp and the UI is intuitive.

Two of my three big problems which led me to review this game at 4 stars initially and eventually led to frustration and a 2-star review have been fixed!

First, the developer has included more basic puzzles in the update. The new puzzles are creative and give new life and challenge to the game.

Second, the AI was flawed. In a previous release, the AI would think about moves forever. The developer has stated that this issue has been fixed and I have not run into it yet since.

Finally, the developer has not yet filtered user-created content to remove overly-similar puzzles, but says that this is in the works.

This game started out with potential to be a truly great strategy puzzle game, and with this update it has become one of my favorite apps. Good work and thanks for listening to feedback!
Developer Response ,
Hi Wasson8r,

Thanks for your feedback! I just updated Chessplode fixing some bugs, please, let me know if everything is ok. I read your previous review (great review, thanks) and I added 30 new Basic Levels, I'm working in some way to avoid uploading similar levels, thanks for your review and warning me about the bug, you can contact me via mail hello@juan.ma
Get Chessplode from App Store
What is your opinion about Chessplode
Get more free apps & games daily
Subscribe to our mailing list and get free apps & games daily to your email inbox.
Thank you for subscribing.
Something went wrong.
Bitcoin
Ethereum
MetaMask
Xrp
Polkadot
Binance coin
Stellar
Dogecoin
Tron
Elrond
Donate Bitcoin to this address
Scan the QR code or copy the address below into your wallet to send some Bitcoin
Donate Ethereum to this address
Scan the QR code or copy the address below into your wallet to send some Ethereum
Donate Xrp to this address
Scan the QR code or copy the address below into your wallet to send some Xrp
Donate Polkadot to this address
Scan the QR code or copy the address below into your wallet to send some Polkadot
Donate Binance coin to this address
Scan the QR code or copy the address below into your wallet to send some Binance coin
Donate Stellar to this address
Scan the QR code or copy the address below into your wallet to send some Stellar
Donate Dogecoin to this address
Scan the QR code or copy the address below into your wallet to send some Dogecoin
Donate Tron to this address
Scan the QR code or copy the address below into your wallet to send some Tron
Donate Elrond to this address
Scan the QR code or copy the address below into your wallet to send some Elrond