(Game) Charades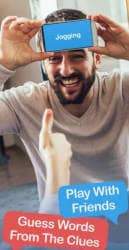 Game Description :
Fun and easy to play game will cheer up your party or family gathering.
Guess the word on the phone from your friends clues. Act it out, describe, sing, dance to give a clue.
Perfect fit for any home gathering, pyjama party, bachelorette celebration or any other fun activities!
Choose from more than 50+ decks!
Enjoy your party playing Charades!!!
How to Play:
You simply select a deck, hold your phone up to your forehead so that your friends can see the word or phrase but you can't, and then they try to get you to guess what the word or phrase is. If you guess correctly, tilt the phone downwards to mark it as correct and the game will move onto the next word. If you can't figure out the answer, tilt the phone upwards and it will pass and mark the answer as incorrect.
Game Features :
You can choose from various decks, such as:
Act It Out, Act It Out: Winter Edition
Famous Women, Red Carpet Stars, Personalities
Cartoons & Animated Movies
Superheroes & Villains
Movies & TV Shows
Christmas, Easter, Halloween, etc.
Brands
Just For Kids
Cars
And much more!
One more thing… The game is totally ads free!!
Play with friends or family and you surely will remember time spent together!
Additional Information :
Size 33.7 MB
Requires iOS 12.0 or later.
User reviews :
AMAZING

I absolutely LOVE this app!!!!! It has no issues with ANYTHING, and there's only one thing; you have to pay to get all the collections of cards. But hey, it's real cheap!!! A nice deal, I say. It's like a fall or for 20 packs of cards. And it's got good hints!!!!!!!! But this. It's totally free, and you don't need to buy the packs. There are already card collections you don't have to pay for but you can buy the others. BUY. THIS. NOW.
Kind of love it
I love it it's so fun and we get to play with the things it's so easy it's fun and all that stuff but one thing I don't like about it is because you have to pay for something and I don't want to pay for some of it and I don't like when I have to pay for stuff that's something that I don't like about it so I really do like it but you guys should start and there's only like four or five that are free you should make a little bit more free come on just please free OK but I love your games and I love everything I wish I can try it out at all the games but again I do not want to pay for it just a game come on guys it's just the game nobody pay for it because it's just a game and people just want to play with games guys not with you have to pay games so if you wanna buy the pet games don't do it
I like this game a lot!!
I like this game! it is a very enjoyable game to play with your family and friends! when i'm bored and with my family or friends, i say "hey wanna play charades?" they always say yes, because it is a great game!! while your waiting in line at a festival or something with someone, play charades!!

my only issue with this game is, there is not many decks. you have to do the same few decks because you have to pay for all of they other ones. i think that $8.00 is not bad for many other decks at all! i just don't feel like i'm gonna spend that much money on just a little fun game to play with friends. overall, it's a great game!
Hi there!
So, I love this game. It would be my favorite if there was not a price. If people want to play this game they should get a good experience. You should have adds instead of money. Thanks for reading this response and the developers, please take time to consider it. Best of luck, User
I get that you have to make money but..
I just wish that you could have all the stuff for free. I'm a HUGE Potterhead and I had to pay 99 cents. I know "Oh, 99 cents isn't a lot", but to a broke kid it is. And that's what I am (I'm not blaming this game for my brokeness whatsoever, and I'm not trying to be rude, I'm just mad that the one thing i was looking forward to needs to be bought) That's all, otherwise a great game.
This is the best game ever
I thank this game is the best ever because it's really good as a game and it's the best ever so I hope you love this game too so I love this game so you should too this is why I gave it five stars because I like it and you should say that so that's the game that you should play
Get Charades from App Store
What is your opinion about Charades
Bitcoin
Ethereum
MetaMask (ETH)
Xrp
Polkadot
Binance coin
Stellar
Dogecoin
Tron
Elrond
Donate Bitcoin to this address
Scan the QR code or copy the address below into your wallet to send some Bitcoin
Donate Ethereum to this address
Scan the QR code or copy the address below into your wallet to send some Ethereum
Donate Xrp to this address
Scan the QR code or copy the address below into your wallet to send some Xrp
Donate Polkadot to this address
Scan the QR code or copy the address below into your wallet to send some Polkadot
Donate Binance coin to this address
Scan the QR code or copy the address below into your wallet to send some Binance coin
Donate Stellar to this address
Scan the QR code or copy the address below into your wallet to send some Stellar
Donate Dogecoin to this address
Scan the QR code or copy the address below into your wallet to send some Dogecoin
Donate Tron to this address
Scan the QR code or copy the address below into your wallet to send some Tron
Donate Elrond to this address
Scan the QR code or copy the address below into your wallet to send some Elrond