(Game) Candy Crush Jelly Saga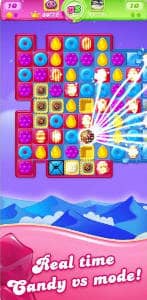 Game Description :
There's a new player in town, the wiggling, jiggling Jelly Queen and she's here to challenge you to a game of Candy Crush Jelly Saga! Whatever your favorite moves, you better hope they're Jellylicious enough to take on the mighty Jelly Queen.
The unstoppably spreadable game! New Candy Crush Jelly Saga is full of delightful game modes, features and boss battles featuring the Jelly Queen! Playing as Jenny, show off your Jellylicious moves and take turns switching Candies against the jiggling Jelly Queen. Every sweet move will spread more Jelly and whoever spreads the most will win the level!
There are splendid new Candies, a marvelous new booster and a dreamy treetop world to explore in the Candy Kingdom too!
Royal Championship is the new VS Mode in Candy Crush Jelly Saga. Players will compete 1:1 in fast paced game rounds in real time! Win a big bundle of rewards by completing a consecutive win streak and finishing in the top half of the leaderboard. The higher the position, the bigger the reward! Have you got what it takes?
Take on this delightful Saga alone or play with friends to see who can get the highest score!
Candy Crush Jelly Saga is completely free to play but in-game currency, to buy items such as extra moves or lives, will require payment with real money.
You can turn off the payment feature by disabling in-app purchases in your device's settings.
Game Features :
Over 3000 Jellylicious Levels
Real Time VS mode
Boss Modes
Marvelous game modes including: Spread the Jelly & Release the Pufflers
Tasty Color Bomb Lollipop booster
Mesmerizing new Candies
Dreamy new treetop world and a host of quirky characters led by the Jelly Queen and her stooges.
Easy and fun to play, yet challenging to fully master
For players that Facebook Connect, there are leaderboards for you and your friends to compare your Jellylicious scores
Easily sync the game between mobile and tablet devices and unlock the full game features when connected to the internet
Now you can express yourself, jelly-style! Be sassy like the Jelly Queen or cool like Cupcake Carl with our sweet Candy Crush Jelly Stickers!
Facebook @CandyCrushJellySaga
Twitter @CandyCrushJelly
Instagram @CandyCrushSaga
YouTube @CandyCrushOfficial
Last but not least, a big THANK YOU goes out to everyone who has played Candy Crush Jelly Saga!
Do not sell my data: King shares your personal information with advertising partners to personalize ads. Learn more at king.com/privacyPolicy. If you wish to exercise your Do Not Sell My Data rights, you can do so by contacting us via the in game help centre or by going to soporto.king.com/contact
Additional Information :
Size 280.6 MB
Requires iOS 9.0 or later.
User Reviews :
Great app!
This game is great there are no adds or really anything that you would really get frustrated with. This game is awesome! The only complaint that I have is that I would like it if it actually give you more gold bars when you win a level. Please get this game I would honestly love to see how good you end up doing on the leaderboard! If you ever download this game please rate to tell me what you think to tell me if you have the same opinion! You probably will not regret downloading this! Yeah. So I only have one complaint. That's all. Please keep more games coming so I can tell you how I think about the new updates or whatever you make if it's a new game. Thanks for making this game! You will hear from me again on other games like my Emma or something. Thank you! Bye!
Too many boosters
I've been playing traditional candy crush saga as well as soda & jelly sagas for years, and I never thought I would say this but: there are too many boosters in this game. The alien giving you so many special candies makes levels virtually impossible to lose, and it really takes the challenge and the fun out of the game. It used to be that some levels would take me days to beat, especially the ones where you're competing against a character to collect something. But now I find myself trying to lose on purpose (incredibly difficult) in order to get rid of the alien balloons and have more standard game play. The original candy crush saga is much better in this approach (the way you can earn special candies by completing missions or watching ads, then have them in your backpack to use at your discretion). Even having the option to enable/disable the alien mission would be a good fix. This is truly my only complaint about this game, but it's a significant problem for me.
Best game ever but one thing that's bad
My mom doesn't want me to use money so it's like I can't use any of the boosters only if the booths are you are in a booster in any game like with the alien that's the only way I'll get I'll get a booster The two player mode is awesome where are you play against another player who also is playing that at the same time and the boosters it's super Duper hard to get more gold to get boosters like the alien and stuff only gives you like common boosters when I want the rare good boosters but the one I want is the one with the candy bomb on top and it's a lollipop but it cost 99 golds and I don't know how to get that much gold I have like zero gold that's why I'm getting us a four-star and sometimes our ads that are not for kids because I'm gonna be at eight years old I put unicorns because I love unicorn come some candy The candy is really pretty OK bye
Get Candy Crush Jelly Saga from App Store
What is your opinion about Candy Crush Jelly Saga
Bitcoin
Ethereum
MetaMask (ETH)
Xrp
Polkadot
Binance coin
Stellar
Dogecoin
Tron
Elrond
Donate Bitcoin to this address
Scan the QR code or copy the address below into your wallet to send some Bitcoin
Donate Ethereum to this address
Scan the QR code or copy the address below into your wallet to send some Ethereum
Donate Xrp to this address
Scan the QR code or copy the address below into your wallet to send some Xrp
Donate Polkadot to this address
Scan the QR code or copy the address below into your wallet to send some Polkadot
Donate Binance coin to this address
Scan the QR code or copy the address below into your wallet to send some Binance coin
Donate Stellar to this address
Scan the QR code or copy the address below into your wallet to send some Stellar
Donate Dogecoin to this address
Scan the QR code or copy the address below into your wallet to send some Dogecoin
Donate Tron to this address
Scan the QR code or copy the address below into your wallet to send some Tron
Donate Elrond to this address
Scan the QR code or copy the address below into your wallet to send some Elrond