[Game] Bullet Hell Monda‪y
 iphone games for free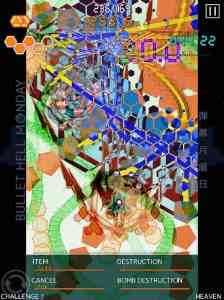 Game Description :
Beginner Welcome Bullet Hell Shooter!
Why don't we play a bullet hell shooter?
For you who think shmups are hard.
Game Features :
Let's begin from easy stages!
A bullet hell shooter
Enjoy an authentic bullet hell shooter on your smartphone.
Recommended Chapter mode for danmaku beginners.
Recommended Challenge mode for danmaku experts.
Huge content: over 50 stages.
Upgrade your ship
Use the points you earn after playing a stage to level up your ship.
Take your new and upgraded ship to the challenge mode! Aim for a high score.
Chapters
Clear the missions set for you in each chapter.
Clearing missions opens up new stages.
Use the points you get in the chapter mode to upgrade your ship.
Challenges
The challenge mode is for when you really want to test your mettle.
Upgrade your ship and take on this mode.
Select from EASY, NORMAL, HARD, and HEAVEN difficulties.
Test the limits of your skill.
Endless
The endless mode that lasts forever.
How long can you survive in the increasing difficulty?
Aim for the top slot in the rankings
Challenge mode has Game Center support
Try going against your friends for the best score.
Rankings are sorted by stage and difficulty.
Try perfecting your favorite stage or try to beat all the rankings.
Twitter:
twitter.com/dot_decluster
Additional Information :
Size 91.9 MB
Requires iOS 8.0 or later.
User Reviews :
Absolutely Amazing
Before i had downloaded this i was already playing a different bullet hell game. And I had gotten pretty bored as I found it (and I still do) find it too easy. So I went on the app store and found this. At first I thought it was gonna be very similar to the last one. I was wrong. Very wrong. First off, whenever I get a mobile game, and see the line "in app purchases" I start to wonder whether the game is pay-to-win (Fun Fact: most of the time it is), and this was no different. Now I know that this is not pay-to-win, very far from it. The only things that you can buy are the different weapon types, and these are entirely opinion based. Second the visuals. In my opinion the game does this pretty good (no context). Third, the gameplay. I would say that this is the worst factor of the game just because it's harder for new players to the genre to good. But really this is just a flaw with the genre itself and doesn't really take back anything from the quality of the game. It's hard, but not too hard (at least for players that aren't new to the genre), and often times I find myself playing this game for hours. Overall it's one of the best of it's kind and I would really recommend it, even if this is your introduction to the genre because it's easy to learn.

Edit: I just wanted to add that this is game makes me want to buy things in-game just to support the creators. Keep it up!
The Best Shoot'em Up
I went in expecting this to just be another shooter until…

The controls I noticed was extremely smooth, the visuals really popped out with color, and the difficulty was mostly just right. The music creates the feeling of being a Hi-Speed shooter and dodging Thousands of bullets. It fits the gameplay perfectly as the gameplay has bullets being shot everywhere.

There are 3 modes. CHAPTER is complexing. It make you do missions within acts to achieve mission points and move on. CHALLENGE sets all obstacles of each chapter into one big act and has 4 difficulty levels. EXTRA has endless modes. They will set you up against enemies and bosses in a random order with rising difficulty.

As the game requires skill it has many features to make up for mistake. Bombs are the ships special ability, auto-bomb helps preventing you from losing ships incase of misfortunes, and automatic item absorption helps collect items without needing the risk to moving to it, and more. I seems to have very few issues to where it really doesn't matter as it was handled better than any other ship shooter and that makes this the best one out there…
Excellent bullet hell shooter
Just skip the dev's first game; it was mediocre. This is a massive improvement and as others have pointed out, is comparable to the old CAVE shooters (except in graphics unless you really like geometric shapes). Most of the ship types are gated by payment (can be rented using earned points) but the unlockable ones are pretty good. Tbh the p2w ships really take the fun out of the game, though some have cool mechanics like the blade one. If you are a bullet hell fan, just stick to the base ships and challenge yourself. The levels are designed around them anyway and the bullet type swap mechanic allows for variety in play during a stage. Also, if you don't want to grind the points to upgrade the base ships, the dev offers a one time payment to do just that, which might diminish enjoyment for some but is a welcome option for those who want to skip ahead to the really hard stuff. All things considered, I really like that the dev thought hard about how to monetize so that people can get the experience they want.

Can't wait for the next, keep at it!
Get Bullet Hell Monda‪y from App Store
What is your opinion about Bullet Hell Monda‪y
Bitcoin
Ethereum
MetaMask (ETH)
Xrp
Polkadot
Binance coin
Stellar
Dogecoin
Tron
Elrond
Donate Bitcoin to this address
Scan the QR code or copy the address below into your wallet to send some Bitcoin
Donate Ethereum to this address
Scan the QR code or copy the address below into your wallet to send some Ethereum
Donate Xrp to this address
Scan the QR code or copy the address below into your wallet to send some Xrp
Donate Polkadot to this address
Scan the QR code or copy the address below into your wallet to send some Polkadot
Donate Binance coin to this address
Scan the QR code or copy the address below into your wallet to send some Binance coin
Donate Stellar to this address
Scan the QR code or copy the address below into your wallet to send some Stellar
Donate Dogecoin to this address
Scan the QR code or copy the address below into your wallet to send some Dogecoin
Donate Tron to this address
Scan the QR code or copy the address below into your wallet to send some Tron
Donate Elrond to this address
Scan the QR code or copy the address below into your wallet to send some Elrond