Block Blast game by Shunning Casual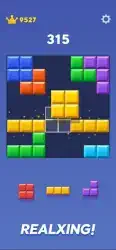 Game Description :
Block Blast: A perfect mix of Tetris and Block Puzzle games, combining creativity with the classics! The simple control, wonderful sound effects, and a great rhythm! Block Blast will leave you wanting more!
Aside from the classical Tetris gameplay, you will also experience a whole new original COMBO gameplay. Drag and drop blocks onto the board to fill a row or column to complete elimination and clearing multiple rows or columns at once will produce a cool elimination animation as well as extra points. The more COMBOs you perform, the more points you get. It is up to your logical skills and layout strategy if you want to score high points. Test your IQ and exercise your brain in Block Blast!
Game Features :
1. Simple and easy to play, suitable for all ages, excellent choice to kill time.
2. No network connection is needed; you can enjoy Block Blast anytime, anywhere.
3. Beautiful blocks and wonderful sound effects will bring you a fantastic gaming experience.
How to Play:
1. Drag and drop the blocks onto the board and clear the blocks when a column or row is filled.
2. We will keep providing blocks of various shapes until you have no space left on the board.
3. Plan your next move as you think constantly about what blocks might show up.
How to become a block master:
1. Instead of waiting for the perfectly shaped blocks, take the opportunity to free up more space and score points.
2. There is no time limit in Block Blast, so think carefully about your every move.
No matter where you are, whether you are tired, bored, or frustrated, Block Blast will always be by your side, sweeping away the boredom and helping you relax and cheer up!
Additional Information :
Size 166.1 MB
Requires iOS 10.0 or later.
User Reviews :
Where is the adventure?
I love this game because the adventure part was fun. I blasted through the levels and it would t let me replay them so I deleted the app and downloaded it again and the adventure was gone. That part was fun. Please bring it back. Even if it has levels slowly added it is still fun to play the levels. This is a fun game. You should download it. If you get to play the adventure part it is cool cause it is different than the other block games.
Fun- until you lose without taking a turn
My husband and I love this game! It really is a lot of fun. But we noticed that we started to lose before we started on the next "level". It's not a game where you have to put the blocks in the right place each level to move on. Once you become good, it's about luck. I have lost so many times because there weren't any moves to be made when the next level started. Didn't put a single block down, lost because the next three blocks didn't fit. Or I could fit one of the blocks in only ONE spot, and I lose because there was no other way for me to put the blocks in. I reached level 12k+ a few times and lost because of my fault OR lost because I had no moves. Now I can't get past 5k for some reason. It's just becoming more annoying than fun. Deleting this game. Don't waste getting addicted!
Bugs
This game is an excellent way to pass time, but there is one thing that annoys me. When I run out of space on the board a green "revive" square pops up where you watch a video and it gives me a second chance, or at least it's supposed to… When I click on the button it has me watch the video, but then it just ends my game. The first time I tried it I thought the game bugged out, so I tried a second time and I got the same results. I tried a third time and still nothing. If the developers were to fix this problem it would easily be a five star game.
Fun for every skill level
My husband and I recently completed an adventure. Of course, we had to race. He had a significant head start, but I caught up quickly. We were on the same level with the same obstacles. However, my points needed were about 25% higher than his. It was great to see the game be able to adapt to the individual skill level so it would be both challenging and attainable for every player. Thanks!
Get Block Blast from App Store
What is your opinion about Block Blast
Bitcoin
Ethereum
MetaMask (ETH)
Xrp
Polkadot
Binance coin
Stellar
Dogecoin
Tron
Elrond
Donate Bitcoin to this address
Scan the QR code or copy the address below into your wallet to send some Bitcoin
Donate Ethereum to this address
Scan the QR code or copy the address below into your wallet to send some Ethereum
Donate Xrp to this address
Scan the QR code or copy the address below into your wallet to send some Xrp
Donate Polkadot to this address
Scan the QR code or copy the address below into your wallet to send some Polkadot
Donate Binance coin to this address
Scan the QR code or copy the address below into your wallet to send some Binance coin
Donate Stellar to this address
Scan the QR code or copy the address below into your wallet to send some Stellar
Donate Dogecoin to this address
Scan the QR code or copy the address below into your wallet to send some Dogecoin
Donate Tron to this address
Scan the QR code or copy the address below into your wallet to send some Tron
Donate Elrond to this address
Scan the QR code or copy the address below into your wallet to send some Elrond